Players To Watch: Girls Academy 2023-2024 Northeast Conference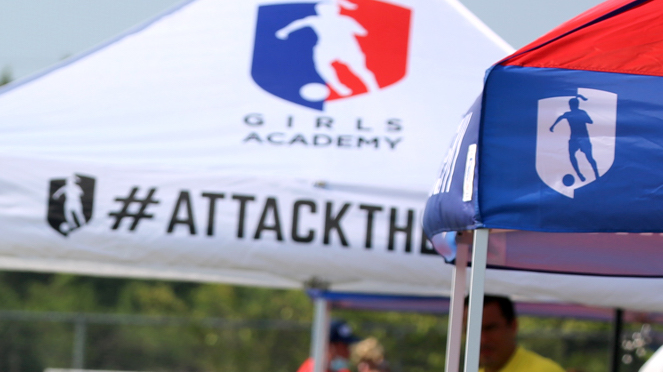 The Girls Academy 2023-2024 season has arrived. To help preview the competition, SoccerWire is providing Players To Watch from across all 10 Conferences in the U15-U19 age groups.
For this edition, we will be focusing on the Northeast Conference, which has teams from Connecticut, Massachusetts, New Jersey, New Hampshire, and New York. For more GA coverage, check out our running archive on SoccerWire's Girls Academy homepage.
Players are listed according to their graduation year. To submit additional nominations for Players to Watch, click here.
2026
Ava Mason | Defender
Cedar Stars Academy-Monmouth 07 (NJ)
Consistently ranked as one of the top defenders in her age group out of New Jersey, Mason made the jump in the offseason from PDA Blue to Cedar Stars-Monmouth. Mason consistently can track down defenders and make the timely clear.
2025
Consistently provides crisp service to her teammates and can lead the counter-attack with the most innocuous of passes, Barrett is one of the top midfielders in her age group in the GA. In addition to her passing, she is also highly efficient with her shot selection. Barrett has verbally committed to playing college soccer at Maryland.
Footage of my 3 goals and 3 assists from the games this weekend…plus some clips! Two great team wins! 2 more games next weekend➕talent ID Wednesday! 🤝🏼⚽️🔥 pic.twitter.com/bqzZhayCc1

— Tess Barrett (@TessBarrett105) May 9, 2023
———————
Mackenzie Johnson | Forward
Oakwood SC 06 (CT)
Provided the attacking spark for Oakwood's run to the GA National Playoff Semifinals last year, using her strength and speed to create attacking chances for the team. Johnson possesses a clever right foot that she uses to make tight, efficient cuts in one-on-one situations against defenders. She was a part of Oakwood's 2021-2022 team that won the National Championship so look for her to play a big role for her team's run this season.
———————
Natalie Chudowsky | Defender
New York SC 07 (NY)
Helped blank a strong attacking team in TSJ FC Virginia 1-0 in the GA National Playoffs Group Stage last year. Chudowsky likes to mark opponents closely, giving them little space to create goal-scoring opportunities. She is also a real asset on the counter-attack, using her pinpoint passes to locate teammates going towards goal. She has represented the USYNT at the U-15 level.
———————
Faye Battersby | Defender
NEFC 07 (MA)
Led a highly organized NEFC defense to a spot in the GA National Playoffs last season and will look to expand upon their success this year. At the center-back position, Battersby can effectively communicate with her teammates to ensure coverage is being met and make the tight overlapping run to eliminate an opponents chances on the counter-attack. She is also unafraid of making the decisive clear to the outside to help her team reset.
———————
Lindsay Fouche | Goalkeeper
Cedar Stars Academy-Bergen 07 (NJ)
Provided consistent coverage in goal for Cedar Stars last season, leading the team to an appearance in the GA National Playoffs Group Stage. Fouche has lightning quick reflexes and can make the decisive diving stop both in tight coverage and in one-on-one situations with the attacker. In restarting play, she can pick out her teammates hitting the long distance throw or punt with relative ease.
———————
Lily Kiliski | Midfielder
New York SC 07 (NY)
A very technical midfielder who helped lead her team to the number 2 slot in the Northeast conference. Scoring the winning goal that pushed her team to the top after game one in the GA Playoffs and using her speed, patience, and craftiness to hold possession in the game, Kiliski has proven herself to be a top player. Her sharp, accurate passing and ability to see open spaces led to many game-changing assists during the season. Lily also holds the position on the the GA Advisory Panel as the Club Representative.
2024
An attacking force for both NEFC and for the U-17 USWYNT, Bodak is a dynamic goal-scoring machine. Her ability to drive at defenders and always find that small bit of space to exploit makes her difficult to break down. She can also whip strong passes into her teammates to create their own goal-scoring opportunities. Bodak has verbally committed to playing college soccer in 2024 at Clemson.
Anchored the NEFC 06 defense last season, allowing just one goal in the GA National Playoffs Group Stage and making it all the way to the National Championship finals. Sahin can make the quick track back on defense to stem counter-attacks and immediately slot a pass or cross out to an open teammate. She has verbally committed to playing college soccer next season at Brown.
Led the NEFC attack last season and will be called upon to provide her attacking spark as her team looks to improve upon last season's playoff appearance. Gorman is a two-sport athlete (she also plays basketball) that likes to drive at opponents and create her own shot. For her high school, Bishop Feehan, she has scored 56 goals and tallied 61 assists over her career. She has verbally committed to playing college soccer next season at Connecticut.
———————
Morgan Kotch | Forward
Real Jersey FC 05/06 (NJ)
A crafty forward with hammer of a right foot, Kotch can make an immediate impact on a game with one play. Off of the ball, she is always moving, looking for whatever opening she can find in the defense to break through. She is also an asset on set pieces and employs the same tactics to get space and hit a header on target. Kotch has verbally committed to playing college soccer in 2024 at Villanova.