Pitt forward Amanda West and Duke defender Mia Gyau win ACC weekly awards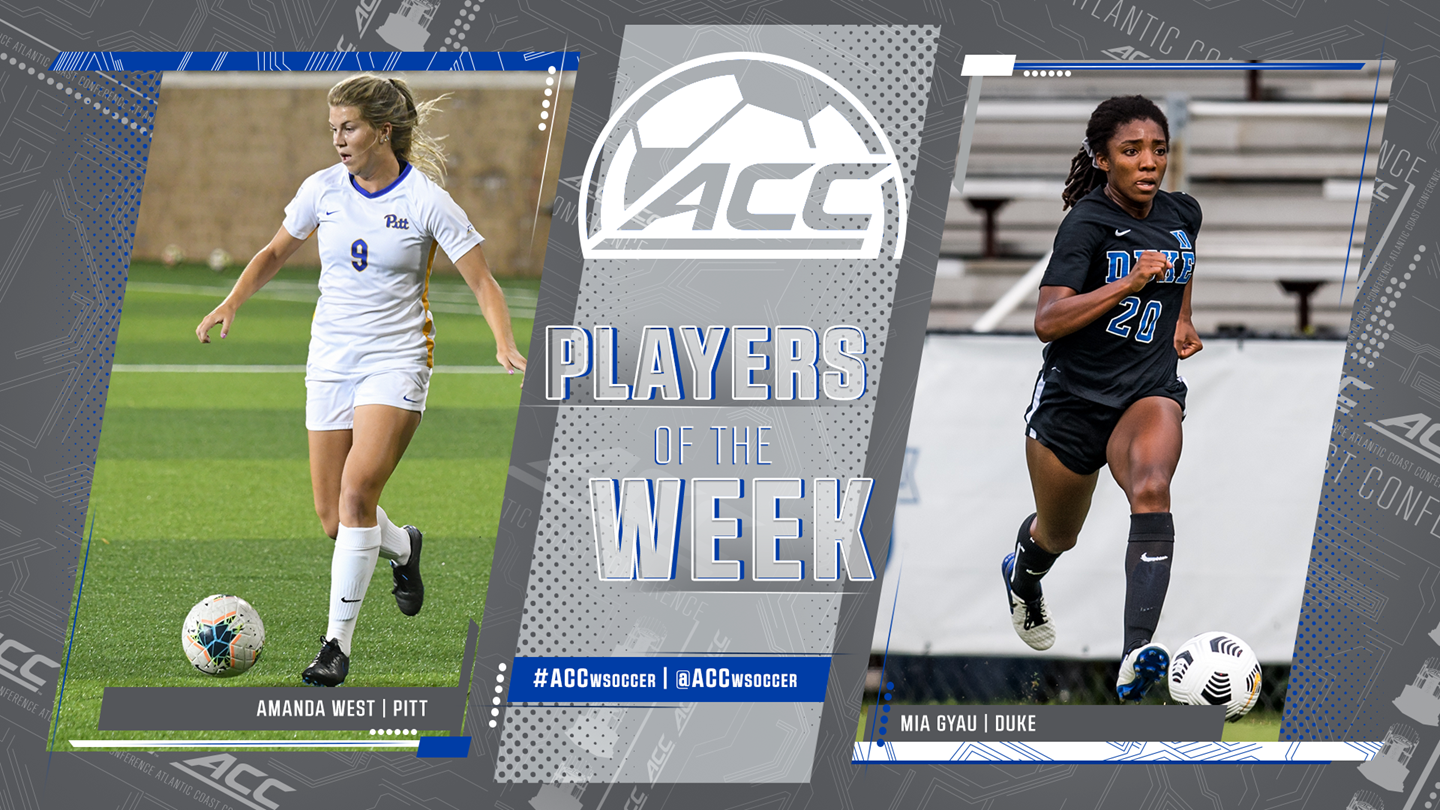 GREENSBORO, N.C. (theACC.com) – Pitt sophomore forward Amanda West has been named ACC Women's Soccer Offensive Player of the Week, while Duke senior defender Mia Gyau collected ACC Defensive Player of the Week honors.
West recorded three assists in Pitt's 4-1 victory over Kentucky on Monday to help the Panthers set the program record for wins (11) in a single-season. The Burlington, Ontario, native's three assists tied for the second most in a game in program history, matching her mark from 2019 against Miami.
West extended her single-season points record by a Panther to 33, which leads all NCAA Division I women's soccer players. She also tied former Pitt standout Liz Carroll (2012) for the fifth-most assists (seven) in a year.
Gyau scored the game-winner to lift Duke to a 1-0 victory last Friday at NC State. The goal was her first of the season and first since Sept. 26, 2019 at Wake Forest.
Hailing from Colesville, Maryland, Gyau played all 90 minutes and helped the Blue Devils' defense limit NC State to just two shots, neither of which was on goal. The senior led to Duke to its ninth shutout of the season and eighth shutout win.
ACC women's soccer action returns Thursday, as Boston College travels to Wake Forest for a 1 p.m. non-conference match on ACC Network Extra.
ACC Women's Soccer Offensive Players of the Week
9/15 – Marykate McGuire, Jr., F, Duke
9/22 – Caroline Conti, So., M, Clemson
9/29 – Izzy Brown, So., F, North Carolina
10/06 – Emina Ekic, Sr., M, Louisville
10/13 – Amanda West, So., F, Pitt
10/20 – Clara Robbins, Sr., M, Florida State; Alexa Spaanstra, Jr., F, Virginia
10/27 – Jenna Bike, Gr., F, Boston College; Emily Gray, Jr., M, Virginia Tech
11/3 – Tori Powell, Fr., F, Virginia Tech
3/3 – Caroline Conti, So., F, Clemson
3/9 – Landy Mertz, So., F, Pitt
3/16 – Selena Fortich, Jr., D, Miami
3/23 – Maliah Morris, So., F, Clemson
3/30 – Brianna Pinto, Jr., M, North Carolina
4/6 – Amanda West, So., F, Pitt
ACC Women's Soccer Defensive Players of the Week
9/15 – Kate McKay, Jr., D, Pitt
9/22 – Hensley Hancuff, Jr., GK, Clemson
9/29 – Maycee Bell, So., D, North Carolina; Claire Constant, Jr., D, Virginia
10/06 – Alia Skinner, Fr., GK, Virginia Tech
10/13 – Caitlin Cosme, Sr., D, Duke
10/20 – Kaitlyn Parks, R-Fr., GK, Wake Forest
10/27 – Mattie Interian, Jr., GK, Notre Dame
11/3 – Cristina Roque, Fr., GK, Florida State
3/3 – Talia Staude, So., D, Virginia
3/9 – Caitlin Cosme, Sr., D, Duke
3/16 – Melissa Dagenais, So., GK, Miami
3/23 – Kaitlyn Parks, R-Fr., GK, Wake Forest
3/30 – Kaitlyn Parks, R-Fr., GK, Wake Forest
4/6 – Mia Gyau, Sr., D, Duke