Texas, TCU and West Virginia players selected for weekly Big 12 Soccer awards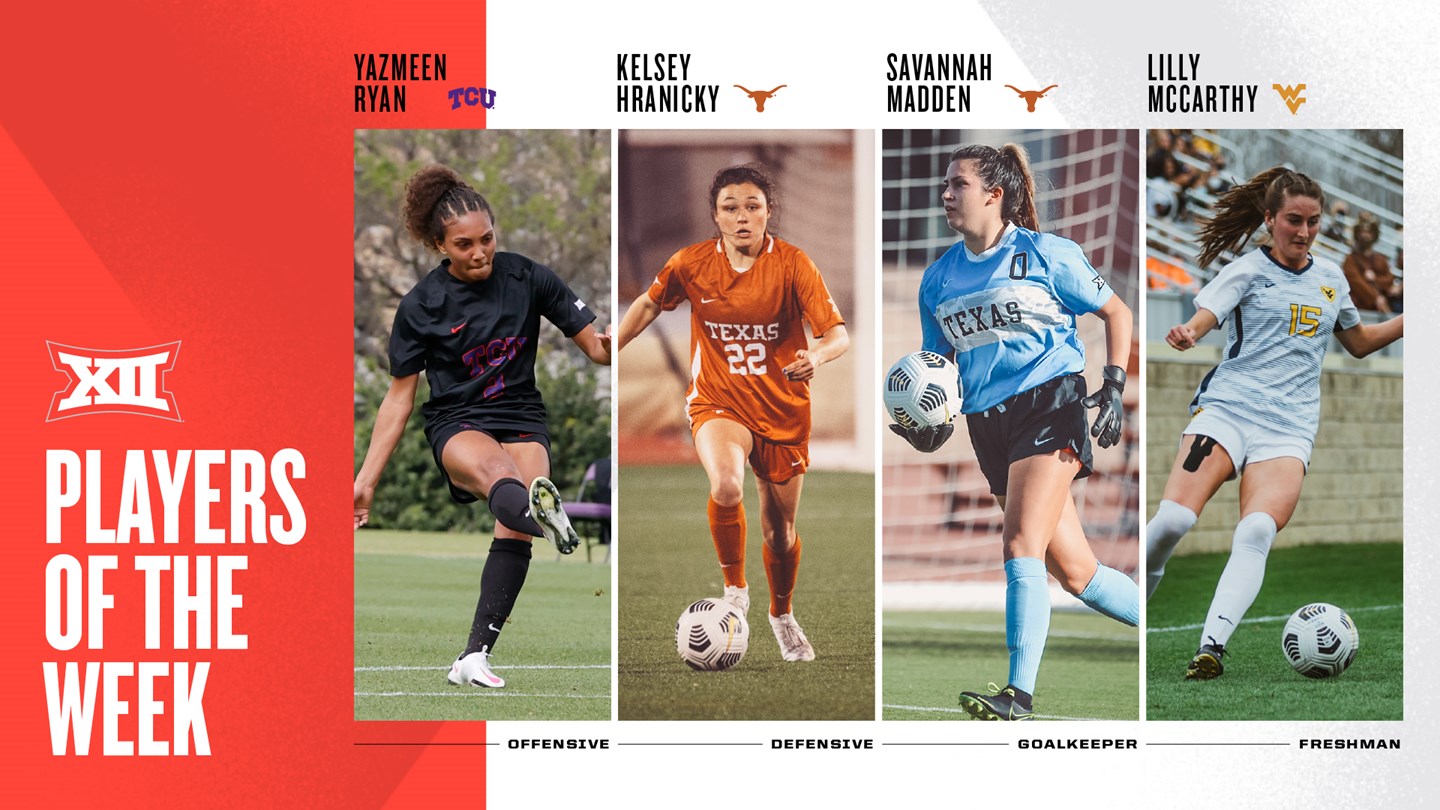 A pair of Texas student-athletes and players from TCU and West Virginia were honored with Big 12 Soccer awards in Week 15.
TCU's Yazmeen Ryan was tabbed the Big 12 Offensive Player of the Week, while Texas freshman Kelsey Hranicky earned Defensive Player of the Week. UT's Savannah Madden repeated as Goalkeeper of the Week, while West Virginia's Lilly McCarthy was selected as the Freshman of the Week.
Ryan had a hand in all four goals scored in the 4-0 shutout over No. 15 Oklahoma State. The senior assisted on the first and third goals of the game. Her first goal of the game came off a set piece from just outside the 18. Her second goal was an individual effort from about 25 yards out. The senior has played a part in all six goals TCU has scored in the spring.
Hranicky played all 90 minutes in the backline last Friday night in Waco helping lead the Longhorns to a 4-0 shutout win over Baylor. The Houston, Texas, native was also credited with her first career assist and point by delivering a long pass that directly led to Lexi Missimo's 53rd minute goal. The freshman defender's efforts have helped the Longhorns to a season-long shutout streak of 306:01 dating back to Nov. 2020.
Madden registered a career-high 12 saves during a 4-0 shutout of Baylor. By posting the program's first shutout of the Bears since 2017, the senior also extended her personal shutout streak to a career-best 306:01 dating back to Nov. 6, 2020 at Texas Tech. Madden's 12 saves were also the most for a Longhorns goalkeeper since Shay Wilkinson stopped 12 shots in 2000. Included in her dozen saves was a diving stop on Taylor Moon's developing 1-v-1 situation at 29:22, a one-handed tip up-and-over the crossbar of Mackenzie Anthony's blast at 65:22 and a leaping punch over the woodwork of a Chloe Japic shot at 77:26.
McCarthy delivered the game-winning assist in WVU's 1-0 win over No. 10 Virginia on Saturday. The victory marked the second straight win over a top-10 foe for WVU. McCarthy found teammate Isabella Sibley in the 86th minute to help the Mountaineers score the late winner. It marked her second assist of the season.
This is the third honor for Madden and the second for Ryan this season. Hranicky and McCarthy are first-time selections.
BIG 12 SOCCER PLAYERS OF THE WEEK – WEEK 15
Offensive Player of the Week
Yazmeen Ryan, Midfielder, Sr., TCU
Defensive Player of the Week
Kelsey Hranicky, Defender, Fr., Texas
Goalkeeper of the Week
Savannah Madden, Sr., Texas
Freshman of the Week
Lilly McCarthy, Midfielder, West Virginia