Pac-12 Coach of the Year Keidane McAlpine departs USC to join Georgia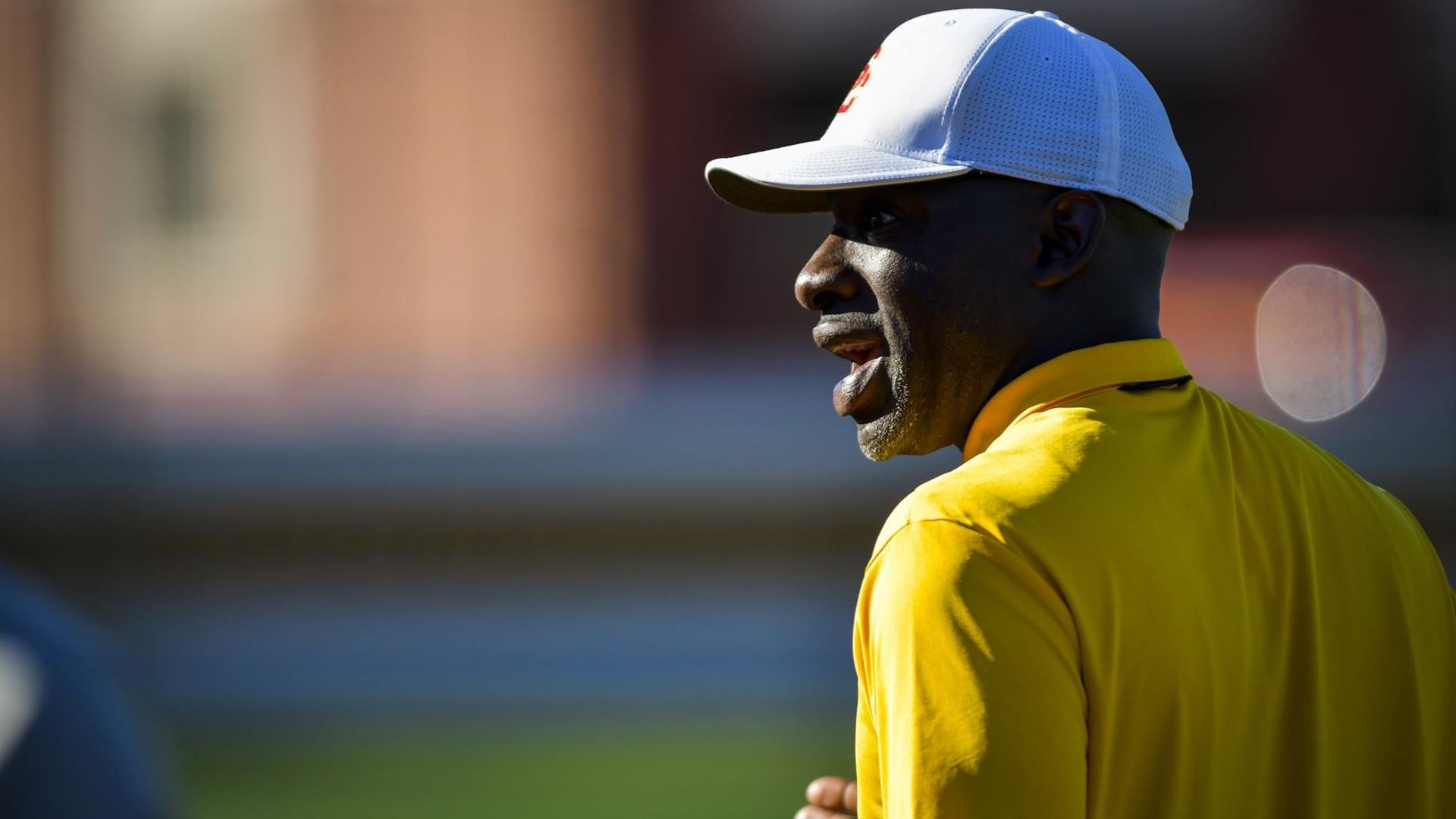 ATHENS, Ga. — Keidane McAlpine, the 2021 Pac-12 Coach of the Year who led the USC women's soccer team to eight-straight NCAA tournament appearances, including a national championship in 2016, has been named the sixth head coach of the Georgia soccer program, J. Reid Parker Director of Athletics Josh Brooks announced.
"This is a great day for the University of Georgia and our soccer program," Brooks said. "Our aim is to compete for postseason success and championships, and Keidane has done that at every level. His teams have consistently been among the nation's elite throughout his coaching career. He is passionate, energetic, knowledgeable and leads with integrity — things that will resonate with our current student-athletes, recruits and his colleagues. Keidane is the perfect fit to lead our soccer program."
The Huntsville, Ala., native has guided USC to unprecedented success in the last eight seasons. His 2016 squad finished with a 19-4-2 record on its way to the program's second national championship. This year's team boasted a 14-3-3 record and finished second in the Pac-12 standings.
Under his guidance, USC has never missed the postseason, has won at least one NCAA tournament match in six of the last seven years and has never finished worse than fourth in the Pac-12. The Trojans have averaged nearly 16 wins a season during his tenure and own a 13-2-7 postseason record under his watch.
"I had a wonderful experience at USC.  I'd like to thank Dr. Carol Folt, President Max Nikias, Pat Haden, Lynn Swann, Mike Bohn, Steve Lopes, who made my tenure at SC possible, and my players — past and present — for trusting me and our process," McAlpine said. "As a young person born in Alabama, I dreamed of being a head coach in the SEC. I am humbled and thrilled to lead this group of young women and build on the incredible potential of Georgia Soccer.  I want to thank President Morehead, Josh Brooks and Stephanie Ransom for bringing me to Athens.  They showed incredible energy and commitment to soccer, which made this an opportunity I could not pass up. There is something very special happening here in Georgia Athletics and I am happy I can be a part of the journey."
McAlpine's teams have produced 11 All-Americans, over 40 All-Conference selections, three Pac-12 Forwards of the Year, one Pac-12 Defensive Player of the Year, one Pac-12 Midfielder of the Year, one Pac-12 Freshman of the Year and two Pac-12 Goalkeepers of the Year. McAlpine and his staff also picked up United Soccer Coaches West Region Staff of the Year honors in 2018 and 2021.
McAlpine's 15-year coaching career features stops at Birmingham-Southern, Washington State and USC, where he has compiled a 182-89-37 career record — a near 70-percent win percentage.
In addition to his success at USC, McAlpine was named the 2013 Pac-12 Coach of the Year and NSCAA Pacific Region Coach of the Year at Washington State. He led the Cougars to a program-record 14 wins and a school-best second-place finish in the conference standings. Washington State also made back-to-back trips to the NCAA tournament during his tenure.
He has been active in Olympic Development Program for many years and holds a National "A" Coaching License from the United States Soccer Federation and a National Goalkeeping License. McAlpine was actively involved as a coach with the Alabama Youth Soccer Association Olympic Development Program and several club teams. In the summer of 2004, he was selected as a staff coach for the USYSA Region III squad.
McAlpine was a four-year starter at Birmingham-Southern and was team captain in 1996. During that season, the Panthers finished as runners-up in the NAIA Tournament after advancing to the semifinals the previous season. After graduation, McAlpine spent the 1999 season playing for the Tennessee Rhythm of the A League.
McAlpine earned a bachelor's degree in music business with a minor in computer science from Birmingham-Southern in 1997.