Over 150 teams kick off US Club Soccer National Cup in Colorado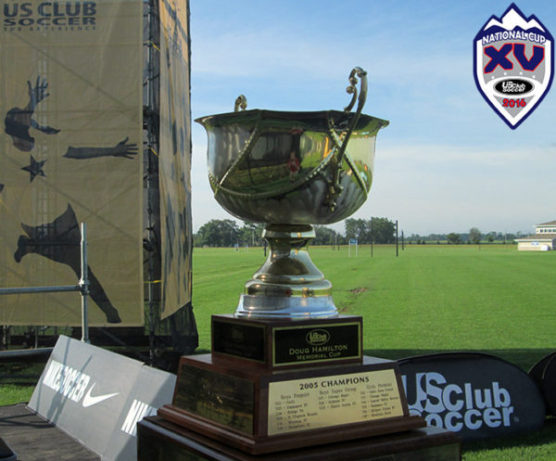 AURORA, Colo. (Via US Club Soccer) – A total of 153 teams representing 95 clubs from 23 states around the country are preparing to compete for cup-based national championships at the National Cup XV Finals, July 22-25 at Aurora Sports Park.
U-13 through U-17 boys and girls age groups each have two divisions: Super Group (most competitive) and Premier Group. The National Cup XV Finals represents the culminating event of US Club Soccer's cup-based national championships series, which included various state cups and six National Cup XV Regionals held last month.
+Read: Twelve teams earn US Club Soccer NPL Finals championships
For clarification, US Club Soccer held a different national championship event this past weekend in Aurora: the 2016 NPL Finals. While the National Cup is cup-based, the NPL Finals is the culminating event of year-long, league-based competition within 19 regional NPLs.
There are several familiar faces competing this year at the National Cup XV Finals. Here are the teams competing for back-to-back championships this year and the division of which they'll be competing:
GPS MA NPL (Mass.) – U-14 Boys Super Group
NEFC Elite (Mass.) – U-14 Girls Super Group
Hawaii Rush '02 (Hawaii) – U-14 Girls Premier Group
GPS MA NPL Elite 99/00 (Mass.) – U-16 Boys Super Group
Riverhounds Development Academy (Pa.) – U-16 Girls Super Group
Although nearly 100 different clubs are represented this weekend, there are a handful who have more than three teams participating: Bayside FC Bolts (R.I.) with five, GPS MA (Mass.) with six, GPS ME (Maine) with four, GPS NH (N.H.) with five, Hawaii Rush (Hawaii) with six, Lonestar SC (Texas) with four and NEFC Elite (Mass.) with eight.