Oregon State associate head coach Nick Stirrett joins Louisville staff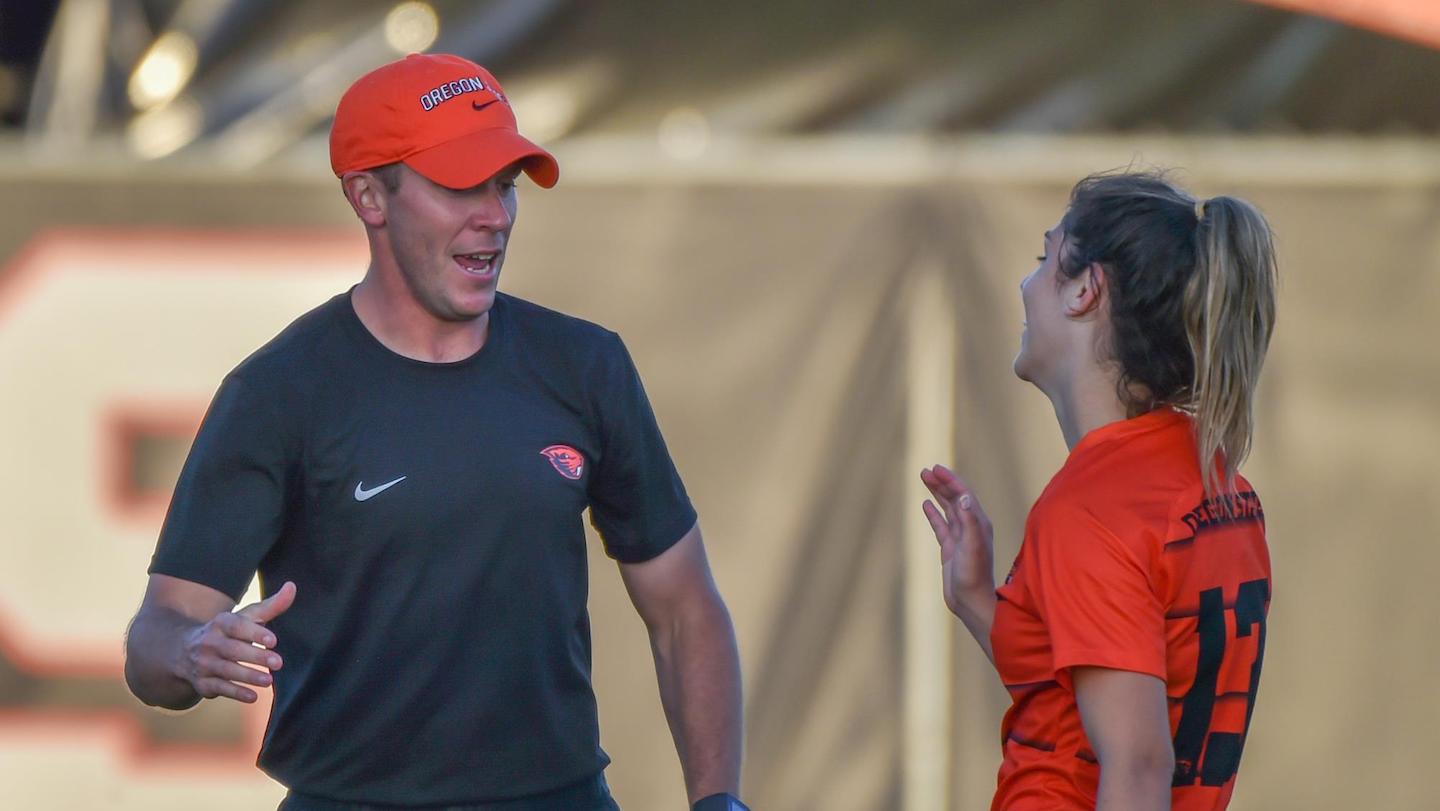 LOUISVILLE, Ky. – University of Louisville women's soccer head coach Karen Ferguson-Dayes announced on Friday that former Oregon State associate head coach Nick Stirrett has been added to her staff as an assistant coach.
Stirrett comes to Louisville after spending the last two seasons at Oregon State where he was named assistant coach prior to the 2019 season and was then promoted to associate head coach in the spring of 2020.
"I am honored to be joining Coach Ferguson-Dayes, her staff, and the Louisville community," said Stirrett. "The opportunity to work with the U of L soccer program and its student-athletes is both exciting and a privilege. I am eager to get started."
"We're thrilled to add Nick to our staff. He brings tremendous experience and has worked for some wonderful head coaches throughout his career, so I fully expect that he will hit the ground running," said Ferguson-Dayes. "Louisville is a city that is easy to fall in love with and the University has very clear and ambitious goals, both academically and athletically. I know he will be able to help us recruit the best and brightest, while also training our current group of exceptionally talented goalkeepers."
During his first year with the Beavers, Stirrett helped lead Oregon State to an 11-6-2 overall record. OSU posted seven shutouts on the season, including four consecutive shutouts for the first time since 2007. With a 10-game improvement from 2018 to 2019, Oregon State had the best improvement in all of NCAA Division I women's soccer.
Stirrett also helped coach an offensive unit that increased its scoring output from six goals to 31 from 2018 to 2019. The Beavers' attack also recorded 25 assists and 87 overall points, which marked the highest output since 2011.
Under his guidance, sophomore Bridgette Skiba finished the season with six solo shutouts, which ranked fourth all-time in Oregon State single season history. Stirrett also coached Skiba to a .980 goals-against average in 2019, which also ranked fourth all-time at Oregon State.
Before joining OSU, Stirrett spent three seasons on the staff at the University of Illinois, where he worked primarily with the team's goalkeepers and served as the program's recruiting coordinator. During his tenure, Stirrett helped Clair Wheatley finish her career ranked second in program history in saves and coached Jaelyn Cunningham to Second Team Big Ten honors in 2018. Cunningham tallied 106 saves in the 2017 season, the third-best total in team history, and earned a spot at the United States U-20 National Team Camp following the season.
The Illini went 11-7-1 in 2018, the team's highest win total since 2013. Illinois finished fifth in the Big Ten and made it to the second round of the conference tournament.
Prior to his time at Illinois, Stirrett spent the 2015 season at Penn State. Stirrett helped the Nittany Lions to their 17th Big Ten regular season title, sixth Big Ten Tournament title and its first-ever National Championship title during his lone season with the squad.
Stirrett spent two seasons as the head men's soccer coach at the University of Mount Union, where he led the Purple Raiders to one of the most successful seasons in program history. His 2013 squad earned 12 wins on its way to a third-place finish in the Ohio Athletic Conference and an appearance in the OAC tournament semifinals.
Before heading to Mount Union, Stirrett held coaching positions at Northern Illinois, DePauw and Rose-Hulman Institute of Technology.
Stirrett graduated from Augustana College in 2006 with Bachelor's degrees in both English and History. Stirrett earned his Master's degree in English in 2008 from Queen's University in Belfast, Northern Ireland, and holds an NSCAA Advanced National Diploma.