Ohio State women's soccer hires Gavin MacLeod as assistant coach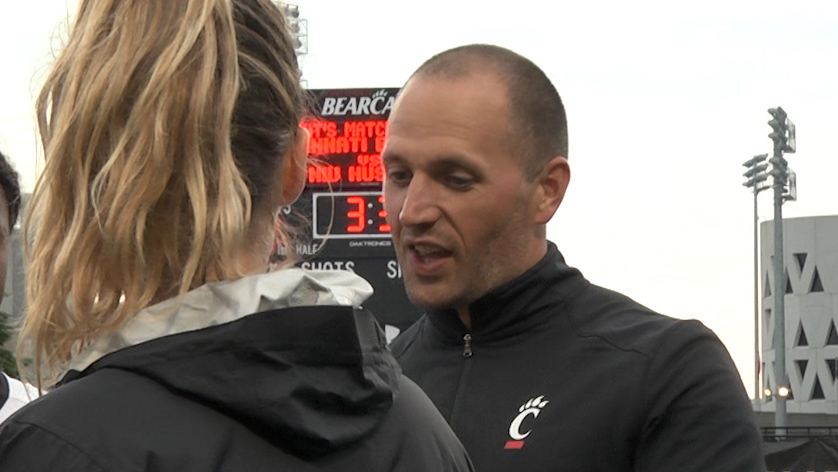 COLUMBUS, Ohio — Gavin MacLeod has joined Ohio State as an assistant coach, Buckeyes Lori Walker-Hock announced.
MacLeod departs the University of Cincinnati where he served as the associate head coach with the women's soccer program last season.
"Gavin is a perfect fit with our program and staff," Walker-Hock said. "He has a competitive fire to work with elite players that is balanced with a his own desire and curiosity to grow and learn. He brings an energy and passion for teaching that is balanced with a quick-witted sense of humor.
"Gavin has a wealth of soccer knowledge from various levels as well as a strong background in soccer specific sports science and kinesiology, she said. "He has a keen eye for details in training and film. He brings a pride and passion for defending. Gavin has a web of recruiting relationships in Ohio, the surrounding region, as well as across the country that will open additional pipelines for future Buckeyes."
In three years at UC, MacLeod worked with all areas of the program while also serving as the program's director of player performance. During that period UC recorded their best two American Athletic Conference regular-season points totals as well as setting new standards for the program. In MacLeod's first season on staff the Bearcats achieved their highest in-season ranking of 11, while finishing the season with a defense ranked in the Top 20 for lowest  goals against average.
While MacLeod was at Cincinnati, the Bearcats had five AAC All-Conference honorees, three AAC All-Rookie team, two All-Region and two Scholar All-Region honorees. These winners include Vanessa Gilles who was the 2017 AAC Defensive Player of the Year and a 2017 Scholar All-American recipient, and also Ashley Barron, who was the first Freshman in Cincinnati women's soccer history to be named to the All-Conference First Team in 2019.
"I'd like to thank Coach Walker-Hock for presenting me with this opportunity to join her staff and to be part of such an elite program within one of the nation's finest institutions," MacLeod said. "What Coach Walker-Hock has built here in Columbus is remarkable and I am looking forward to working with her, Brian and this fantastic group of players in order to build upon that legacy.
"I want to thank Neil (Stafford, head coach) and the administration at the University of Cincinnati for bringing me into the Bearcat family, allowing me to grow as a college coach and for the opportunity to serve the student-athletes in their development on the field and in the classroom," MacLeod said.
A native of East Kilbride, Scotland, MacLeod first came to the States to attend Lincoln Memorial University (Harrogate, Tenn.) where he was a standout on the pitch for the Railsplitters. The 2009 graduate played four years for LMU and helped them to the 2017 regular-season title in the South Atlantic Conference while adding conference tournament titles in 2005 (Gulf South Conference) and 2007 (SAC) and two NCAA Southeast Region titles (2006 & 2007). The defender also helped lead his side to the 2006 NCAA Division II Final Four before advancing the national final in 2007. Additionally, in 2008, he was selected as an NSCAA Scholar All-Region member while also helping the program attain the first national No. 1 ranking the school's history. MacLeod also found time during his collegiate days to play for a pair of USL Premier Division League teams, including the Cincinnati Kings and the Vermont Voltage.
In addition to being familiar with the Bearcats program, MacLeod also was no stranger to the club programs in the Cincinnati area as several coaching opportunities have doted his resume. Following his collegiate playing career, MacLeod returned to the other side of the pond and began work at Leeds Metropolitan University in Leeds, England, where he not only obtained his MS in Sport & Exercise Nutrition in 2010, but also began his coaching career. Since then, MacLeod has served in a coaching capacity at various levels over the past handful of years, including youth, collegiate and professional levels with his first opportunity arising at Leeds United FC where he served as the nutrition consultant and assistant strength and conditioning coach for the first team while also serving as a member of the youth coaching staff.
In 2012, MacLeod returned to the Cincinnati area where he began work with nearby Kings Soccer Academy as an assistant coach of its USL PDL team while also training elite teams and working with the Elite Performance Training staff. One year later, he garnered his first manager's position, taking the reigns as head coach of the Cincinnati Saints in 2013. Then, in 2014, while working as a volunteer coach at UC, he also was named the head coach of the Dayton Dutch Lions, a team playing in the USL W-League, while also coaching at Cincinnati United Premier (CUP) and serving as the head coach of the Ohio South ODP team as well.
With a wealth of experience, MacLeod set off to the Atlanta area where he had spent two years working with AFC Lightning. While at AFC Lightning, MacLeod was tasked as the Girls Director of Coaching for U13-U19 teams and also served as the head coach for multiple teams. During his time at AFC, MacLeod guided teams to two state league titles, two State Cup finals, Southern Regional championship qualification and oversaw multiple teams achieving promotion to the Southern Regional Premier Leagues.
MacLeod's knowledge has not been limited to soccer players and programs, however. His experience also included strength & conditioning and nutritional consulting work with members of Great Britain's women's basketball team; Scottish national rugby team players; Olympic and world champion triathletes; and world champion boxers. He holds several licenses and certifications in various areas of expertise, including UEFA 'B' and NSCAA Premier Diploma (Distinguished Pass) in soccer. He has also been a Certified Strength & Conditioning Specialist (NSCA & UKSCA) and holds a Level 4 Obesity & Diabetes Management (REPS). At this time he is completing his UEFA 'A' and his UEFA Elite Youth 'A' Licenses.