NWSL releases preliminary list of players eligible for 2020 College Draft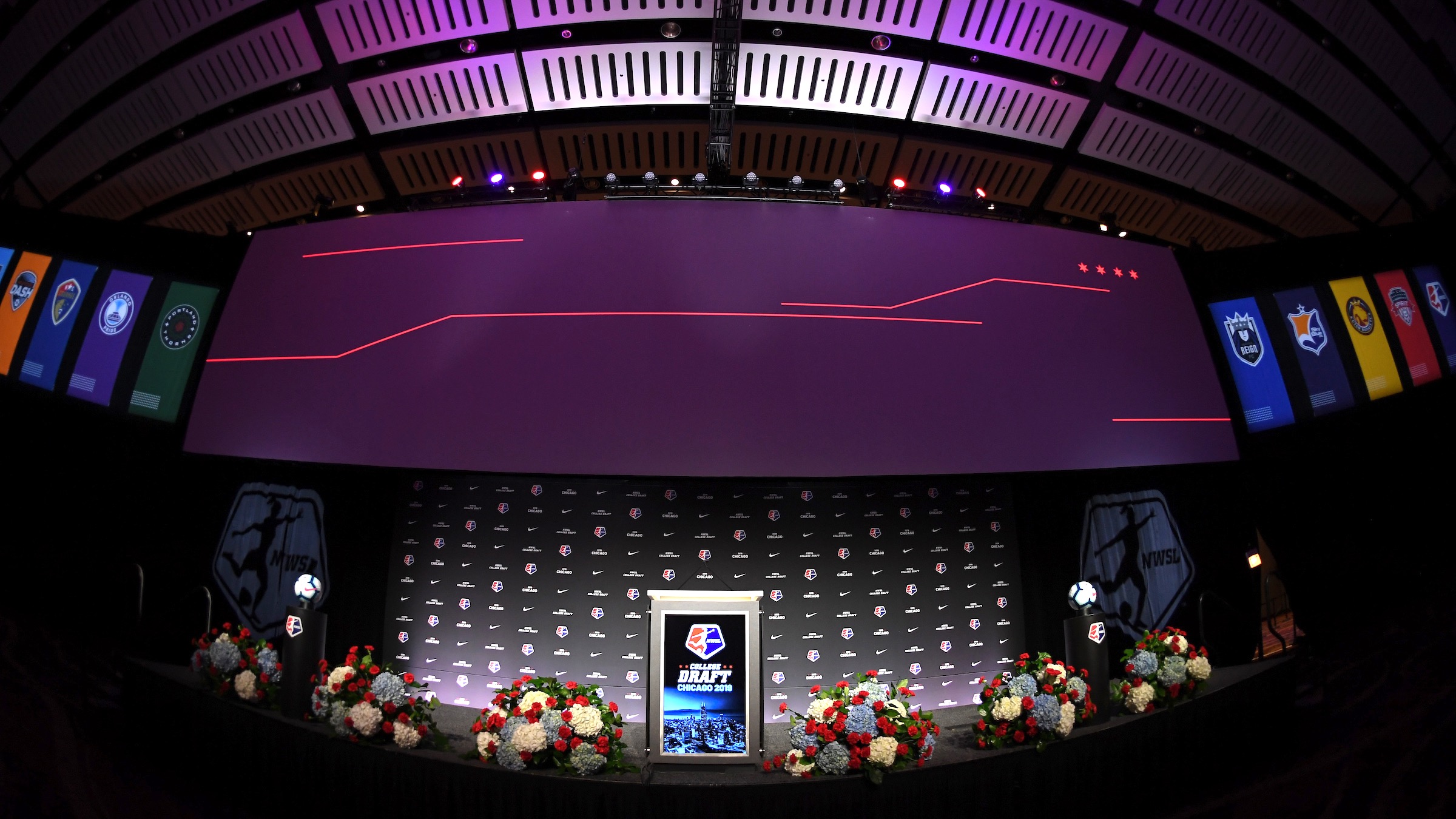 The National Women's Soccer League (NWSL) released the preliminary list of nearly 100 players eligible for the 2020 NWSL College Draft, which will take place on Jan. 16 at 11 a.m. ET at the United Soccer Coaches Convention in Baltimore.
The deadline for players to register for the 2020 NWSL College Draft is Wednesday, Jan. 15, 2020 at 4 p.m. ET.
More information for the 2020 College Draft and all past draft results can be found here.
For a complete schedule of events and more information about the 2020 United Soccer Coaches Convention, please visit the official website at unitedsoccercoachesconvention.org.
To follow all the action of the 2020 NWSL College Draft, use #NWSLDraft and follow the NWSL on Twitter, Facebook, andInstagram.
Preliminary list of players registered for the 2020 NWSL College Draft, in alphabetical order:
Name (Last, First) | College/University | Position(s) Played | Hometown | Youth Club | Citizenship
Adler, Hannah | University of Denver| M | Oak Park, CA | Real So Cal ECNL
Andrzejewski, Bridgette | University of North Carolina | F | Baltimore, MD | Premier Soccer Club/Match Fit/Maryland United
Aylmer, Taylor | Rutgers University | F, M | Garnerville, NY | World Class FC
Beil, Vivien | University of Connecticut | F, M |Jena, Thuringia, Germany |FF USV Jena | Germany
Berardo, Isa | Pitzer College | GK | Santa Cruz, CA | N/A | USA/England
Bingham, Julia | University of Southern California | D | Ontario, CA | Slammers FC
Boilesen, Marjorie | Florida Gulf Coast University | F, M |Sao Paulo, Brazil | Centro Olimpico | Brazil
Bosak, Jaylin | Creighton University | D | Omaha, NE | Sporting Omaha Futbol Club
Brandt, Meg | University of Lincoln | F, M, D |Ankeny, IA| Iowa Rush
Brown, Madison |BIOLA University | M,D | Salem, OR | ECNL Oregon Crossfire United
Chavarin, Aerial | Yale University | F, M, D | Oakland, CA | Mountain View Los Altos (MVLA)
Coll, Hailey| Henry Sheldon High School | GK | Eugene, OR |Portland Thorns Development Academy
Corbin, Mia | University of California Berkley | F, M | Maple Valley, Washington | Pacific Northwest Soccer Club
Corder, Aubrei | University of Nebraska | GK | Barboursville, WV | Ohio Premier ECNL
Crawford, Haley | James Madison University | F, M, D | Port Matilda, PA | Lancaster Inferno
Crenshaw, Lauren | University of Texas El Paso | D | Gilbert, AZ | Shattuck St Marys
Daugirda, Holly | University of Utah | M, D | Salt Lake City, UT | Utah Avalanche
Davidson, Chandra | Indiana University | F, M | Hamilton, Ontario | U21 Provincial St. Catharines Jets/Burlington Bayhawks | Canada
Del Fava, Kate | Illinois State University | F, M, D | Pleasant Prairie, WI | FC Wisconsin Eclpse
Doak, Olivia | Lipscomb University | F, M, D | Shelbyville, Tennessee | Tennessee Soccer Club- 16
Dolan, Serena | University of Memphis | M | Caseys Corner, Nova Scotia | Valley United | Canada
Eddy, Emma | University of Oregon | F, M | Eugene, OR | Eugene Timbers Fútbol Club
Fisher, Kristina | University of Miami | F, M | Jupiter, FL | Orlando City
Folds, Brianne | Auburn University | M | Lakeland,FL | Tampa Bay United
Friedrichs, Susanna | Virginia Commonwealth University | D | Midlothian, Virginia | Richmond United Elite ECNL team
Genas, Alexa | Campbell | F, M | Albuquerque, New Mexico | New Mexico Rio Rapids 1998
Gibson, Madison | Monmouth University | F, D | Cape May, New Jersey| New Jersey Rush
Gonzalez, Madison | Santa Clara University | F, M | Santa Rosa, CA | Santa Rosa United
Gotta, Madeline | Gonzaga University| F, M, D | San Diego, CA | San Diego Surf
Hammond, Madison | Wake Forest University| F, M, D | Albuquerque, New Mexico | McLean Youth Soccer Club ECNL
Havlicek, Halley | Colorado State University | M, D | Spring Grove, IL| Chicago Sockers FC
Hayden, Danielle | Baylor University | F, D | Indianapolis, IN | Indiana Fire
Hazlett, Kimberly | University of Portland | D | Bellingham, WA | Crossfire Premier
Hintzen, Cyera | The University of Texas at Austin | F | Garland, TX | Dallas Sting
Irwin, Kelsey | Virginia Tech | M, D | San Diego, CA | San Diego Surf
Jakubowski, Taryn | Creighton University | M, D | Lake in the Hills, IL | Chicago Sockers FC
Kajan, Zsanett | St. John's University | F, M | Budapest, Hungary | MTK Hungaria FC | Hungary
Kara, Vanessa | University of Florida | F, D | Burlington, NJ | PDA Force
Kelley, Aleah | University of California, Irvine | D | Elk Grove, CA | FC Elk Grove
Kennedy, Maureen | Bowling Green State University | D | Cypress, CA | Irvine Strikers ECNL
Kimball, Kelsey | University of California, San Diego | M, D | Thousand Oaks, CA | Eagles Soccer Club
King, Tziarra | North Carolina State University | F, M | Sicklerville, New Jersey | Winslow Township Youth Soccer Association/Princeton Soccer Association
Klug, Alli | St. Louis University | D | Webster Groves, MO | St. Louis Scott Gallagher
Knaub, Amanda | Monmouth University | GK | Enola, PA | Hershey FC Rush
Kovacs, Michaela | Michigan State University | M, D | Hudsonville, MI | Midwest United FC
Krzeczowski, Mikayla | University of South Carolina | GK | Douglasville, Georgia | Concorde Fire
Lester, Julia | University of Florida | M, D | Apollo Beach, FL | Tampa Bay United
Lund, Katie | University of Arkansas | GK | Plano, TX | Dallas Sting
Madison, Miciah | University of San Francisco | F, D | Lathrop, CA | West Coast Soccer Club
Mallin, Stasianne | University of Memphis | M, D | Carmel, IN | Ohio Premier Soccer Club
McClanahan, Mikayla (Mickey) | Walsh University | GK | Franklin, OH | Metro Futbol Club
McCool, Meghan | University of Virginia | F, M | Glenside, PA | Penn Fusion Soccer Academy
McCullough, Kaiya | UCLA | D | Mission Viejo, CA | San Diego Surf
McGlynn, Amanda | Virgina Tech | GK | Jacksonville, FL | Jacksonville Armada
Merrick, Addisyn | University of Kansas | D | Lee's Summit, MO | Sporting Blue Valley ECNL
Milesky, Alivia | Ohio University | F, M | Plain City, OH | Ohio Premier
Miramontez, Sinclaire | University of Nebraska – Lincoln | D | Lenexa, KS | Sporting Blue Valley ECNL 97/98
Morse, Zoe | University of Virginia | M, D | East Lansing, MI | Michigan Hawks
Murison, Shaelan | University of California, Santa Barbara | F | Santa Clara, CA | Mountain View Lost Altos, Mercury Black
Nally, Meaghan | Georgetown University |  D | Reston, VA | FC Virginia
Nelson, Carly | University of Utah | GK | Lindon, UT | Celtic Storm
Newsom, Maddie | University of California, Irvine | GK | Elk Grove, CA | Elk Grove FC
Nolan, Hayley | University of Hartford | M, D | Hartford, CT | Peamount United (Ireland) | Student Visa/Ireland
Nolan, Aaliyah | University of North Texas | F | Bermuda | Pembroke Hamilton Club | Bermuda
Ochoa, Brenna | University of Nebraska – Lincoln | F, M | Omaha, NE | Elite Girls Academy 98 Maroon
Palladino, Lexie | Monmouth University | F, M, D | Medford, NJ | PDA Arsenal
Perez, Nelia | Radford University | F | Newport News, VA | Wake FC WPSL
Petersen, Courtney | University of Virginia | M, D | Canton, MI | Michigan Hawks
Pingel, Kathleen | Cal State University Long Beach | F, M | Torrance, CA | So Cal Blues
Popadinova, Evdokia | Florida Gulf Coast University | F, M | Hadzhidimovo, Bulgaria | Sportika Blagoevgrad | Bulgaria
Primus, Atlanta | California State University, Fullerton | F, M | Southampton, England | Chelsea Ladies | England
Raines, Amber | Caldwell University | M, D | Millville, NJ | PSA Princeton
Ramos, Angelica | University of California, San Diego | GK | San Clementa, CA | West Coast FC
Reed, Zoie | Central Michigan University | GK | Woodbridge, CT | CFC United
Reilly, Mary | University of California, San Diego | F, M, D | Chula Vista, CA | Coronado Youth Soccer League
Rivers, Brooklynn | University of Louisville | F, M, D | Louisville, KY | Ohio Elite Soccer Academy
Saddic, Natalie | University of California, San Diego | M, D | San Diego, CA | DMCV Sharks
Schmidt, Annika | Butler University | M, D | Zionsville, Indiana | Indiana Fire Juniors
Sherle, Raimee | Boise State University | F, M | Eagle, ID | ECNL FC Nova
Shorts, Cheyenne | University of Denver | D | Denver, CO | Colorado Storm
Smithers, Autumn | University of Notre Dame | M, D | Modesto, CA | West Coast Soccer Club
Soree, Alexandra (Zandy) | University of Central Florida | F, M | Orlando, FL | Sunrise SC | USA/Belgium
Stanfill, Jessica | University of Richmond | GK | Fitzgerald, GA | United Futbol Club
Stuteville, Tristin | Ball State University | GK | Kansas City, MO | Lou Fusz Wipke
Swaby, Chantelle | Rutgers University | M, D | West Hartford, CT | Connecticut Football Club
Szemik, Kinga | University of Texas Rio Grande Valley | GK | Pietrzykowice, Poland | TS Mitech Zywiec | Poland
Tallent, Alyssa | Virginia Commonwealth University | M | Woodbridge, VA | PWSI (Prince William Courage)
Thornton, Allie | Southern Methodist University | F, M | Arlington, TX | Solar Chelsea Soccer Club ECNL
Tompkins, Jalen | University of Colorado Boulder | GK | Scottsdale, AZ | Sereno Soccer Club
Uveges, Savanah | University of Nebraska – Lincoln | F, M, D | Bartlett, IL | Strikers Fox Valley
Vaughn, Olivia | Boston College | F | Montclair, NJ | Matchfit Academy | USA/England
Vinciguerra, Kristen | Villanova University | F, D | Upper Saddle River, NJ | New Jersey Stallions Dynamite
Wagner, Emma | University of Pennsylvania | D | Philadelphia, PA | Germantown Friends Club | USA/Germany
Walking, Ricarda | North Carolina State University | M | Obergriesbach, Bavaria | FC Bayern Munich | Germany
Washngton, Chelsee | Bowling Green State University | M | Carrolton, TX | Solar Chelsea
Watford, Miyah | Murray State University | F, M | Indianapolis, IND | FC Pride
Wilson, Brittany | University of Denver | GK | Littleton, CO | Real Colorado ECNL
Zuniga-Herrera, Stephanie | University of Colorado Boulder | F, M | Pinole, CA | EBU Bay Oaks Botafogo 96