No. 9 Rutgers wins 2021 Big Ten Championship outright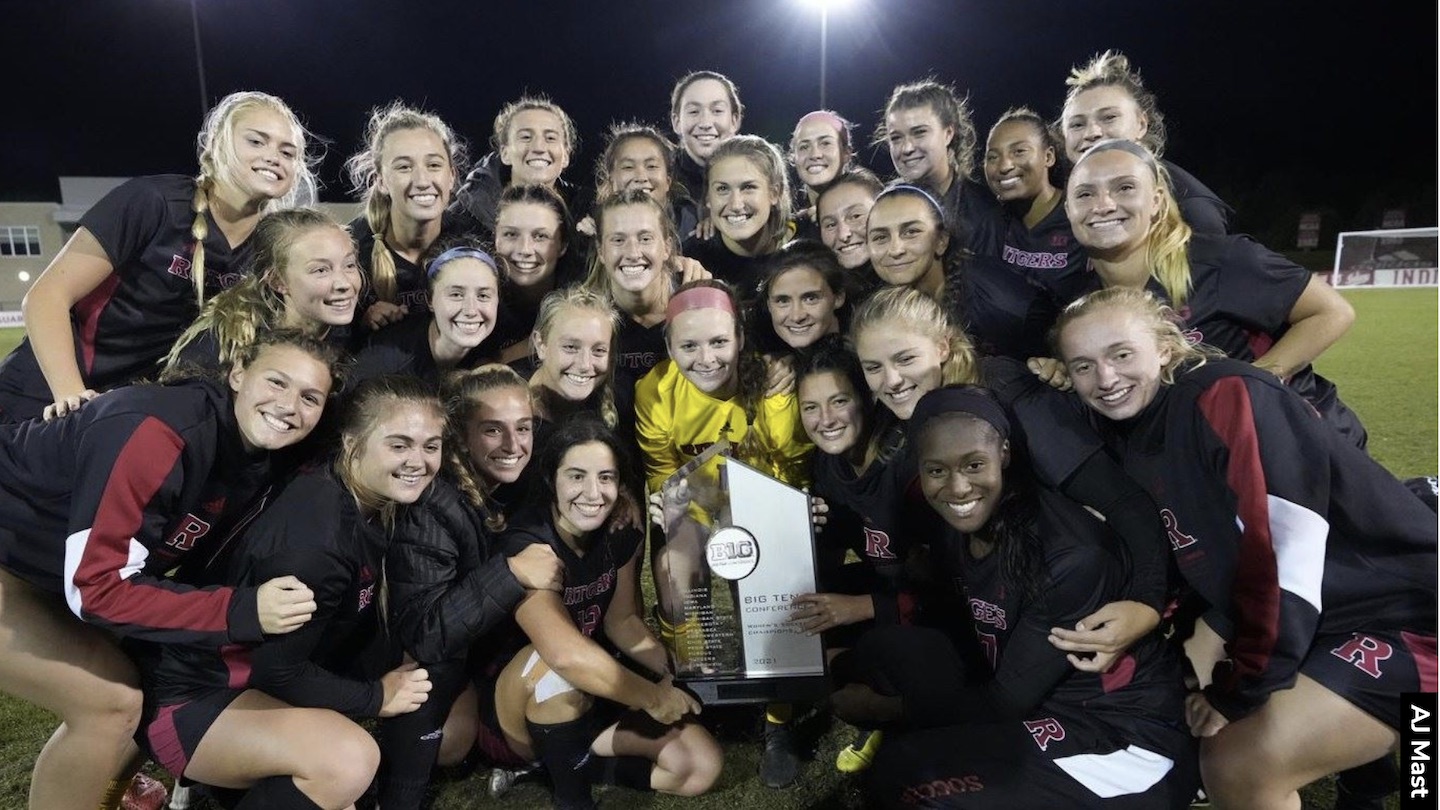 BLOOMINGTON, IND. – No. 9 Rutgers women's soccer claimed the outright 2021 Big Ten Championship with a win at Indiana on Thursday night. The Scarlet Knights improved to 9-0 in Big Ten play, earning the first B1G title in program history.
"Great day for the players, staff, our families and Rutgers University. To be part of history is very special and this team will forever be remembered. It's a credit to the players and staff for all their hard work," said Head Coach Mike O'Neill. "So we will enjoy the victory tonight and get back to work tomorrow as there is still so much to play for. I am so happy and proud of the players and staff. Forever Rutgers, Forever Family."
"Congratulations to our women's soccer program on tonight's historic achievement," said Athletic Director Pat Hobbs. "They stand alone as the 2021 Big Ten Champions and it's a testament to the hard work put in by Coach O'Neill, his staff and this amazing group of young women. It is the first of many Big Ten Conference titles for Rutgers and I couldn't be more proud."
Rutgers earned a 2-0 victory over the Hoosiers to celebrate the title, extending its win streak to a program record 10 straight victories. Amirah Ali put the Scarlet Knights ahead in the opening half, scoring 21 minutes into the contest. Frankie Tagliaferri added another tally in the second half, finishing off an assist from Allison Lynch.
Tagliaferri's goal was her team leading 12th of the year, while Ali netted her sixth goal of the season. Meagan McClelland registered four saves, as the Scarlet Knights posted its eighth clean sheet of the year.
"Nothing beats the feeling of being a champion with your best friends. We're so proud of all the work we've put it and what we've achieved so far, but are also excited for what's to come. Bringing home the school's first Big Ten Championship is a feeling like no other, and we can't wait to see the bright future for all of RU Athletics!," said captain Meagan McClelland.
"I'm completely speechless after today. I'm so incredibly proud of this team and all the hard work that everyone has put in. There's no better feeling then making history with your best friends. The trophy is coming back to Jersey where it belongs," said captain Gabby Provenzano.
Ali put Rutgers on the board early. Sam Kroeger sent in a pass into the box, which Ali capitalized on to give the Scarlet Knights a 1-0 advantage in the 21st minute.
"Winning this title in my eyes had so much more meaning than just a championship. Being able to lift up that trophy with this team only made my final collegiate season that much more special! All of the hard work we put in since July prepared us for moments like this. But we know we have more goals as a team and are very excited for the next game and postseason!," said captain Amirah Ali.
GOOOALLL! AMIRAH. ALI!!

Sam Kroeger sends a pass into the box and Amirah Ali capitalizes to give #RUWS a 1-0 lead in the 22nd minute pic.twitter.com/6PBWnXKZSU

— RUWS | BIG TEN CHAMPIONS (@RUWSoccer) October 21, 2021
RU held UI to just two total shots in the first half to carry the edge into the break. In the 50th minute, Tagliaferri cushioned the lead with an assist from Lynch. Lynch sent a cross to Tagliaferri from just six-yards out for the 2-0 margin.
The Scarlet Knights controlled play with a 14-6 advantage in shots overall. Rutgers has held six of nine Big Ten opponents to single-digit shots overall, while holding all to six or less shots on goal. It marked RU's eighth of the season, marking the fourth in Big Ten play.
GOOAALLLL! Allison Lynch➡️Frankie Tagliaferri

Allison Lynch with the 🎯 cross and Frankie Tagliaferri with the 🔥 finish!! #RUWS leads 2-0! pic.twitter.com/zWokBYGA4E

— RUWS | BIG TEN CHAMPIONS (@RUWSoccer) October 22, 2021
The Big Ten title marks the first in program history, as well as the first for Rutgers Athletics. With the victory, Rutgers also clinched the No. 1 seed in the 2021 Big Ten Tournament.
"Year after year we have worked so hard to make a statement about what Rutgers is all about. This moment has shown everyone how much heart this team has, we are truly a family. To come home with Rutgers first championship means everything to us," said captain Shea Holland.
"There's not many words that can describe this feeling of succeeding with the people you love. I'm so inspired by this team for grinding as hard as we have since day one, and it feels absolutely surreal to finally lift a Big Ten trophy and make history for Rutgers. This success has been a long time coming and we couldn't have done it without the support from Rutgers, but it is only the start for this team. We're not done yet!," said captain Nicole Binkley.
"Our goal from day one was to be champions. We said it before every practice and every game keeping it in mind. This team is something special with the winning mentality and desire to be better every day. The coaches push us to improve and up our game each time we put on our cleats, and they always expect the best we have as we do of each other and ourselves. I am so proud to be a part of something so special with so many amazing people," said Sara Brocious.
"Being Big Ten Champions is like no other feeling. The amount of work this team and coaching staff has put into where we are today is unbelievable! Our goal from day one has always been to be at the top of the table and win the conference. We stuck to our plan and took each game one at a time. I am so proud of this entire team and the dedication, focus and resilience we had from the beginning. It wasn't easy but we stuck together in the tough moments. We continued to carry the saying "We bend, but we don't break" and that is what we stuck with for all of our games. We aren't finished yet and our next focus is Sunday's match but being a part of history with the team tonight is a moment I will forever cherish," said Sam Kroeger.
Rutgers wraps up the regular season on Sunday, Oct. 24 at Illinois.