Four Oklahoma and TCU players split Big 12 weekly awards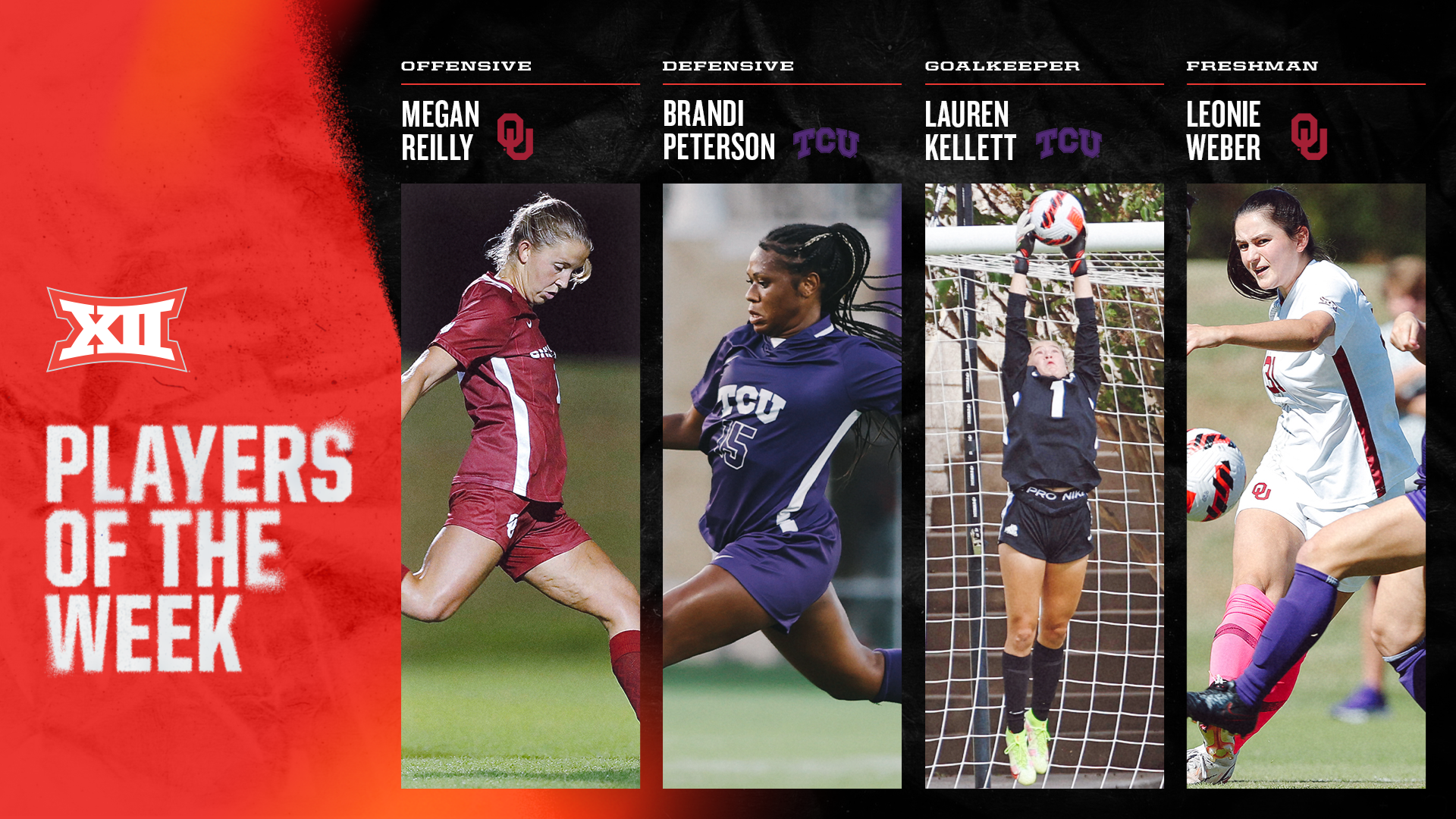 Irving, Texas — Oklahoma senior midfielder Megan Reilly and rookie forward Leonie Weber collect the Big 12 Soccer Offensive Player of the Week and Freshman of the Week awards after leading the Sooners to their first two Big 12 wins of the season.
They are joined by TCU senior Brandi Peterson and sophomore Lauren Kellett, who received Defensive Player of the Week and Goalkeeper of the Week, respectively, after back-to-back shutouts.
Reilly recorded her second brace of the season last Thursday in OU's 3-2 victory over Kansas. She scored two goals, heading one in and successfully converting a penalty kick, to help lead the Sooners to their first Big 12 win of the season. Reilly was efficient in the match, finding the back of the net on two of her four shots. The senior collected four points in the match and helped the Sooners to back-to-back wins with a victory over Kansas State on Sunday.
Weber made major contributions for OU during a 2-0 week, scoring one exceptional goal versus Kansas and recording an assist against K-State. Weber executed a back-heel goal on Thursday, which was placed perfectly across the goal on the flick coming off an OU corner. The score was featured on SportsCenter's Top 10 at No. 5 on Thursday night. Weber's assist on Sunday tallied her third point of the week, getting the assist off a deflection in the six-yard box that OU senior Alexis Strickland was able to convert. Thursday's goal marked Weber's third of the season and her assist Sunday was her second in 2021.
Peterson collects her fourth defensive award this season, second in a row, after aiding TCU in road shutouts over No. 21 West Virginia and Iowa State. The Mountaineers were not allowed a shot by the Horned Frog defense after the 77th minute and were limited to just eight shots. Peterson also recorded her second goal of the season to close out the first half against the Cyclones. Iowa State had five shots in the match, only one on goal, and was not allowed any corner kicks.
In 351:42 minutes spanning four-plus games, Kellett has not allowed a goal. The sophomore played all but 12 minutes between the posts last week in shutouts over the Mountaineers and Cyclones. She made two saves in each half at West Virginia to help lead the Frogs to their first-ever win in Morgantown and had a leaping save in each half to keep the game scoreless. Kellett faced just one shot on goal against Iowa State, but cut off numerous crossing passes to prevent shots on goal from the Cyclones.
Offensive Player of the Week
Megan Reilly, Sr., Midfielder, Oklahoma
Defensive Player of the Week
Brandi Peterson, Sr., Defender, TCU
Goalkeeper of the Week
Lauren Kellett, So., TCU
Freshman of the Week
Leonie Weber, Forward, Oklahoma