Indiana earns sixth straight clean sheet, beating Wisconsin on golden goal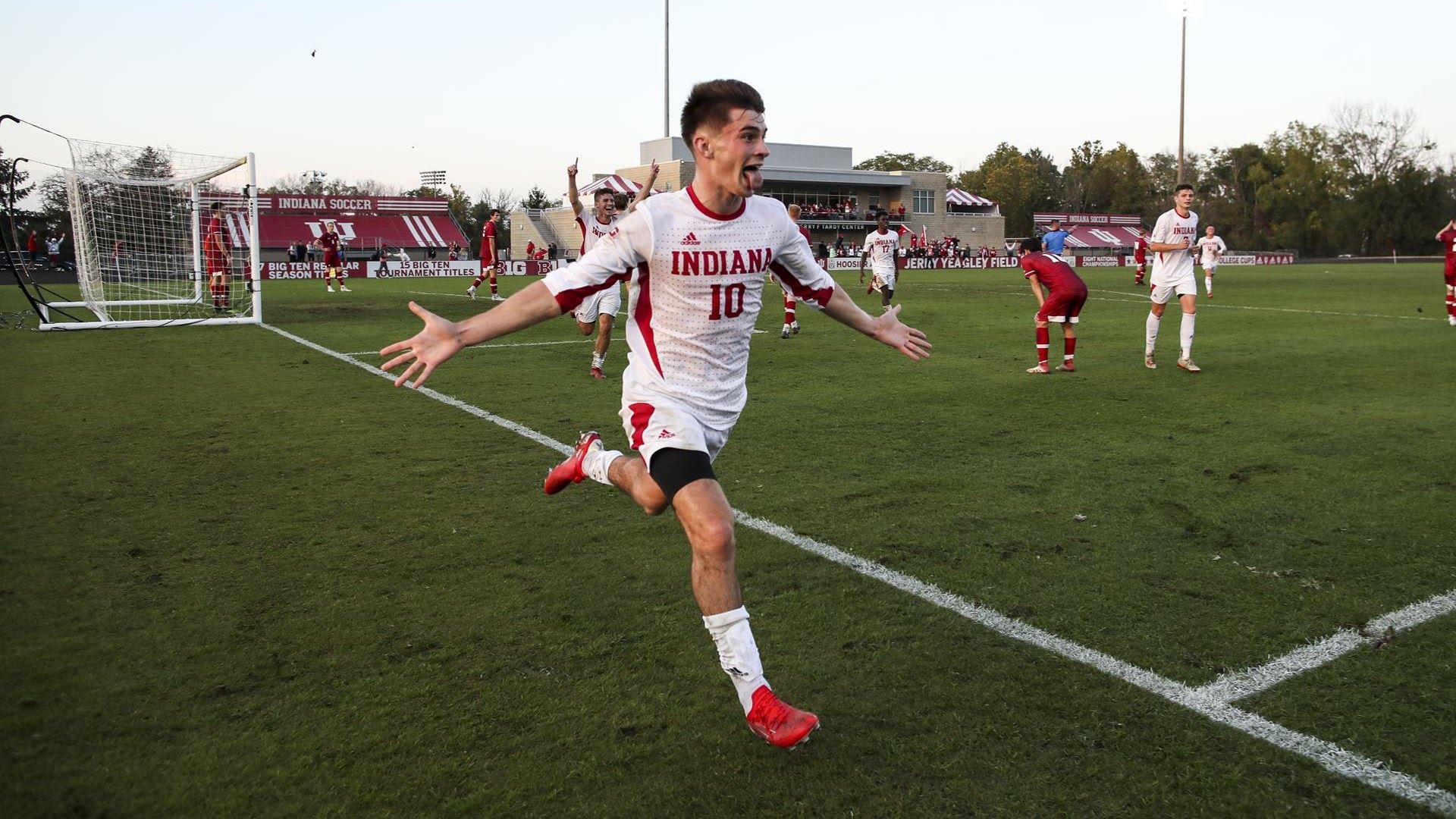 BLOOMINGTON, Ind. – Tommy Mihalic's 106th minute golden goal salvaged three crucial points for Indiana's Big Ten regular season title hopes as the Hoosiers (11-3-1, 5-2-0 B1G) defeated Wisconsin (7-5-3, 3-3-1 B1G), 1-0, in double overtime on Jerry Yeagley Field at Bill Armstrong Stadium Sunday (Oct. 24) evening.
Indiana's dominant defense now has a six-match shutout streak, which is the longest run since the 2017 team that earned eight consecutive clean sheets. Indiana has not conceded a goal in 586 consecutive minutes of play. The Hoosiers have also won eight of their last nine contests while allowing just three goals during that span. That stretch also includes three straight conference wins.
Going into the final week of the regular season, Indiana currently sits atop the Big Ten Conference table with 15 points over seven matches played. A victory next Sunday (Oct. 31) ensures IU at least a share of the regular season championship.
106' | What a run. What a finish.@tommymihalic10 | #IUMS pic.twitter.com/FP0kX72YDL

— Indiana Men's Soccer (@IndianaMSOC) October 24, 2021
KEY MOMENTS
• In the 26th minute, Wisconsin's Andrew Akindele intercepted a pass between IU centerbacks into a one-on-one with Hoosier goalkeeper Roman Celentano. Akindele struck it low and to Celentano's right, but the reigning Big Ten Defensive Player of the Week dove just in time to save the day.
• Despite seeing plenty of action in their attacking third, the Hoosiers only recorded two shots in the opening half. They began to unlock the Badger back line in the second 45, earning 10 more shots in that period.
• Mihalic had an opportunity to score the winner in the 90th minute. As a cross found him in the box, Mihalic played it forward to Victor Bezerra, who played it back in front to Mihalic. With space to shoot, Mihalic struck first time but sent it over the bar.
• Indiana had another clear-cut chance five minutes into the first overtime period on a corner. Bezerra played short, received the pass, dribbled through two defenders and fired off his right foot. Brett Bebej collected the deflection and passed right to Herbert Endeley, who struck a first-time effort that forced a leaping save by the Badger goalie.
• Ryan Wittenbrink's cross from the left flank sailed long and was traveling out of bounds when Bebej's head redirected it across goal to Daniel Munie. Munie's header towards goal floated back across and fell to Mihalic, who knocked it in with a header of his own to claim the Hoosier victory in the 106th minute.
NOTABLES
• The win marked Indiana's fifth straight victory over Wisconsin as the program improved to 41-5-9 in the series.
• Mihalic's golden goal was his fifth of the season, tying Bezerra for the team lead.
UP NEXT
Two matches await Indiana in the final week of regular season play. First, IU hosts a strong non-conference opponent in VCU (9-5-1, 4-3-0 A10) Wednesday at 7 p.m. ET. Indiana will honor its seniors prior to kickoff.
Then, IU travels to Maryland in a match that will help decide the Big Ten Champion. With a win Sunday (Oct. 31), the Hoosiers claim their 18th regular season crown.