Newly-formed Sunrise Prime FC partners with Cooper City Cobras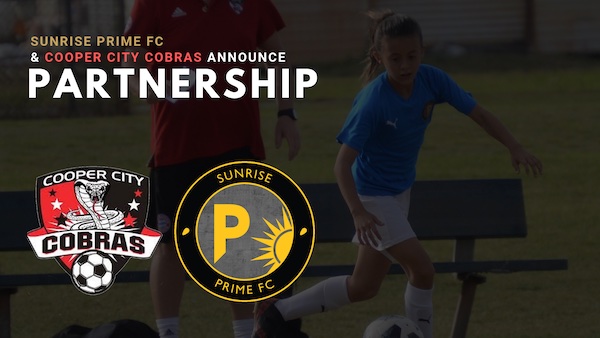 (Via Sunrise Prime FC) – Cooper City Cobras and the newly-formed Sunrise Prime FC have announced a strategic partnership to align two of South Florida's strongest youth soccer programs.
Cooper City Cobras and SPFC (Sunrise Prime FC) leadership have had several meetings in the passing weeks & months. Sharing club philosophies and a long-term vision for enhancing youth soccer to create new opportunities for players in Broward County, both clubs found common ground in their passion for individual player development and see the importance of investing in local soccer talent. From the outset, Cooper City Cobras and Sunrise Prime FC have been driven towards the same overriding collective goal of providing players with the best developmental opportunities possible.
The aim of this partnership is focused on developing players from u8-u12 & to provide a pathway to the Elite Clubs National League (ECNL). Cooper City & SPFC staff will collaborate across both club platforms. This collaboration will bring access to the Pre-ECNL league for top talent coming through the ranks of the Cooper City Cobras. Further, SPFC will seek to bring specialized programming on select nights, at no charge to Cooper City members.
"Cooper City Cobras is proud to announce our partnership with Sunrise Prime FC, an ECNL affiliate that participates at the highest levels of US Soccer. SPFC has quickly become one of the top Girl's soccer programs in South Florida and we are looking forward to working with them towards our club mission of continuously improving player development, implementing the latest and most innovative training methods and providing the best overall experience for our players. We are excited this alliance will also provide additional opportunities for our top talent to compete at the elite level both regionally and nationally." – Cooper City Optimist, Director of Coaches, "Chico" Moss.
+READ: Florida clubs Sunrise SC and FC Prime announce full merger
Cooper City Cobras provides competitive soccer programs for the youth of Cooper City and surrounding areas. The Cobras have a well established history of fielding competitive teams in South Florida. Not only are the Cobras a consistent finalist & champion in many of the areas top tournaments, but the club has also seen a large number of players move on and be successful playing within national-level platforms.
The Cobras soccer program operates as part of the Cooper City Optimist, (CCO), which is a "not for profit" organization and a distinguished member of Optimist International. Founded in 1982, the club has grown considerably through the efforts of hard-working volunteer parents who coach, assist with fundraising, and tackle the administrative/operational duties within the club. This hard work has seen the clubs recreational programming grow to over 1500 members.
"We are excited to announce the partnership with Cooper City Cobras. The aim of this partnership is to focus on the development of young players. An important mission of our ECNL program is to provide a long-term pathway for top soccer talent, which is why partnering with a well established player development program such as this one is so important." – Sunrise Prime FC Executive Director, Alan Hough
Any questions please contact Chico Moss, [email protected], or Alan Hough, [email protected]
For more information please visit Cooper City Cobras or www.fc-prime.com