Richmond United U.S. Soccer Boys DA program adds two Affiliate Clubs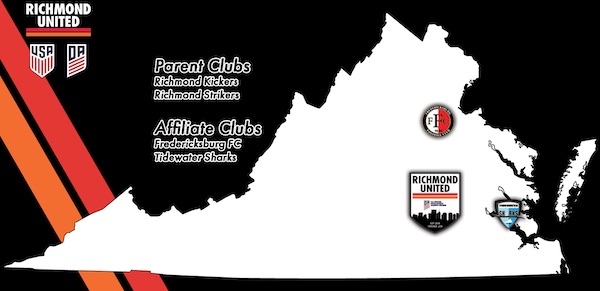 (Via Richmond United) – The Richmond United Boys Development Academy has announced a landmark partnership with two well-known Virginia youth soccer clubs, Fredericksburg FC and Tidewater Sharks.
Joining Richmond United parent clubs Richmond Kickers and Richmond Strikers, the two newest affiliates are fully committed to enhancing and optimizing the development of all players, coaches and technical staff within their respective soccer communities. As part of the new partnership, five players from the two affiliated clubs will join Richmond United as Developmental or full-time players for the 2019-20 season. In addition, the clubs will collaborate regularly throughout the season to identify high-performing players.
"We are excited to establish this partnership with Fredericksburg FC and Tidewater Sharks," commented Sascha Goerres, Richmond United Boys DA Director. "In my conversations with Grover and Martin, it became clear very quickly that both clubs put the development of the individual player first and are fully committed to providing their most talented players and staff a clear pathway to the Development Academy, the top tier of youth soccer in the United States."
The collaboration between Richmond United and its affiliated clubs focuses on two main areas, player development and club/staff development. The affiliation will provide the most talented players the opportunity to benefit from Richmond United's Development Academy environment for training and games as Developmental Players while simultaneously continuing to participate in training and games with their home clubs. Richmond United and its affiliated clubs will work together to provide all players with an appropriate level of competition based on the individual players' abilities and goals.
"We are excited to provide our players the opportunity to join the highest platform in youth club soccer," said Martin Vickerton, Tidewater Sharks Club Director. "With their player pool, coaching and academy status, Richmond United provides the best training and playing environment for our players. We will work together with Sascha and his staff to make sure our players are ready for the next step. Our end goal of this exciting affiliation is for players to continue their dream of playing soccer at the highest level possible."
In addition to the added benefits for players, the technical staffs and coaches will meet regularly to share best practices such as curriculum and session design, while collaborating on development initiatives including talent identification sessions, scrimmage festivals and camps, to optimize the elite training environment for all clubs.
"We have an experienced staff at Fredericksburg FC," added Grover Gibson, Fredericksburg FC Executive Director. "However, with this partnership we will begin to collaborate and work together with an even larger pool of highly experienced Technical & Coaching Staff members from Richmond who are all completely focused on optimizing player development and creating larger pathways and opportunities, not only for players, but also for coaches to share their philosophies & methodology."