New York Red Bulls academy coach Simon Nee talks DA dominance, player dev, NYCFC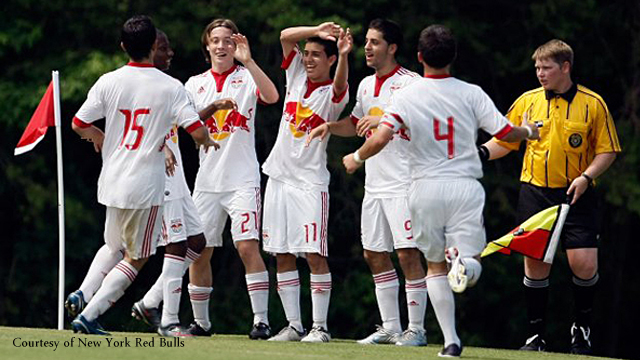 They've won multiple national titles, boast a pair of teams currently undefeated in U.S. Soccer Development Academy play and just won the prestigious Generation adidas Cup. And yet, for the academy program of the New York Red Bulls, the only thing that really matters is the players they produce for their Major League Soccer parent club.
"Winning is nice along the way, but we're ultimately judged on the players we promote to the first team. That's our biggest objective," insists Simon Nee, the Red Bulls academy coach who just guided their current U-16 team, made up of players born in 1998 and '99, to the GA Cup win in Dallas last week.
"We need to prepare them properly for the next level and make sure we're instilling good habits that get them ready for MLS," Nee told SoccerWire.com in an exclusive, in-depth conversation this week. "The way we measure ourselves as an academy is the [players developed for the] first team."
+READ: New York Red Bulls Academy wins Generation Adidas Cup Premier Division
If they were to gauge themselves only on wins, the RBNY academy would have an impressive claim. The Red Bulls won USSDA national titles in 2012 (U-16/15) and 2013 (U17/U18) and last summer their U-23 team, made up of players from their academy who had matriculated to college, won the NPSL (pro-am level) championship.
"We're fortunate to have good groups to work with," said Nee, who coached the U-23 team last summer. (That club will be switching the USL's Premier Development League this summer.)
This year, besides winning the Generation Adidas Cup by beating the academy sides of three MLS clubs and a pair of South American teams, the Red Bulls sport a combined 37-1-9 record in USSDA play across the U-18, U-16 and new U-14 levels, with the two younger sides yet to lose.
But what they are more proud of are players like Matt Miazga, an academy graduate and current U.S. U-20 national team player who has started two games for the first team this year. This winter, Red Bull signed academy product Sean Davis to a homegrown contract after four seasons at Duke.
"Players like Matt, and now Sean Davis, we take enormous pride in all the lads moving up to the MLS group," said Nee, a native of Stoke-on-Trent, England who holds "A" licenses from both UEFA and the U.S. Soccer Federation.
To help made the transition from the academy level to the first team, this year RBNY (and six other MLS sides) followed the LA Galaxy's lead, and added an entry in the USL to serve as  a pro reserve team, giving minutes to younger players ready for the pro game but not the MLS squad.
Last month the club signed 16-year old academy product Tyler Adams to a USL contract and last week Danny Bedoya, an academy product who matriculated at St. John's, was signed by Red Bulls II despite having two years of eligibility remaining.
Additionally, five academy players are allowed, per USL rules, to play with the USL side as amateurs. Because they have not yet started college, under NCAA regulations they are allowed to train and play with the USL side and still later play college soccer – provided they are not compensated and do not sign with an agent.
+READ: John Wolyniec named head coach of New York Red Bulls II
The players with Red Bulls II under this clause are Derrick Etienne, Ethan Lochner, Kyle Zajec, Marcello Borges and forward Juan Sebastian Sanchez, who spent time with the first team during the club's first preseason camp in Orlando, Florida.
"They might not always play [with the USL team] but they get a chance to train with older players at a higher level. It motivates the players to have the USL team," said Nee. "These are serious guys who all have aspirations to go play in the most competitive levels their ability allows.
"It's another motivating factor for the players, and for the team it's another tool for development where we give the lads a place to play and where we can oversee their growth and instill the habits of the organization from the top down and how them how we want them to play. It's huge for us."
Under new sporting director Ali Curtis and new senior-team head coach Jesse Marsch, "vertical integration" with the first team has become a big goal of the Red Bulls youth system.
"One of the big things Ali and Jess did was, they integrated the academy staff into what they're doing with the first team and the USL team. Each academy coach has spent a week with first-team staff, doing everything they do to prepare for the week," said Nee. "We're there in the morning before training, seeing how training will look, video sessions, training itself. We're a fly on the wall and we just immerse ourselves in that week.
"We teach all of them to play the game the right way and prepare all of them with the same habits they'd need to be pro players, even though they may never actually make it. At this age you never really know and we don't pretend to have all the answers."
"It gives us a very clear idea of what they want to see at the first-team level. And the expectation is the USL side should replicate that, and the U-18s should replicate that, and the U-16s, all the way down to the 14s. We're trying to implement what they want at all levels.
"Dialogue is encouraged," Nee added. "Jess doesn't think he knows all the answers. He brings about how you're thinking and teaching the game and wants to see what you're doing. And besides saying this is what he wants for the first team, he wants to see what you're doing and seeing how that can be integrated from the academy and then the USL and first team."
+READ: New York Red Bulls announce player development partnership with Westchester YSL
Nee said that on a personal level, the experience with the first team was hugely beneficial for the academy coaches.
"Absolutely," he said. "In terms of our own personal professional development, to be that involved in things gives you a clear picture of how the first team operates on daily basis and it gives you a lot of ideas you can take away and apply in our own group."
Despite the academy teams' success on the field, the cold reality is the numbers suggest only a handful of the players will actually ever play for the first team. That's not just at RBNY – it's the same in Barcelona and Manchester, in minor-league baseball and NCAA basketball.
"Of a group of 24, we're realistically looking at two to three in a given year who will probably be able to eventually make the jump," said Nee. "But players develop at different rates and a player who we might think might not be one of these players, in a year or two he might be. And, unfortunately, the same goes the other way.
"That's why we teach all of them to play the game the right way and prepare all of them with the same habits they'd need to be pro players, even though they may never actually make it. At this age you never really know and we don't pretend to have all the answers."
Meanwhile, the Red Bulls academy coaches have a new challenge in the form of fellow Big Apple side New York City FC, the ambitious new MLS expansion team backed by big bucks from English Premier League side Manchester City and the New York Yankees.
In February, NYCFC announced the formation of an academy that will begin at the U-13/14 level, with 11 youth club affiliates throughout the New York area. They also announced the formation of a youth development league with teams at the U-9, U-10 and U-11 levels.
+READ: New York City FC launching youth academy
Suddenly RBNY don't have the advantage of being the only club in the United States' biggest market able to promise the allure of MLS affiliation. But Nee said the Red Bulls coaches welcome the competition.
"It drives you, doesn't it? [NYCFC] have been very aggressive in the foundation of their youth program. It will probably take two to three years for that rivalry to really emerge at this level," he said. "But because we have another MLS team working in the same area, once we identify players in our grass roots program, we have to do a good job and show them that they have a logical next step within our club. It pushes you to get better."
Nee said the key to the Red Bulls' continued success in player development will still be the players that come into the program and the network of scouts, coaches and administrators who develop and identify elite talent.
"We've always had a very good outreach program," he said. "Our academy does an excellent job in the community. We have 125 grassroots coaches, and they are the eyes and ears for us in the local soccer community. Our scouts and other contacts are out there and now they know we're competing for players with New York City FC.
"It's not a period where we rest on our laurels. Perhaps we'll launch more initiatives to make sure we identify those players and them in our program. Now we have a neighbor coming."