The best U.S. state at producing MLS players doesn't even have a team (yet)
Major League Soccer recently pointed out that it's the most diverse major professional sports league in the United States.
This doesn't come as a huge surprise: though basketball has seen a steady increase of top foreign players, and baseball is also growing in that respect, soccer truly is the one major global sport.
But rather than be impressed with the number of players in MLS who weren't born in the United States or Canada, the news immediately prompted a question for us here at SoccerWire.com, where we're as focused on youth soccer's "player development pyramid" as anyone.
+READ: MLS remains most diverse pro sports league in North America with 58 countries represented
We wondered, "What regions of this massive country are best at producing players for our own top-flight professional league?"
The mind instantly goes to states like California or New York or Texas, right? While those states are highly populated, with multiple metropolitan regions known for top-level youth clubs, don't let the numbers fool you – only one of those states made it into the top 10 of our VERY informal study.
We looked at the census results from 2000 and pulled out state-by-state population data for all people under the age of 19, as well as all people between the ages of 10 and 24. There was no difference in the final order of "the best states at producing MLS talent" between the two age studies.
Why those ages? The year 2000 was 15 years ago, where any player who is currently 33 or younger would be most likely to still be playing youth soccer in their home state. Someone who started playing soccer as a 5-year-old in 2000 would be 20 now. It's not very scientific, but certainly an interesting angle to look at from our perspective.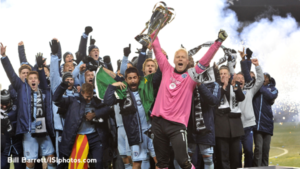 The top spot may come as surprise to many, but when you really think about, it's a HUGE endorsement for how a deeply-rooted soccer culture clearly pays dividends.
A few notes about the list:
1. We only included states that birthed at least five (5) MLS players in order to provide some level of minimum sample size. Had we not limited the number of players, then Washington, D.C. would have been on top, which has two MLS players in the mix – or one for every 28,960 residents 18 or under in 2000. However, Missouri still would have come in second!
+READ: U.S. Soccer announces U-12 Development Academy expansion; will it matter?
2. None of this includes players who play outside of MLS. Point being, there very well may be a region that produces players so effectively that they comprise a majority or plurality of our "Yanks Abroad." If anyone wants to figure that list out and send it our way, we can recalculate and see where things settle.
3. The birthplace statistics provided by MLS don't disclose where the player actually grew up, so it's possible many of the players listed grew up in other regions where these statistics realistically could have been different.
So, while we'd love to include all professional-level players today playing in top flights around the world, as compared to where they actually learned most of their soccer, we just don't have that data. So this is the next best thing.
Enjoy.
-SoccerWire staff
| | | | | |
| --- | --- | --- | --- | --- |
| Rank | State | 0-18 Population in 2000 | 0-18 Pop. per MLS Player | Total MLS Players |
| 1 | Missouri | 731,617 | 56,278 | 13 |
| 2 | Colorado | 565,710 | 62,857 | 9 |
| 3 | Oklahoma | 457,628 | 65,375 | 7 |
| 4 | Ohio | 1,477,885 | 73,894 | 20 |
| 5 | California | 4,744,538 | 80,416 | 59 |
| 6 | Arizona | 701,311 | 87,664 | 8 |
| 7 | Virginia | 889,102 | 88,910 | 10 |
| 8 | Maryland | 693,658 | 99,094 | 7 |
| 9 | North Carolina | 1,006,125 | 91,466 | 11 |
| 10 | New Jersey | 1,069,475 | 106,948 | 10 |
| 11 | Texas | 3,014,733 | 111,657 | 27 |
| 12 | Massachusetts | 769,145 | 128,191 | 6 |
| 13 | Washington | 777,060 | 129,510 | 6 |
| 14 | New York | 2,402,657 | 133,481 | 18 |
| 15 | Indiana | 807,718 | 134,620 | 6 |
| 16 | Illinois | 1,662,432 | 138,536 | 12 |
| 17 | Pennsylvania | 1,499,561 | 136,324 | 11 |
| 18 | Georgia | 1,111,589 | 138,949 | 8 |
| 19 | Tennessee | 718,534 | 143,707 | 5 |
| 20 | Michigan | 1,331,722 | 190,246 | 7 |
| 21 | Florida | 1,870,986 | 207,887 | 9 |