New York Club Soccer League announces major expansion

CHARLESTON, S.C. (Via US Club Soccer) – The most recently established division of the New York Club Soccer League is experiencing rapid growth as teams continue to accept invitations to the team-based NPL division of the NYCSL.
A total of 54 different clubs, encompassing over 150 teams will compete in the inaugural season of the team-based NPL division among 12-U through 19-U boys and girls age groups.
Kicking off this fall, the new NPL team-based competition will be comprised of NY Cup finalists, NYCSL Premier League Division 1 champions, and Final Four champions, along with other teams invited for the opening season. Member teams of this division will strive towards the same goal as those in the club-based platform: an ENPL national championship for the boys participants and an NPL national title for the girls. Beyond this season, the pathway to the team-based NPL division will go through NYCSL and CCSL platforms.
The following clubs will enter teams in the NYCSL team-based division in 2019-2020: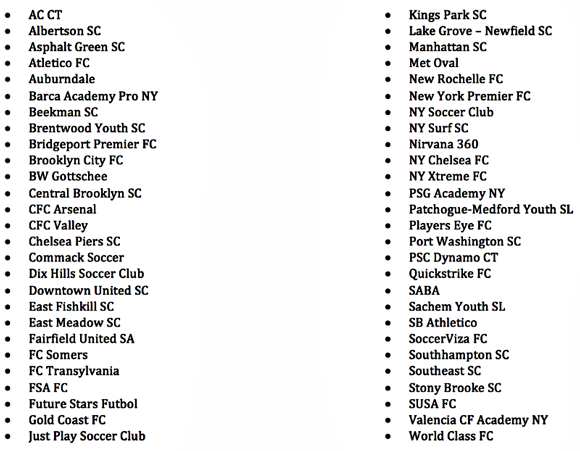 "Most of these teams have participated in US Club Soccer programming for many years, and we are excited to provide a pathway to the ENPL postseason and NPL Finals, through this expansion in the NYCSL," said NPL General Manager and US Club Soccer VP of Competitions, Leo Garcia.
In addition to the new NPL team-based platform, the club-based NPL competition will see the introduction of three new clubs to the girls divisions, along with the previously announced expansion to the boys side.
PSA SD FC, Parsippany SC and PDA Shore will debut in the NYCSL NPL platform against their fellow competitors of the NYCSL club-based division:
Girls: Manhattan SC, NYSC, NY Surf, Quickstrike FC, NJ Stallions, Force FC, Cedar Stars, PSA Wildcats, STA
Boys: AC CT, Barca NY, Brentwood SC, Brooklyn Italians, Met Oval, NY Hota, SUSA, Eastern FC, Everton America CT, NY Elite, Quickstrike FC, White Plains
Four members of the NYCSL NPL – East Meadow SC, Manhattan SC, SUSA FC and World Class FC – have been granted the Players First licenseafter meeting the philosophical commitments to provide a holistic club experience for its players, parents and coaches.