National Finals berths clinched as ENPL Playoffs conclude in Illinois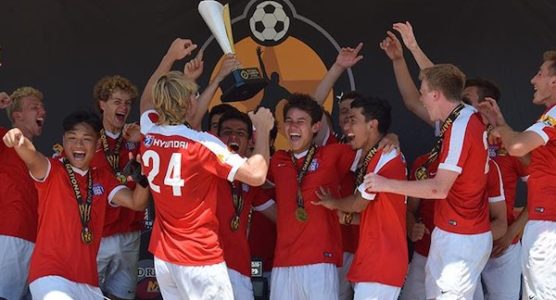 ENPL website | Schedule/Results | @ENPLsoccer on Twitter
ROCKFORD, Ill. | The 2019 ENPL National Playoff/19-U ENPL National Finals in Rockford, Illinois, June 28-July 2, advanced national title aspirations for 28 teams and awarded this summer's first ENPL national champion.
Those 28 teams emerged from a competitive ENPL National Playofftournament field of 14-U through 17-U boys age groups, which is a two-stage postseason. Next week, these teams – representing six NPLs and six Boys ECNL Conferences throughout the country – now advance to the ENPL National Finals, July 11-15 in Commerce City, Colorado, where they'll compete for national championships.
At the oldest age group, NEFC (NEP – NPL Division) earned a national title after a challenging schedule of group stage and knockout rounds. The 19-U ENPL National Finals is a single-stage postseason. NEFC emerged out of the 16-team bracket with an unblemished 5-0 record, amassing a 14-1 goal advantage. On Tuesday morning, the New England Premiership product edged Concorde Fire (Boys ECNL Southeast Conference), 2-0, thanks to a pair of goals in the final 20 minutes. It was redemption for NEFC after losing the 19-U ENPL National Finals championship game last year.
"All of them have been with the club since they were 10/11 years old," said Christian Battaglia, NEFC Director of Coaching. "It's a fantastic way to finish the year, being a national champion. I'm very proud of them and proud for the club too."
"It feels absolutely amazing," added NEFC midfielder Walker Davey. "It feels so great to come back and win the national championship. There's nothing I would've wanted more than to go off with a national championship and to win it with my best friends – my family."
Nearly 150 college coaches attended the tournament, peppering the sidelines of the older age groups. "There are schools here that are very well known, and there are smaller schools here, as well," said Kevin Payne, US Club Soccer CEO/Executive Director. "I think we have a really good range of opportunities for players in this tournament."
This is the second season in the young history of the Elite National Premier League (ENPL). The postseason pathway stems from a collaboration between US Club Soccer and the ECNL to elevate the youth soccer landscape among 14-U through 19-U boys age groups. Twenty-four qualifying competitions – made up of NPLs and Boys ECNL Conferences – throughout the country are focused on winning their regular season competitions and advancing to the ENPL postseason, where national championships are awarded.
ENPL National Playoff (14-U through 17-U):
Participating teams of the ENPL National Playoff were focused on finishing in the top four of the 14-U age group and top eight of the 15-U, 16-U and 17-U age groups in order to qualify to the ENPL National Finals, July 11-15 in Commerce City, Colorado.
14-U:

CenCal Cosmos NPL (NorCal NPL)
Eclipse Select ECNL (Boys ECNL Midwest Conference)
MVLA Pumas NPL (NorCal NPL)
Real Salt Lake AZ (Boys ECNL Southwest Conference)

15-U:

Carolina Elite SA (Boys ECNL Mid-Atlantic Conference)
Cedar Stars Academy (New York Club Soccer League)
Eclipse Select SC (Boys ECNL Midwest Conference)
Manhattan SC (East Coast NPL)
North Carolina FC Youth (Boys ECNL Mid-Atlantic Conference)
Real Salt Lake AZ (Boys ECNL Southwest Conference)
Tulsa SC (Boys ECNL Texas Conference)
Valeo FC (New England Premiership)

16-U:

CSA Impact United SC (Midwest Developmental League)
Florida Elite (Boys ECNL Southeast Conference)
Napa Soccer Academy (NorCal NPL)
NEFC MA (New England Premiership)
PDA (Boys ECNL Northeast Conference)
Phoenix Rising (Boys ECNL Southwest Conference)
Real Salt Lake Arizona (Boys ECNL Southwest Conference)
Slammers FC (Boys ECNL Southwest Conference)

17-U:

Beach FC (Boys ECNL Southwest Conference)
CSA Impact United SC (Midwest Developmental League)
Delaware FC (East Coast NPL)
Dynamos SC (USC Champions League)
Eclipse Select SC (Boys ECNL Midwest Conference)
Gwinnett Soccer Association (Boys ECNL Southeast Conference)
GPS MA (New England Premiership)
Manhattan SC (East Coast NPL)