New York City FC signs 17-year-old Justin Haak as Homegrown Player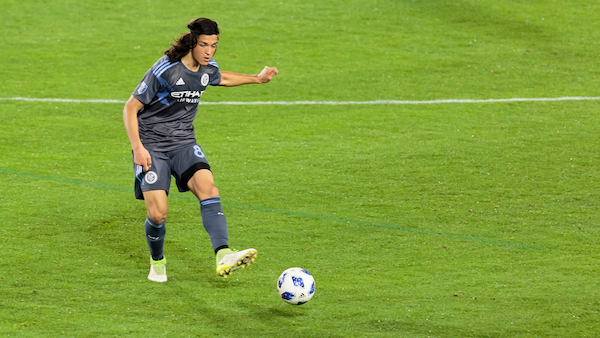 (Via NYCFC) – New York City FC today announced 17-year-old Brooklyn native Justin Haak as the club's third-ever Homegrown Player.
He follows James Sands and Joe Scally on the short list of player to graduate from the Academy to the first team squad.
"It's hard to describe," Haak said about signing a professional contract for NYCFC. "You dream about it almost your whole life and then what it actually comes – you almost can't believe it."
"When NYCFC was first announced, I knew I wanted to play for the professional team in my own city that I've grown up in. It was an amazing chance for me and I just wanted to be a part of it."
"[NYCFC Sporting Director Claudio Reyna] broke the news to me – we were getting something to eat and he just told me, 'We're going to offer you a Homegrown contract.' I just didn't know what to say – but I was just crazy happy."
+READ: D.C. United sign defender Donovan Pines to Homegrown Contract
"Justin is an amazing and smart kid whose story is a special one for New York City FC," Reyna said. "He is one of the original academy members who joined our U-14s in 2015 and as a Brooklyn native, he's our Club's first ever signing from the five boroughs."
"When I personally shared the news of his Homegrown contract to him over lunch, I'll never forget the look on his face. Justin is a talented player and an incredible person, and I'm thrilled to see him sign his first professional contract with us and look forward to seeing his continued growth with NYCFC throughout the coming years."
Haak began with the Club's first ever Academy side, the U-14s in 2015, and progressed through the entire pathway, ultimately helping win the Generation adidas Cup in 2017 and the USDA National Championship in 2018.
He's been capped at the international level with the U.S. U-18s and helped them win the International Youth Tournament of Vaclav Jezek in the Czech Republic last August.
NYCFC head coach Doménec Torrent said: "This is an incredible opportunity for Justin. He trained with us in the first team last season and performed very well. Graduating from our youth academy is a great achievement. Homegrown talent is so important to a football club. We are excited to have Justin join the first team and we're ready to help him develop his game at the next level."
The Met-Oval product attended NYCFC pre-season camp last year and impressed in friendly matches vs. LA Galaxy and Atlético San Luis. Justin continued to train with the first team regularly through 2018.
Everyone at the club is excited for Justin to continue his development as a full member of the first team in the coming years.