New Hampshire men's soccer reveals incoming class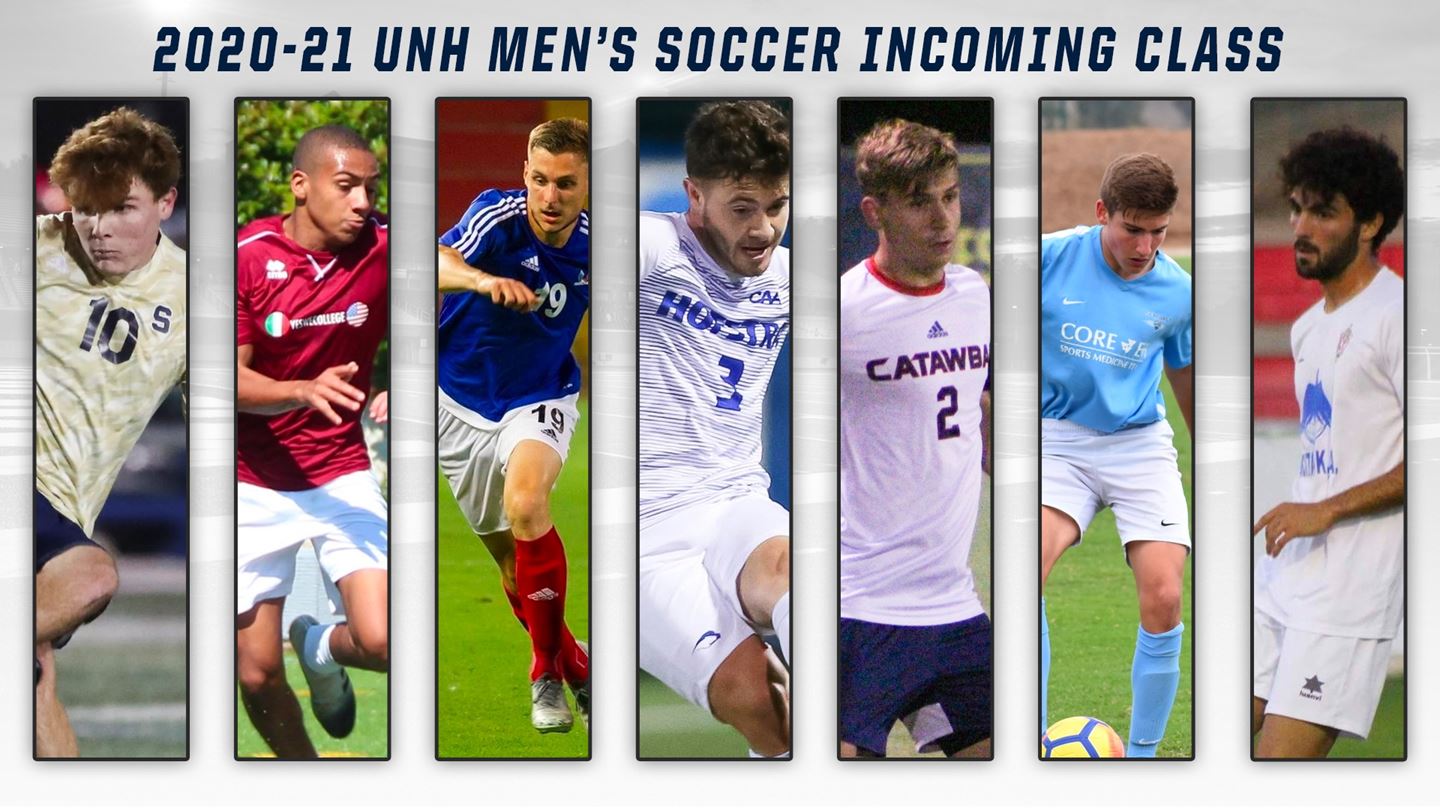 DURHAM, N.H. – University of New Hampshire head men's soccer coach Marc Hubbard has announced the incoming class for the 2020-21 season.
Drew Blackwell (Wilmington, Del.), Yannick Bright (Milan, Italy), Sam Henneberg (Guildford, England), Adi Hicks (Derry, N.H.), Paul Mayer (Strasbourg, France), Adam Savill (Manchester, England) and Diego Toribio (Herencia, Spain) will join the program.
"This class gives us an extreme amount of maturity and immediate quality," said Hubbard. "Coupled with our returners, this should be the deepest team we have had during our time at New Hampshire. I would like to thank associate head coach Rich Weinrebe and assistant coach Nick Thompson for their efforts in helping to assemble this balanced group. We look forward to getting to work with the newcomers as well as continue to build on this for January as things evolve."
2020-21 UNH MEN'S SOCCER INCOMING CLASS
| | | | | |
| --- | --- | --- | --- | --- |
| Name | Yr. | Pos. | Ht. | Hometown/Previous Club |
| Drew Blackwell | Fr. | M | 5-10 | Wilmington, Del./Penn Fusion |
| Yannick Bright | Fr. | M | 6-0 | Milan, Italy/G.S. Arconatese |
| Sam Henneberg | Gr. | B | 5-9 | Guildford, England/Catawba College |
| Adi Hicks | Fr. | B/M | 5-7 | Derry, N.H./Seacoast United |
| Paul Mayer | Gr. | F | 6-2 | Strasbourg, France/Illkirch Graffenstaden |
| Adam Savill | Gr. | M/B | 5-10 | Manchester, England/Hofstra University |
| Diego Toribio | Gr. | M | 5-11 | Herencia, Spain/C.P. Villarrobledo |
DREW BLACKWELL

COACH HUBBARD: "Drew was our first commitment of the 2020 Class and we couldn't be more excited to finally start working with him. He has a tremendous soccer IQ, silky left foot and special ability in the final third. Drew's passion for UNH and understanding on how he fits in will help him become more successful earlier in his career."
Played six seasons for the Penn Fusion Soccer Academy and was a four-time team captain
2017-18 ECNL All-American, 2017-18 ECNL Northeast Conference Player of the Year, and 2017-18 & 2018-19 ECNL Northeast Conference All-Conference Team
During the 2017-18 season he posted 18 goals and 21 assists for 57 points over 20 games as the team won the ECNL Northeast Conference Championship and were ENPL National Finalists
Graduated from the Salesianum School in Wilmington, Del., where he was a three-year member of the varsity soccer team as the team won three State Championships (2017, 2018 & 2019) and was ranked as high as No. 2 in the nation by USA Today, while he totaled 36 goals and 26 assists for 98 points over 51 games
Named a 2019 United Soccer Coaches All-American and the 2019 Delaware Player of the Year as he set the school record with 23 goals, while he also posted eight assists for 54 points
YANNICK BRIGHT

COACH HUBBARD: "Yannick has all the tools to be a top end midfielder for our team. He has strength and power combined with a finesse and creativity that will fit well into our style of play as well as the conference. Yannick continues to get better at his level back home every time we watch him play. We are confident he will continue to grow into his high end potential in New Hampshire."
Played for G.S. Arconatese in Serie D from 2018-20
Member of US Seguro from 2016-18
Graduated from E. Torricelli High School in 2020
SAM HENNEBERG

COACH HUBBARD: "Sam arrives with a number of valuable playing experiences that will translate well to our program. He has played in Division II the last few seasons while spending his latest summer at NC Fusion of the USL2, which was one of the best teams in the country. We were very drawn to his ability to serve set pieces. His crossing and technical ability combined with a smart tactical and positional understanding will add to the group's overall level on day 1."
Played three seasons at Catawba College where he was a captain in 2018 and 2019
Totaled three goals and eight assists for 14 points over 35 career games
Named 2017 Rookie of the Year
Member of the NC Fusion in USL2 in 2019 as he posted two assists over 14 appearances as the team won the South Atlantic Division championship
Graduated from Catawba College in 2020 and Farnborough Sixth Form College High School in 2017
Led Farnborough to the Under-18 ESFA National Soccer Championship
ADI HICKS

COACH HUBBARD: "Our staff is always looking to recruit the best New Hampshire players and we think we've done just that with Adi. He attended an ID Day which peaked our interest at first and then played locally for Seacoast United which gave us an opportunity to get to know him and his family. Adi is blue collar, tenacious but a technical soccer player. He has high ambitions on and off the field and we cannot wait to see him grow over the next four years at UNH."
Played two seasons for Seacoast United (2018-19 & 2019-20) with three goals over 31 career games
Three-year member of the New England Football Club as he was a three-year captain
Team won the New Hampshire State Cup in 2017 and 2018, and the 2016-17 NEP championship
Graduated from Pinkerton Academy in 2020
PAUL MAYER

COACH HUBBARD: "Paul is a true striker with a unique combination of size and skill. He provides a very good aerial presence, impressive back to goal ability but has the courage to take guys on 1v1 to create chances for himself and others. With his skill set he should hit the ground running here in Durham and be a great pairing for the other forwards we have on the roster."
Played for FA Illkirch Graffenstaden in the 2019-20 season as he scored three goals and three assists for nine points
Member of FC Hagenthal-Wentzwiller in 2018-19 as he tallied 18 goals and 12 assists for 48 points
As a member of RC Strasbourg Alsace in 2017-18 he posted three goals for six points, while in 2016-17 he tallied six goals and four assists for 16 points for FC Mulhouse
Graduated from Université de Strasbourg in 2020 and went to high school at Lycée Jean-Jacques Henner
ADAM SAVILL

COACH HUBBARD: "Adam is an experienced player who has versatility, grit, passing range and is an overall great person. We know he will be a great locker room leader and fit seamlessly into our winning culture. Adam is a left footed midfielder who can also play defense and we value this position highly as we look to make a deep run into the NCAA Tournament."
Graduated from Hofstra and played three seasons
Totaled four goals and nine assists for 17 points over 50 games
Last season in 2019, he posted two goals and six assists for 10 points over 18 games with 16 starts
Named to the CAA All-Rookie Team
Played for Altrincham FC as the team won the under 19 Foyle Cup in 2016
Graduated from Sale Grammar School in 2016
DIEGO TORIBIO

COACH HUBBARD: "Diego is a midfielder that is very composed under pressure and in tight spaces. He is very versatile, uses his body well and we believe he will transition very easily into our style of play and level. We are very excited to have someone like Diego who's ambitions in the classroom and in life mirror his aspirations on the field."
Played three seasons for C.P. Villarrobledo
Champion of Federation Cup of Castilla La Mancha (2017-2018)
Team earned promotion to Second Division B (2018-2019)
Previously member of Albacete Balompié S.A.D.
Graduated from Universidad of Castilla La Mancha in 2020 and graduated from high school from I.E.S. Universidad Laboral in 2016
Last season, the Wildcats concluded with a 15-2-3 (.825) record, posting the best winning percentage in program history and tying the school record for wins. The Wildcats won the America East Co-Regular Season championship, earning the title for only the second time in program history.
Then UNH captured its second straight America East Tournament championship, qualifying for the NCAA Tournament for the third straight season. The 1-0 win over Fairleigh Dickinson in the first round was the second time in the last three years the Wildcats have won a NCAA Tournament game.
UNH only allowed 11 goals all year and posted the best team goals against average in the nation (0.528). UNH was ranked in the United Soccer Coaches Poll every week except the first week reaching a season-best No. 13 ranking. UNH concluded the year ranked No. 17 in the RPI and No. 22 by United Soccer Coaches.