First-year Siena men's soccer head coach Graciano Brito welcomes 11 recruits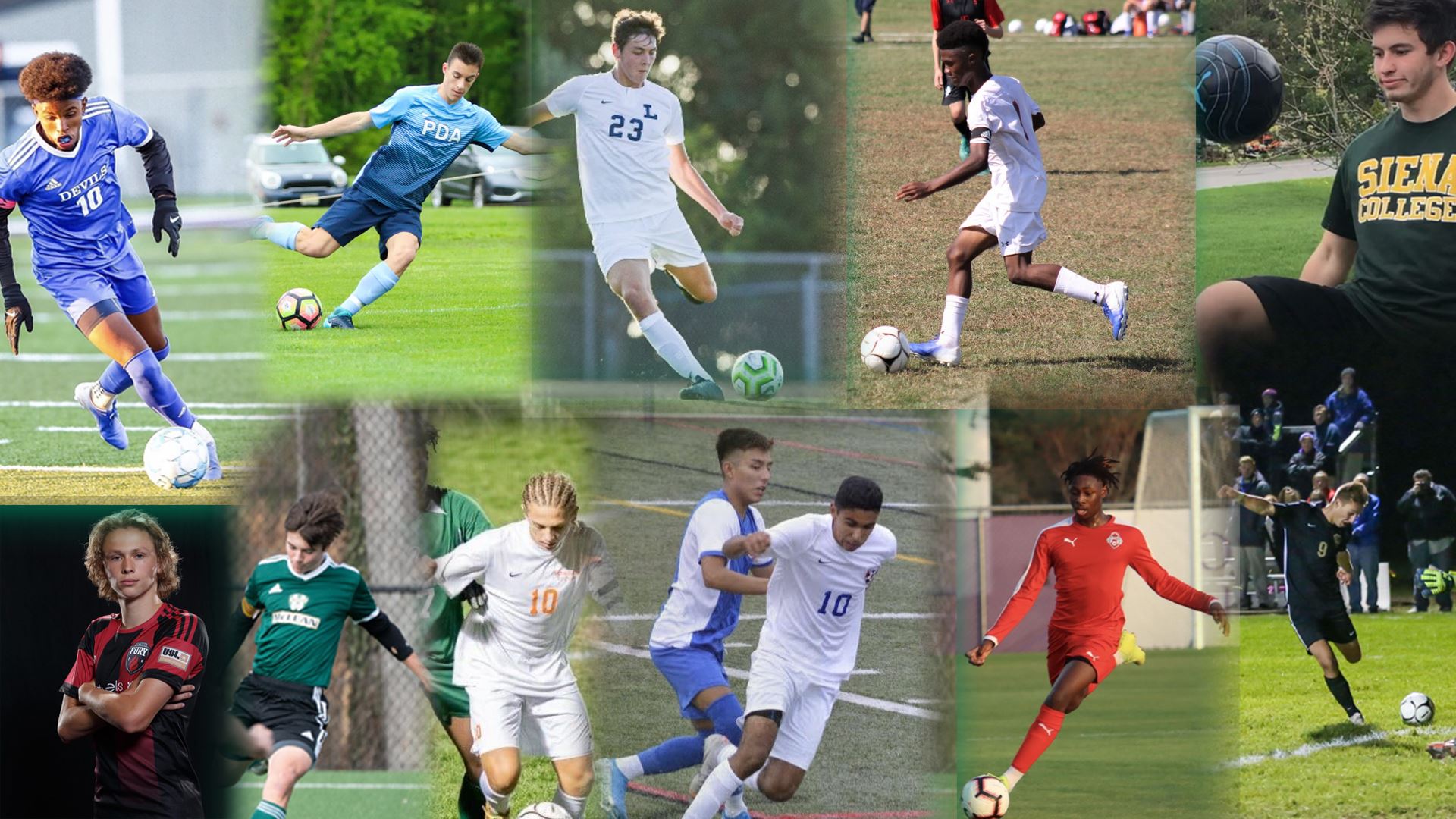 LOUDONVILLE, NY – Siena Men's Soccer Head Coach Graciano Brito announced the addition of 11 incoming freshmen to the team's roster as part of its class of 2024. The large class will look to fill holes left by 12 graduating seniors from the team's 2019 roster.
"I am very excited to welcome this year's class," Brito said. "They will add depth to the program and will push their teammates to be better. It has been a turbulent journey for them, but I believe their workmanship and attitude of determination will help us grow and excel."
Shawn Adams | Forward | Bay Store, NY | St. John the Baptist Diocesan HS
Adams earned All-State, All-League and Team MVP honors during high school, and also competed for the East Islip and SUSA Academy Club teams. He was also a two-year member of his high school's track & field squad.
Nick Fernandes | Defender | Patterson, NY | Carmel HS
An All-League and All-Section selection in high school, Fernandes also played for the FC Westchester Development Academy club team. He helped his club team advance to the DA playoffs during the 2018-19 season.
Cole Hellert | Midfielder |  Falls Church, VA | George Mason HS
The first Virginia native to join the program in recent memory, Heller was a Second Team All-State honoree in high school and was also selected for the Region I ODP Pool from 2016-18. He played club soccer for the Premier Athletics Club, the Arlington Soccer Association and the McLean Soccer Club.
Bilal Hersi | Forward | Decatur, GA | Lewiston HS (ME)
A native of the Peach State, Hersi played high school soccer in Maine, graduating as Lewiston High School's all-time leader in goals and assists. A three-time United Soccer Coaches All-American, he was the 2018-19 and 2019-20 Gatorade Player of the Year in Maine, and also took home Player of the Year honors from the Portland Press, the Sun-Journal, and was the 2019 Maine State Boys HS Class A Player of the Year. He played club soccer for GPA Maine, played for the GPS National Team at the Super-Cup NI in Northern Ireland, and was selected as the 2019 GPS National Team Player of the Year. Additionally, Hersi played for Seacoast United Maine, Seacoast Academy, and the New England Revolution Development Academy teams.
Salko Kanic | Midfielder | Glenmont, NY | Bethlehem Central HS
Originally hailing from Bosnia and Herzegovina, Kanic was a First Team All-Section and Team MVP honoree at Bethlehem Central High School, and also played club soccer for the Black Watch Premier team.
Seydou "Junior" Kone | Midfielder | Orleans, Ontario, Canada | Paul-Desmarais HS
Kone played for the West Ottawa Soccer Club and PSG Academy and was also named to Team Ontario for the Canada Games and invited to the Team Canada ID Camp.
Michael Maloney | Defender | Hermosa Beach, CA | Loyola HS
Maloney was a Division I First Team All-CIF and First Team All-League selection in high school and was named one of the Top-50 boys soccer players in the state of California. He played club soccer for the LA Breakers ECNL 0/02 and Strikers FC South Bay Golf 00/01 teams.
Dante Marin | Defender | Ballston Spa, NY | Saratoga Central Catholic HS
Marin was a four-time Wasaren League All-League honoree, earning First Team honors in 2016, 2017 & 2019 and a Second Team nod in 2018. The 2019 Team MVP, he holds the school record for most goals scored in a single season. Marin also played club soccer for the New York Elite Soccer Club and played baseball in high school.
Jack Mendrysa | Forward | Niskayuna, NY | Christian Brothers Academy
A Local product, Mendrysa was a National Soccer Coaches NYS All-State, Section II Coaches All-East Region Team and Suburban Council All-Star First Team selection at CBA, and also played for the Black Watch Premier Club team.
Robby Romano | Defender | Sparta, NJ | Pope John XXIII Regional HS
Romano received a pair of New Jersey All-State Honorable Mention awards, was a two-time NJAC First Team All-Conference selection and was also a New Jersey Herald First Team honoree in high school. Selected as the team's MVP during his senior year, he was the runner-up for the Hunderdon/Warren/Sussex County Conference Player of the Year. Romano played club soccer for the Premier Development Academy for seven years, where he was a three-year starter on the ECNL team that advanced to the 2019 national quarterfinals in Rockford, Illinois. Additionally, he played the ODP New Jersey State Team and was a member of the Region 1 squad in 2018 & 2019.
Cam Shaw | Forward | Ottawa, Ontario, Canada | St. Joseph Catholic HS
Shaw notched 15 goals and 20 assists during the 2019 season and led his team in both categories during each of the last three seasons. A two-time OPDL Champion, he played on the Ottawa Fury of the USL Championship and the West Ottawa Soccer Club, which was the No. 1 ranked youth team in Canada for two years.
The Saints' 11 members of the incoming class of 2024 join mid-year transfer Antonio La Gamba to make 12 total new additions to the roster entering the fall of 2020.