National League EDP Conferences Spring Showcase – Girls Recap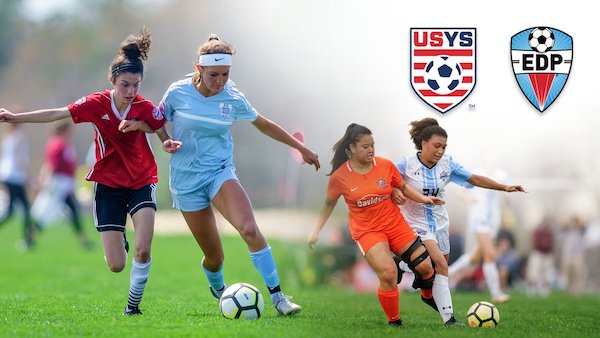 Results | College Coaches
[+Full List of Division Champions]
EAST BRUNSWICK, NJ (Via EDP Soccer) – On Saturday and Sunday, April 13-14, the National League EDP Conferences Spring Showcase for girls' 15U-19U teams took place at the Tuckahoe Turf Farms in Hammonton, NJ. Featuring more than 220 teams from across three National League Conferences managed by EDP (North Atlantic, Mid Atlantic, South Atlantic), the event attracted over 130 registered college coaches, making this showcase a top recruiting event for both players and coaches.
Megan Wilson, who plays for SAC Showcase Premier 2000 Girls team (MD), noted: "It's a little nerve-wracking to have all of these college coaches watching you, but it's helpful to have them all in one place at the same time."
https://twitter.com/EDPsoccer/status/1118017772838096897
"The facility's layout is perfect, so a lot of college coaches were able to come and had no trouble getting to a different field to watch you.  It was really nice in that sense," added Riley Cantando, a member of Penn Fusion SA Preacademy 2002 (PA-E) and current high school junior.
This showcase was also a chance for the teams to face different opponents from outside their own league/region.
"It was extremely beneficial (to face outside teams)," Lou Santa Cruz, Girls Director of Operations at PDA Shore (NJ) explained.  "It gave us an idea of where we stand, not only within our league or state, but the entire region. It's nice to see some clubs you don't typically play against, and it gives you some different opportunities to continue to develop."
"We knew it had the quality," Maryland Rush Montgomery Blue 02 Dragons (MD) Assistant Coach Pat Farrell said.  "It was exciting to have a lot of competitive teams and some regional powers, but not face the local teams we normally play.
For the college coaches, meanwhile, the showcase provided an opportunity to see multiple teams and players at once in a competitive setting.
"There was a plethora of players to choose from," Union College Head Coach Brian Speck commented.  "And the nice thing was having all the fields in one place. I didn't have to drive 25-30 minutes. I could just walk five minutes between fields."
Farmingdale State College Assistant Coach Carly Schneider agreed: "It was awesome to have everything all in one place.  With so many players and so many fields, it was very convenient to just bounce from field to field and see the different talent."
Despite heavy rain on Friday night that delayed the start on Saturday and saw some game times reduced to 60 minutes, all 330 scheduled matches were completed, with an overall goal differential of 1.64.  The teams that finished with the best record in their bracket after three games were deemed bracket winners.