Multiple aspects of club building on display at CCL ScrimmageFest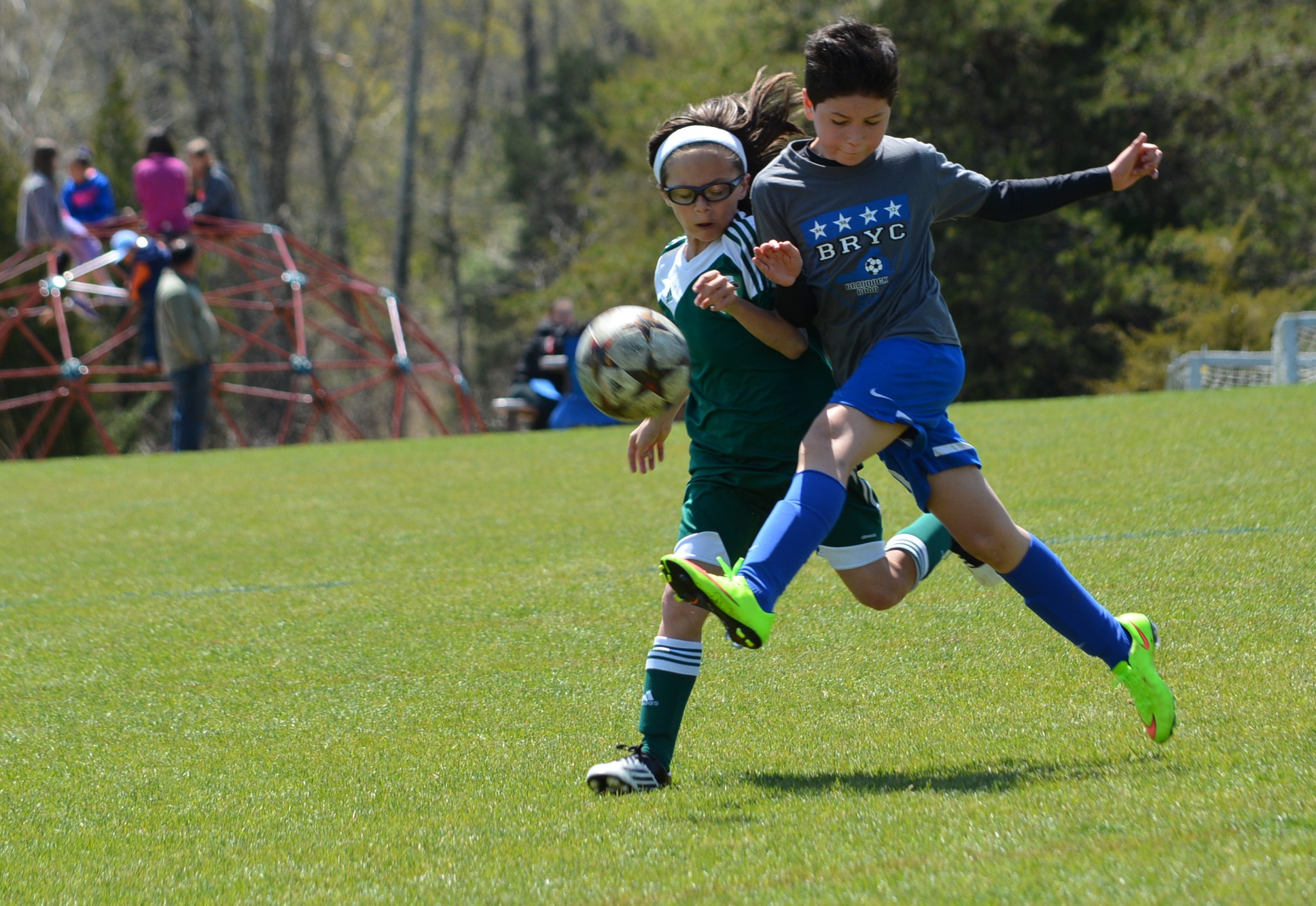 The Club Champions League hosted ScrimmageFest this weekend as SYA Park in Centreville, Va. where 82 U-9 and U-10 teams played a total of 168 games – or 5,040 minutes – of free soccer without referees, stoppages or a scoreboard.
Teams played four 30-minute matches each over the course of the day, with U-9 teams playing on Saturday and U-10s on Sunday. Coaches and players refereed the games, which allowed for a high-paced flow of play. Participating clubs included Arlington Soccer, BRYC, DC Stoddert, Loudoun Soccer, McLean YS, Maryland United FC, Potomac SA, SYA, Annandale United FC, FC Frederick and SOCA.
Given the low pressure atmosphere, players had the opportunity to take more risks on the field in addition to trying out tactics, formations and new positions. Sean Blakeslee and Thomas Poliseno of the Potomac Soccer U-10 Blue squad said their team worked on effective use of pass backs to the goalkeeper while possessing the ball in their defensive third, as well as more creative plays on offense such as back heel passes.
Former D.C. United and U.S. Men's National Team defender Eddie Pope, who now coaches with Loudoun Soccer, said ScrimmageFest reminded him of playing in a similar event growing up in North Carolina called Jamboree, where teams from neighboring towns would get together and play loosely organized scrimmages. Although there were significantly fewer teams than at ScrimmageFest, the overarching concepts of playing multiple games in a day, interacting with players from nearby clubs and getting to play different positions on the field all remain the same.
"Trying a different position can really open your eyes to the game in a new and exciting way," Pope said. "When young players feel like there's less pressure, they can be a little more relaxed and be a little less afraid of making mistakes. Youth soccer can be intense, as we all know it is, but the parents here on the sidelines have helped make this a really positive atmosphere."
On Saturday, D.C. United and U.S. Men's National Team goalkeeper Bill Hamid made a guest appearance at SYA Park, signing autographs, taking pictures and talking with players for nearly three hours. Hamid, who played travel soccer with Annandale Boys & Girls Club before joining D.C. United Academy, said ScrimmageFest was a refreshing experience.
"Seeing an environment where kids are just focused on having a good time, it's a unique experience where they can get to know other kids in this area and just interact with each other," he said. "I think it's a good step for kids to grow not only as soccer players but as human beings. Hanging out with the kids, it seemed like they were having a great time, nothing but smiles and just enjoying themselves."
Hamid posted a video to his Instagram of various CCL teams wishing D.C. United good luck in their match against Vancouver Whitecaps FC, which United won 2-1 on Saturday night.
With four matches for each team fitting into about a four-hour window, ScrimmageFest is perhaps more than anything a test of endurance throughout the day. SYA girls coach Carolyn Rice, who coached Mia Hamm at Lake Braddock High School and has also worked with the Region 1 ODP team and the American University women's program, said battling fatigue is a major hurdle for the U-9 and U-10 players when the games are broken up.
"It is hard to keep the balance there, most of these kids are used do doing about an hour of play so it is a long day," Rice said. "I think the ScrimmageFest is a great idea because there's no scoreboard out there, and at this age it's all about learning."
Each ScrimmageFest features two skills competition categories, which this time included juggling and a dribbling and passing slalom. The competition was supervised by older SYA players, and scores were recorded by the players themselves on the honors system.
Skills competition winners on the girls side included Kaylie Schwai of FC Frederick (U-9 Dribbling/Passing), Hannah Haims of McLean YS (U-9 Juggling), Kiara Watson of Fredericksburg FC (U-10 Dribbling/Passing) and Isabel Barrett of Arlington SA (U-10 Juggling). Barrett, whose 478 juggles was a new ScrimmageFest record, practices regularly and said her personal record was over 1,000.
Brandon Stotts of SYA (U-9 Dribbling/Passing),  Matai Akinnboni of Maryland United (U-9 Juggling), Gus Robetson of D.C. Stoddert (U-10 Dribbling/Passing) and Alessandro Mota of FC Frederick (U-10 Juggling) were the skills competition winners on the boys side.