Much more than babysitting: AC Cugini U-12s light up PWSI Icebreaker with style
Manassas, Va. — Amidst all the teams that took to the field at the first weekend of the Prince William Soccer Inc. (PWSI) Icebreaker in Northern Virginia, one group of players managed to combine silky ball skills with superb finishing in a number of attractive displays.

The team is AC Cugini of Herndon, Va., who played in the Boys' Under-12 Pride B tournament and scored 32 goals in just four games at George Hellwig Memorial Park in Manassas, Va.
Coached by Italian Fabio Diletti, who has been president of Cugini since they were formed in August 2000, the emphasis is on commitment and playing as a team, with individual mistakes not punished or singled out but recognised as part of the game.
"I just let the kids play, it's their game," Diletti told SoccerWire.com. "My job is to work practise. Now, direction is really important, meaning that if someone is off position you tell them. Just direction in an encouraging way, so they can learn the game a little better. The screaming does not help anybody.
"The same goes for my parents. If I hear parents screaming, I will take the kid out and tell him to go around and tell their parents to be quiet otherwise he's not going back in. That works a lot."
AC Cugini is affiliated with the Italian National Olympic Committee (CONI) and the Italian Soccer Federation (FIGC), the only soccer school to have such connections in the whole of the United States, according to Diletti. With less than 200 registered players, members follow a development program sanctioned by CONI, which is designed to follow a player from the age of six to 18.
Early on, players are encouraged to work on their ball skills and to have a wide view of how the game is played. This is a view that stems from Diletti's own background in Italy, where he became a youth soccer coach after a shoulder injury put an end to his playing career with Ascoli Calcio when he was just 20 years old.
"The younger ones, we really focus on teaching them the technical skills that are very important at a young age — from six to 12 that is what we most focus on," Diletti said. "We work on foot skills, ball control and technical skills individually and as a group. We like to play the game which is a passing game.
[ +Find more PWSI Icebreaker coverage here ]
"For players' vision of the field, we really explain how the game is played. Once they go on the field, we explain to them what we expect from them and what they are supposed to be doing, rather than saying 'Go over there, you're a forward'."
Part of the CONI training program is an expectation that players will be disciplined in all aspects of their time with Cugini, from coming to practise regularly and wearing the correct uniforms to accepting the decisions made by match officials "with grace." These standards are outlined in the club's code of conduct, which must be signed by players and parents once a year.
The combination of discipline with a European-influenced style of play appears to be well-received by players at Cugini, who are asked to buy into a different philosophy of play.
"Players enjoy playing this way because of the success they have if they perform the way we ask," Diletti said. "Of course, what makes a good player is consistency, so those little players will make mistakes, and we actually encourage them to make those mistakes.
"If you make a decision, you have to go with it, even if it's the wrong decision or the right decision. Then, we will adjust later. We give them freedom to express themselves.
"We always get compliments from the referees regardless of whether we win or lose. They always say our kids have very good foot skills. It pays off, especially at the young age."
Those who join AC Cugini are therefore required to be committed to the sport of soccer and determined to improve their own game while contributing to a team effort, a view that Diletti has been keen to put forward as a coach since he first arrived in the United States in 1986.
"I need committed kids because before I used to work a lot with Americans, but I found that Americans treat the sport or any other sport as for the parents to drop off their kids as a babysitting service," he said. "We give a chance to everyone that wants to play in spite of their skills because it's a soccer school, not a club.
"It's a school where we'll teach the kids. They cannot play at that level, but I give them a chance as long as they understand how it works and what to look for and what the club expects from them and what they are supposed to expect from us.
"It's not for everyone, in that it's commitment and you have to come out and you have to work hard, and it's not about you. It's about the whole group, it's about everybody. So if you end up sitting on the bench a little longer, they need to learn that. We try to select players who have the passion."
With scholarships available to those players from low-income backgrounds in Fairfax County and also the opportunity to travel to Italy with the "Play Soccer in Italy" program that has run since 2001, Cugini prioritize development over simply winning games.
Diletti believes that this culture is very different from youth soccer in the United States, which he believes is almost entirely results-driven.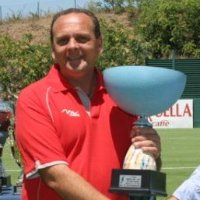 "Trainers and coaches, they emphasise the game's winning part, that's all they look at. They look at winning, so they might have a couple of good forwards, they put them up there and kick the ball as hard as they can and tell them to run and go and get it and try to finish.
"A lot of those teams have problems when they play us, not because we have better skills, but because as a group we play better. We move the ball around, even with the team that I have now, there's three girls playing with us and they are not quite at that level, but by playing with the group it makes a difference for them. They're learning very fast and they help the team play the way they play."
The combination of individual development alongside teamwork make AC Cugini are quite a proposition at tournaments such as the PWSI Icebreaker.
When watching their Under-12 team excel on the field, it is easy to forget how young their players are.