N.Y. product Jake Keegan's winding pro career takes him to Ireland's Galway FC
Submitted by Randy Vogt, Director of Public Relations, Eastern New York Youth Soccer Association
Jake Keegan, who played for the East Fishkill Thunder of the East Hudson Youth Soccer League (EHYSL) for 12 years and in the Eastern New York Youth Soccer Association (ENYYSA) Olympic Development Program for five years, has been doing a great deal of travelling around the world since becoming a professional soccer player last year.
After a record-breaking collegiate career at Binghamton University that concluded with 28 goals and 69 points, both records for the program's 13-year Division I era, Jake was selected in the third round of the 2013 Major League Soccer Supplemental Draft by the Philadelphia Union.
In doing so, the Stormville, N.Y., resident became the first Bearcat ever to be drafted by a MLS club. But he wound up not wearing a uniform with the Union label as he had a different dream and said the opportunity to try out for Maccabi Haifa FC, one of the biggest teams in Israel's top soccer league, was "just too good to pass up."
"I really enjoyed my time in Israel," Jake said. "Everyone within the city (Haifa) lived and breathed Maccabi Haifa."
While Maccabi Haifa didn't offer him a contract, Jake was exposed to a high level of play and was able to improve his game. From there, he trained with FC Lustenau, a team in Austria's lower league, before returning to the United States to play with the Jersey Express of the Premier Development League (PDL) last summer. Jake then signed with FCA Darmstadt in Germany and scored 10 goals in his first 10 games in the Hessenliga, the fifth division of German soccer.
"The team was successful and I enjoyed my time in Germany," Jake commented. "But I knew that I had the ability to play at a higher level. That led me to coming to Ireland on trial in hopes of earning a spot on the team here."
It was a connection Jake made during his college days that led him to get a tryout with Galway FC.
"I got a trial with Galway FC through a man named David Harris," he said. "He works with the Westchester Flames PDL team that I played with over the summer during my time at Binghamton. David has connections in Ireland and was able to help get me over here."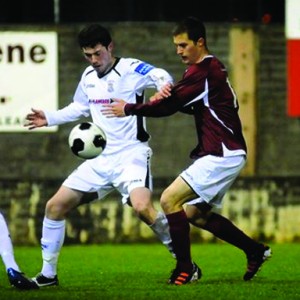 Galway FC plays in the Irish First Division, which is the second tier in Ireland. Its season started on March 7 and runs into October. From his forward position, Jake is starting and scored a goal and had an assist in Galway's 2-0 victory over Mayo League in the opening round of the EA Sports Cup on March 11.
"I have really enjoyed my time at Galway FC thus far. The team and community have really welcomed me and I am looking forward to having a good first season here," Jake stated.
"Ireland is a great country to live in. I live in the city of Galway which has the reputation of being one of the best places to live across Ireland. It is right on the ocean and has plenty of fantastic scenery."