Montreal Impact U-16, U-18 teams qualify for USSDA playoffs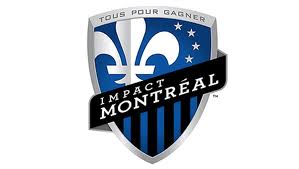 MONTREAL (Via Montreal Impact) – The Montreal Impact U18 and U16 teams finished their USSDA regular season and qualified for the playoffs, which will start on June 22 in Dallas, Texas.
In their last game of the regular season, this past Sunday, the Bleu-blanc-noir teams faced Beachside SC.
The Impact U18 won 3-0 with goals coming from Pierre Lamothe, Brandon Onkony and Don-Junior Bobe, and ended the season with a 14-4-8 record.
The U16 team, for its part, won 4-0 on goals from Tristano Fasulo, Luca Piccioli and Olujimi Aribido (2), with a 14-5-7 record to close the season.
"Qualification for the playoffs is the reward for the efforts they put in," said Impact U18 head coach Yoann Damet. "Some U18 players left the group to join the USL team, which was the logical next step in their development. The group got younger in the second part of the season but kept showing a lot of quality and experience in the games. We have intelligent players who learn quickly and evolve well."
"Our group is younger than in January," said Impact U16 head coach Nicolas Gagnon. "Some U16 players went with the U18s, and we slowly integrated some U14s with us. The further we go in the playoffs, the more experience we will get, and the more interesting the games will become. We have proved, in the last six months, that we can show character in tough situations. Now, we have to see if we learned the lessons. When we are focused on the game principles, everything goes fine."
Both the Academy's USSDA teams had to deal with a coaching change during the season, when Jason Di Tullio and Wilfried Nancy joined the first team technical staff. Yoann Damet and Nicolas Gagnon took charge of the teams in January, halfway through the season.
The first playoff phase will feature 32 out of 74 teams in the USSDA, in both age categories. The teams will be divided in eight groups, with each team facing the other three in its group. Only the group winners will qualify for the quarterfinals.
The three Montreal Impact teams' opponents will be known in the coming weeks.
The Impact U18 reached the semifinals phase twice in the last two years.