MLS expansion club St. Louis CITY SC hires Bradley Carnell as first head coach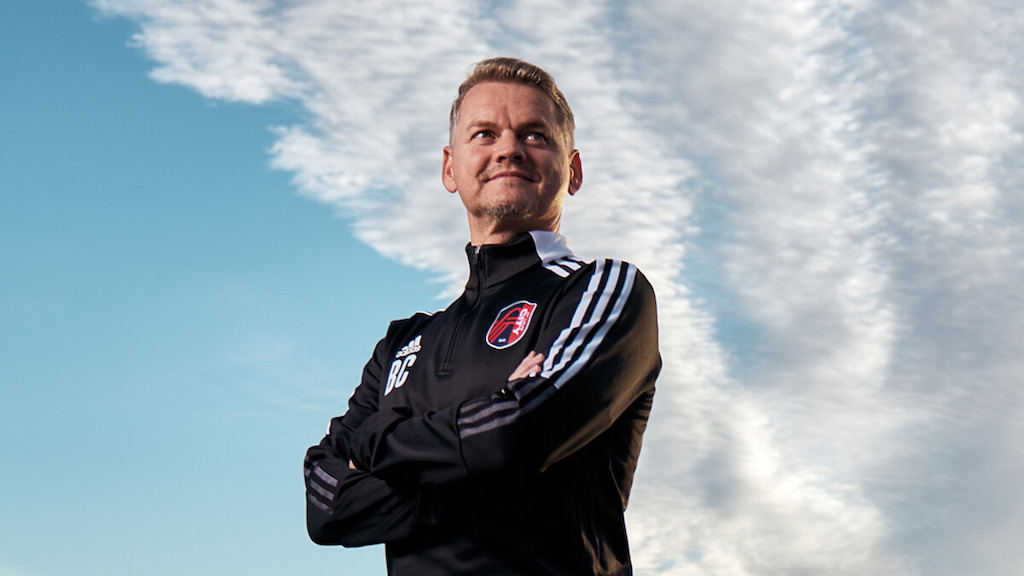 Ahead of the club's inaugural Major League Soccer (MLS) season in 2023, St. Louis CITY SC has named South African soccer legend Bradley Carnell as the club's first head coach.
An experienced international player and coach, Carnell brings invaluable knowledge and expertise from within the MLS coaching ranks, given his most recent roles as an assistant coach and interim head coach at MLS' New York Red Bulls.
"I am grateful to be a part of the St. Louis CITY family, a team where I can help build something special in a city that is already so passionate about soccer," said Carnell. "Lutz's vision matches my ambitions of building a competitive team through the heavy use of data, technology and a keen focus on individual player development. I am looking forward to establishing a team that reflects St. Louis – one that's diverse, hardworking and community led. I am thrilled to help create the future of the sport in an incredible soccer city."
Following an extensive international search for a head coach who mirrored the club's vision and sporting philosophy, Carnell quickly rose to the top of the list, given his hands-on approach, proven success and passion for developing younger players.
"We can honestly say that we got our top candidate for the club's first head coach position, and wanted to get him on board early given the integral role he'll play in building our first team," said Lutz Pfannenstiel, Sporting Director of St. Louis CITY SC. "We knew it was important to have someone who understood the ins and outs of the MLS, as well as the international market, and Bradley has all the attributes we were looking for. His experience as a player and coach set him apart, and I am confident that he will help us to build a very competitive team for our inaugural 2023 season."
As the first team's head coach, Carnell will be responsible for the on-field execution of the club's soccer philosophy and will play a major role in team development by supporting Pfannenstiel in identifying players who fit St. Louis CITY's playing style.
"As a player, he embodied the intense, counter-press and quick transitional play that will define CITY's style of play and as a coach, works tirelessly on and off the pitch to develop those abilities in players," continued Pfannenstiel. "His hunger and determination to succeed will get the best out of our players. Bradley and I speak a common language when it comes to our playing philosophy and he and I are fully aligned on the importance of identifying and developing players for our high-press style."
Carnell was born in Johannesburg, South Africa, where he first began his playing career at local clubs Wits University (now Bidvest Wits FC) and Kaizer Chiefs before moving on to play for Germany's Bundesliga with VfB Stuttgart and Borussia Monchengladbach. As a Stuttgart player, Manchester United's interim manager Ralf Rangnick made a huge impact on Carnell's soccer development and has been a mentor throughout his coaching career. Additionally, Carnell played as a regular for the South African national team, making 42 appearances for his country between 1997 and 2010, which includes three starts in the 2002 FIFA World Cup.
After a successful playing career, Carnell started as head coach for the University of Johannesburg men's team followed by an assistant coaching role at Orlando Pirates before making his way to the MLS. In 2017, Carnell was an assistant coach for the New York Red Bulls and later named as the team's interim head coach in September 2020. In that role he led the team to a sixth-place finish in the MLS Eastern Conference, becoming the only MLS interim head coach to guide his team into the post-season in 2020. Carnell returned to his role as the Red Bulls assistant coach for the 2021 season and helped the team qualify for the MLS playoffs.
"Several clubs have shown interest in his talents, so we knew we had to move quickly to bring him to St. Louis," explained Carolyn Kindle Betz, President and CEO of St. Louis CITY SC. "In Bradley we have an innovative, modest and forward-thinking head coach that wants to help revitalize and connect our region through soccer. We are thrilled he chose us."