Seattle Sounders FC signs 16-year-old midfielder Obed Vargas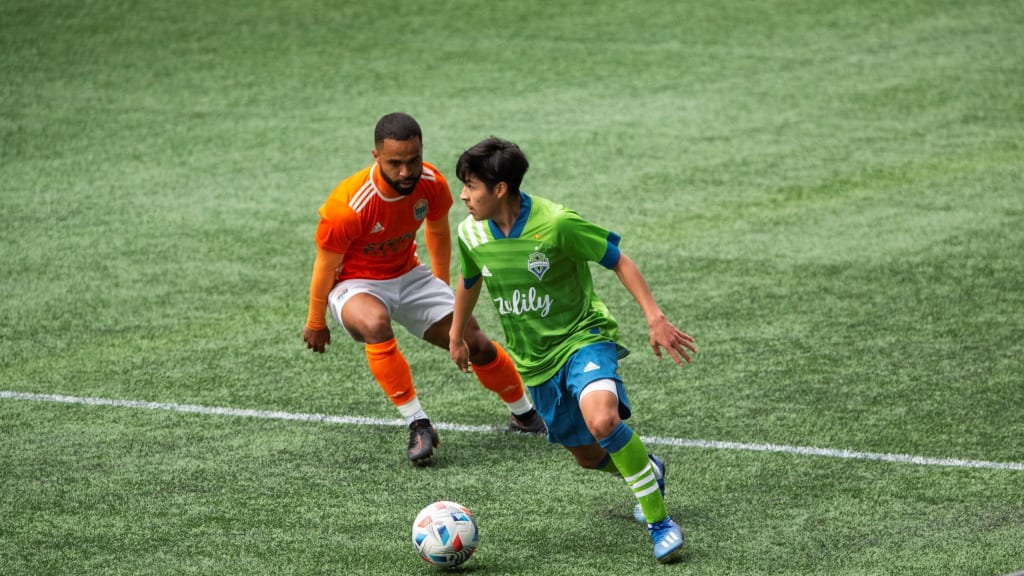 SEATTLE, WASH. – Seattle Sounders FC has signed 16-year-old midfielder Obed Vargas as the 18th Homegrown Player in club history.
Vargas and fellow signee Samuel Adeniran will join the First Team after being mainstays for USL side Tacoma Defiance during its 2021 campaign. Adeniran signs a one-year deal with club options for 2023 and 2024, while Varags signs a four-year deal with a club option for 2026.
"We are pleased to sign Sam and Obed to the First Team," said Sounders FC General Manager & President of Soccer Garth Lagerwey. "Sam has earned an opportunity after a record-breaking year with Tacoma Defiance in 2021. Obed's signing continues the player development pathway we have in place through our Academy and Tacoma Defiance. We are excited to see how these two young players contribute in 2022 and beyond."
Vargas, 16, joined the Academy at the age of 14 from Cook Inlet Soccer Club in his home state of Alaska and has also represented the United States Youth National Team at the U-15 level. After signing a USL contract with Tacoma on May 7, 2021, Vargas tallied one assist and 31 tackles won in 28 appearances for Defiance this season. The Alaskan also started and played 77 minutes in Seattle's victory over Austin FC last summer via Extreme Hardship, becoming the third-youngest player in league history to play in a MLS match (15 years and 351 days).
"It's always great when we identify players that make an impact within our developmental systems, and evolve into contributing members of our first team," said Sounders FC Senior VP of Soccer & Sporting Director Craig Waibel. "Our development staff continues to churn out talent, as shown with Obed signing as our 18th Homegrown Player and Sam breaking out as a prolific scorer last year with Defiance."
Vargas becomes the 18th Homegrown Player in team history. U.S. Men's National Team defender DeAndre Yedlin was the club's first Homegrown Player in 2012, making two MLS All-Star appearances before being sold to Tottenham Hotspur in England's Premier League. The club then signed midfielder Aaron Kovar and forward Sean Okoli in 2013, before adding forwards Victor Mansaray and Darwin Jones in 2014.
In 2016, the Rave Green signed University of Denver midfielder Jordan Schweitzer and 2016 MLS Rookie of the Year Jordan Morris to Homegrown deals, then added forward Seyi Adekoya from UCLA and Henry Wingo from Washington to the roster in 2017. Midfielder Handwalla Bwana became the 10th Academy product to sign with the First Team prior the 2018 season, while goalkeeper Trey Muse, midfielder Danny Leyva and forward Alfonso Ocampo-Chavez all signed in 2019.
Midfielders Josh Atencio, Ethan Dobbelaere and Shandon Hopeau were signed with the First Team in June of 2020, while midfielder Reed Baker-Whiting signed on May 12, 2021.
Sounders FC's roster currently sits at 21 players as the club continues its offseason preparations for the 2022 campaign.