Masaki Hemmi rejoins University of Denver men's soccer coaching staff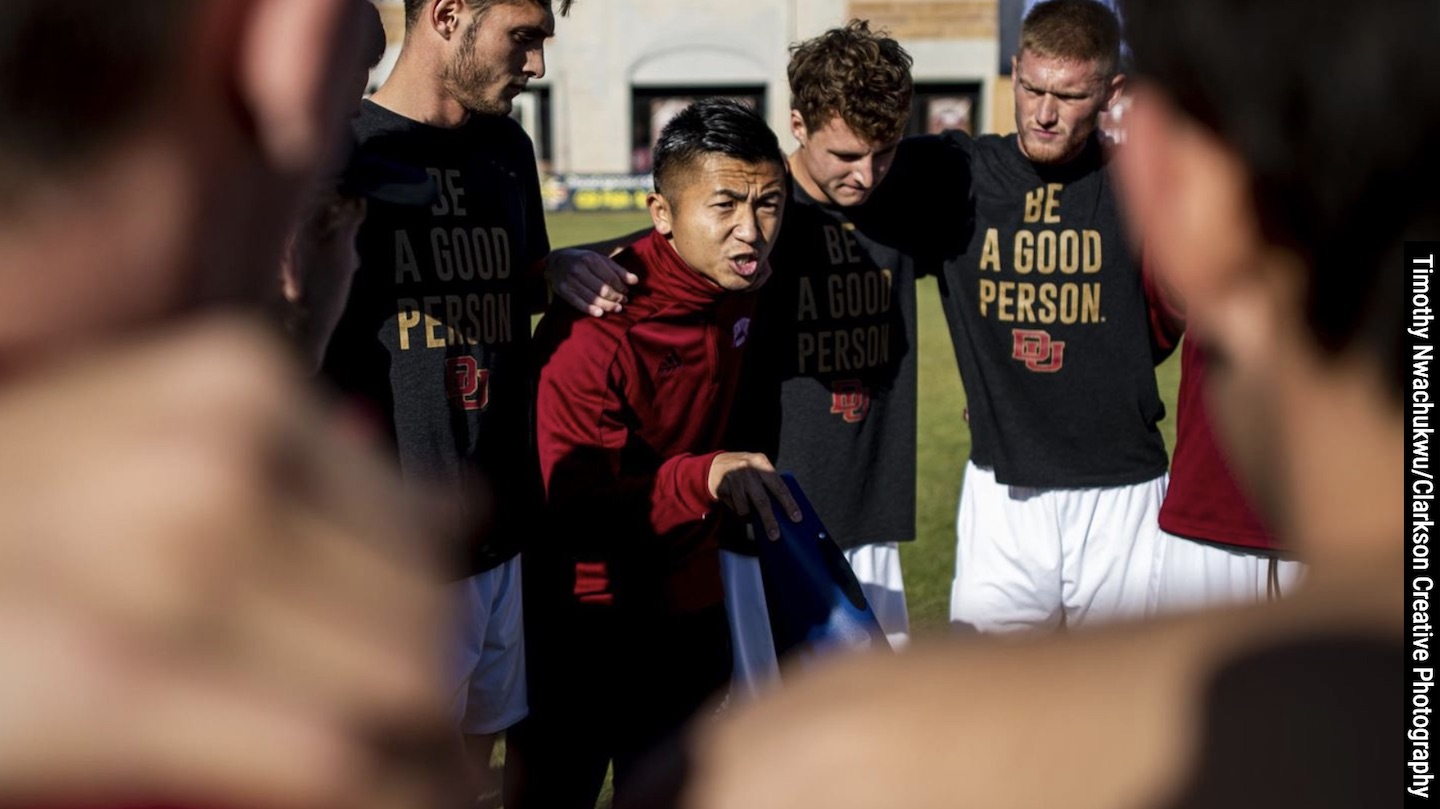 DENVER – The University of Denver men's soccer program has rehired Masaki Hemmi as the program's associate head coach, head coach Jamie Franks announced.
Hemmi rejoins the program after a season in the Japanese Professional Women's Soccer League (WE League) with INAC Kobe Leonessa. Prior to his stint in the WE League, Hemmi spent four seasons on Franks' staff as an assistant at Denver.
"I'm really excited to have Masaki back with our program," Franks said. "He has played a huge role in the success of this program, has recruited all of our current guys, and I know that he's committed to helping us achieve our goal of winning a national championship. His character and integrity are at the center of everything that he does, and he models what we expect of our student-athletes day in and day out."
Hemmi debuted on the Pioneers staff in 2016 as a volunteer assistant, part of the staff named the National Coaching Staff of the Year. The Tokyo, Japan, native spent two years on the staff as a full-time assistant, including the final 16 months of his tenure as the program's recruiting coordinator.
"I am excited and happy to be back with the Denver men's soccer program and to be working with Jamie once again," Hemmi said. "Having known the staff, returning student-athletes, the incoming student-athletes and the values that this team holds, I am beyond excited to start working with them again. This is a program full of great people, and they strive to be the best they can be every day, and I missed being a part of the organization.
"I'd like to thank Jamie and the administration for believing in me and giving me this opportunity to be back with the program as the associate head coach. I look forward to starting to working with the team again and to accomplishing great things together this season and onward."
Prior to Denver, Hemmi had a six-year stint with the Real Colorado Developmental Academy on his coaching resume, working with teams from U-12 to U-19. Hemmi, who received his BS in petroleum engineering, played his college soccer from 2005-09 at the Colorado School of Mines and the University of New Mexico.
During his playing days, Hemmi was a two-time captain for the Colorado Rapids U-23s and made a PDL Playoff appearance with the club. Hemmi has also played for the Portland Timbers U-23s (2009), in the MLS Reserve League for the Colorado Rapids (2010) and for international professional clubs in Germany (2010) and Latvia (2011). His latest stints in professional soccer came in the USL for Sevilla FC Puerto Rico (2011) and the Rochester Rhinos (2012).
Denver begins its preseason camp on August 10th before scheduled preseason friendlies against Air Force (August 14), the Colorado School of Mines (August 19) and Colorado Mesa (August 21). The Pioneers will officially open the 2021 season on August 27 at Oregon State.