Maryland United, Bethesda SC, FC Virginia ECNL teams improve playoff standing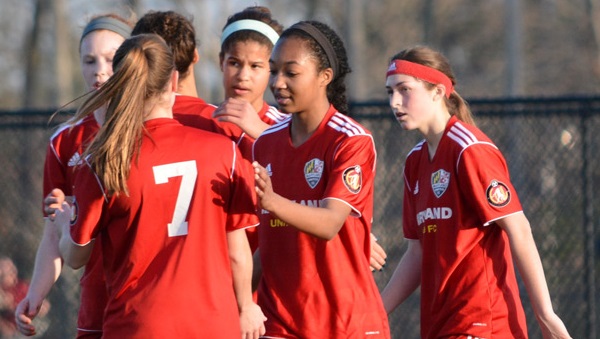 There was plenty of movement in the ECNL Mid-Atlantic Division table this weekend across the age groups as the regular season quickly winds down for most teams, and even came to a close for others. Potomac area clubs Bethesda SC, FC Virginia and Maryland United FC each had teams improve their playoff standing with crucial late-season wins.
In the U-14 age group, Bethesda took over the No. 1 overall seed with 4-1 and 5-0 wins over Ohio Elite SA and Indiana Fire Juniors. Bethesda remains unbeaten at 11-0-1 on the season, having scored 37 goals while giving up just 11. The previous No. 1 overall U-14 seed, Michigan Hawks, picked up four of six available points on the weekend, with a scoreless draw against Eclipse Select SC costing them the top slot for the time being.
[player_box id=54891 leftright=right]Elsewhere, Richmond United capped off their regular season with a 1-0 win over FC Virginia while Maryland United beat [player_box id=45502 leftright=right]Internationals SC 3-2 on Saturday, and FCV avenged their loss to Richmond with a 2-0 shutout of Ohio side Internationals SC on Sunday. Richmond United's Margaret Beckman (8 goals, 6 assists) set up Jordan Canniff (16 goals, 8 assists) for the only goal of the match in the victory as United finishes the season with a 7-3-4 conference record.
+Read: Bethesda-Olney U-15/16, U-17/18 Development Academy teams each push win streaks to four
[player_box id=54539 leftright=right]Maryland United extended its winning streak to three on Saturday, as midfielder Madison Beavers paced the offense with 2 [player_box id=54568 leftright=right]assists. Julianna Bonner, Hannah Steele and Alicia Whye each found the net for MUFC, and Meaghan [player_box id=45510 leftright=right]O'Donovan picked up an assist. In FCV's rebound win on Sunday, Rebecca Bartosh and Lauren Sproat each set up Victoria [player_box id=45458 leftright=right]Powell for a score, as the class of 2020 forward netted her eighth and ninth goals of the season.
[player_box id=44538 leftright=right]Internationals SC split a pair against Potomac area teams in the U-15 age group, defeating Maryland United 5-0 on Saturday and falling 3-2 to FC Virginia on Sunday. Loren Sefcik (15 goals, 5 assists) led Internationals with a hat trick in the win over MUFC, and found the net in the loss to FCV as well. Bethesda SC U-15 won 2-0 over division-leading Ohio Elite SA on Saturday and dropped Sunday's match 3-0 to second place Indiana Fire Juniors. FC Virginia (11-1-6), Richmond United (14-2-4)  and McLean YS (8-6-1) are all poised to make the Champions League playoffs out of the Chesapeake Division.
[player_box id=43412 leftright=right]FC Virginia U-16 continued its tough work in the Mid-Atlantic Conference with a 3-1 win over Internationals SC on Sunday, [player_box id=47133 leftright=right]improving to 7-1-4. Casey Kent, Allison Maliska and Amanda Nhek each scored for the balanced FCV attack, playing its first league match since December. Despite a 7-7-4 overall record, with losses to national powerhouses such as De Anza Force and So Cal Blues, FCV's dominance within the conference has them leading the Chesapeake Division and positioned for the final No. 32 Champions League seed.
[player_box id=53283 leftright=right]Bethesda's second place U-16 side held serve this weekend on its Midwest road trip, earning 1-1 and 2-2 draws against third [player_box id=48436 leftright=right]place Ohio Elite and first place Indiana Fire Juniors. Nicole Bautista had an assist in both matches and Cameron [player_box id=48428 leftright=right]Murtha (12 goals, 6 assists) scored in each game to make it 5 goals in her last three games. Alexis Montgomery, a dominant center back and two-way threat, scored her first goal of the season on Sunday and Jadyn Wilensky picked up her fourth assist of the season as well. Bethesda is now 8-1-4 in the conference and 8-2-6 overall, holding onto the No. 18 Champions League seed.
[player_box id=48448 leftright=right]The Maryland United U-16s are now a perfect 3-0-0 in May after Saturday's 2-1 win over Internationals SC. Leading scorer Kori Locksley (7 goals, 7 assists) found the net once again and Alexis Hogarth picked up an assist, as the MUFC back line was the story of the match on both ends of the field. Defenders Kailey Campbell and Arianna Green played well in the back and also contributed to the attack with Campbell scoring a goal and Green registering an assist, while team captain Marissa Vincent was vital in limiting the Internationals offense to just 1 goal.
[player_box id=53285 leftright=right]Maryland United took over first place in the U-17 Ohio Valley Division, earning a hard-fought 1-0 win over Internationals SC, which had control of first place entering the weekend but dropped to second after dropping both matches. The talented combination of Nia Dorsey (4 goals, 4 assists) and Kia Rankin (9 goals, 2 assists) provided the only goal MUFC would need, as Dorsey found Rankin for the game-winner on Saturday.
[player_box id=43418 leftright=right]FC Virginia helped out MUFC by defeating Internationals SC 3-1 on Sunday, as midfielder Emma Kershner (6 goals, 5 [player_box id=12526 leftright=right]assists) sparked the offense with a goal and an assist. Sierra Lam and Julia Phillips (7 goals, 4 assists) each scored as well, while a team effort defensively held the normally high-flying Internationals side to just one goal. Briana Alston, Lauren Kelly, Alexandra Littlefield, Kayla Morrison and Meaghan Nally suited up defensively for FCV. With the win, FCV remains the No. 2 overall Champions League seed, still unbeaten at 11-0-1 in the Mid-Atlantic Conference and 13-1-4 for the season.
Alizah Johns-Boehme and Samantha Sullenger each scored a goal while defender Clare Severe picked up her fifth assist of the season for Bethesda's U-18s on Sunday, but it was not enough to avoid a 3-2 loss to first place Indiana Fire Juniors (11-1-0). Bethesda fell to second place Ohio Elite SA (11-2-1) 5-0 on Saturday as well. Maryland United and FC Virginia also dropped 6-0 and 5-3 decisions to Internationals SC, which improved to 9-4-2 in the conference. Makayla Lewis (4 goals, 5 assists) had a goal and 2 assists in the loss for FCV.
See below for match reports from the weekend generated by Report-a-Score.com, along with updated standings and playoff tables…
U-14
| | | | |
| --- | --- | --- | --- |
| May 16 11:45am | | | |
| May 16 1:00pm | | | |
| May 16 1:00pm | | | |
| May 17 9:00am | | | |
| May 17 11:00am | | | |
U-15
| | | | |
| --- | --- | --- | --- |
| May 16 10:00am | | | |
| May 16 1:00pm | | | |
| May 17 9:00am | | | |
| May 17 11:00am | | | |
U-16
| | | | |
| --- | --- | --- | --- |
| May 16 11:45am | | | |
| May 16 3:00pm | | | |
| May 17 9:00am | | | |
| May 17 11:00am | | | |
U-17
| | | | |
| --- | --- | --- | --- |
| May 16 9:00am | | | |
| May 16 1:30pm | | | |
| May 17 11:00am | | | |
| May 17 1:00pm | | | |
U-18
| | | | |
| --- | --- | --- | --- |
| May 16 11:00am | | | |
| May 16 3:30pm | | | |
| May 17 11:00am | | | |
| May 17 1:00pm | | | |
Standings
Playoff Table