U.S. U-14 BNT defeats Croatian Club NK Bravo Ljubljana 2-1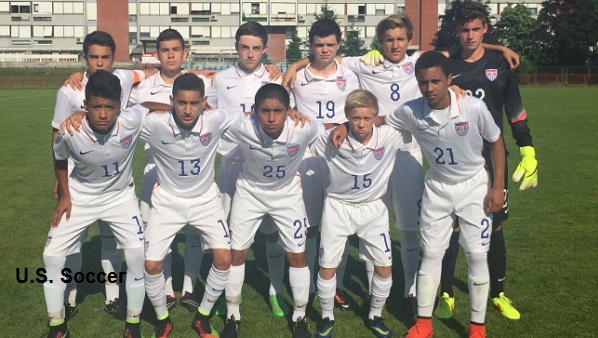 ZAGREB, CROATIA (Via U.S. Soccer) – The U.S. Under-14 Boys' National Team scored a pair of late goals to defeat U-15 Croatian Club NK Bravo Ljubljana 2-1 on Wednesday in Zagreb, Croatia.
After a scoreless first half, NK Bravo came out in the second frame and delivered the game's first goal. Despite creating more chances, with five minutes left in the 70-minute match, the U.S. still trailed 1-0.
+Read: U.S. U-14 BNT opens camp with 3-1 win over Croatia
Finally in the 66th minute, the USA converted on a long Ulysses Llanez strike from outside of the box. One minute later, Llanez would make another great play where he faked a shot to get by his defender and then slotted the game-winning goal into the corner of the net.
The U-14's, will be back on the field on Friday, May 15 for a match with Serbia's U-14 BNT.
-U.S. Under-14 Boys' National Team Match Report-
Match: U.S. U-14 Boys' National Team vs. NK Bravo Ljubljana U-15
Date: May 13, 2015
Competition: International Friendly
Venue: ŠRC Špansko
Kickoff: 5:00 p.m. local time
Weather: 75 degrees
Scoring Summary:       1          2          F                                             
NK Bravo Ljubljana        0          1          1
USA                                 0          2          2
NK Bravo Ljubljana – #20                       41st minute
USA – Ulysses Llanez                            66
USA – Ulysses Llanez                            67
Lineups:
USA: 22-Nicolas Defreitas-Hansen (GK); 19-Joey Zarra, 20-Dominic DeAlmeida (Capt), 25-Luke Hansen, 13-Julian Hinojosa; 8-Indiana Vassilev (10-Luis Arriaga, 46), 16-Marcelo Palomino, 15-Tim Bielic; 21-Konrad de la Fuente (17-Jose Rivas, 46), 18-Gabriel Segal (9-Taylor Booth, 46), 11-Ulysses Llanez
Subs not used: 2-Cameron Duke, 6-Nick Fernandez, 4-Abraham Gonzalez, 7-John Hilton, 1-Cole McNally, 5-Sebastian Serpa
Head Coach: Brian Johnson
NK Bravo: Roster Unavailable
Stats Summary: USA / NK Bravo Ljubljana
Shots: 16 / 6
Shots on Goal: 7 / 4
Saves: 3 / 5
Corner Kicks: 7 / 3
Fouls: 2 / 6
Offsides: 1 / 0 
Misconduct Summary:
None