Bethesda-Olney U-15/16, U-17/18 Development Academy teams each push win streaks to four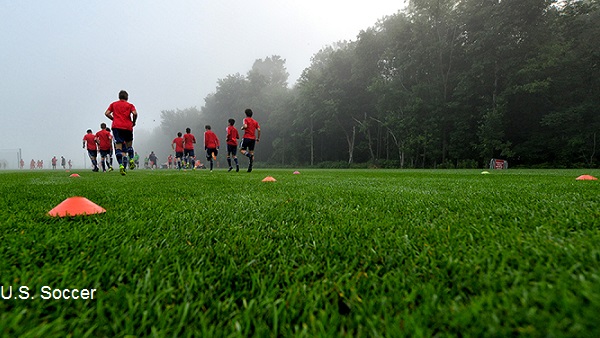 This weekend in Potomac area U.S. Soccer Development Academy action, Bethesda-Olney's U-15/16 and U-17/18 sides each extended their winning streaks to four games with 3-1 and 1-0 home wins over New Jersey Cedar Stars Academy.
With two regular season matches remaining, the Bethesda-Olney U-15/16s  hold the No. 18 playoff seed at 12-7-5. The club's U-17/18 squad, unbeaten in its last eight matches, has the No. 9 wild card position with an 11-6-7 record.
[player_box id=49927 leftright=right]In the Olney U-15/16's 3-1 win on Sunday afternoon, Lizandro Claros Saravia, Elijah Amo and Juan Ramirez each [player_box id=43826 leftright=right]found the net as the back line held NJCSA to just one 70th minute goal by Christopher Bermudez, the team's top scorer.
[player_box id=43217 leftright=right]For the U-17/18s, Samson Sergi's 34th minute goal would prove to be enough as goalkeeper Clay Thomas and the Olney [player_box id=47453 leftright=right]back line worked hard to earn the clean sheet. Defenders Wielfried Zouantcha, Alex La Noire, Sassan Zarei and Timothy Ekpone each played the full 90 minutes in the shutout victory, while Sergi's goal was his ninth of the season.
+Read: Maryland United, Bethesda SC, FC Virginia ECNL teams improve playoff standing
[player_box id=54169 leftright=right]D.C. United Academy teams squared off with Continental FC DELCO on Saturday and New York Red Bulls in club competition [player_box id=45887 leftright=right]on Sunday. The United U-13/14 squad defeated FC DELCO in a high-flying 6-5 contest and lost a tough 1-0 decision against Red Bulls. Dan Benavides had a first half brace while Bryce Orsini, Michael Edwards, and Jordan Matamoro-Mejias each netted one in United's win over DELCO, with Matamoro-Mejias hitting the winner in the 80th minute.
D.C. United U-15/16 played FC DELCO to a scoreless draw and fell 3-0 to Red Bulls, the age group's current No. 1 overall seed at 20-1-2. Until the loss, United had tied its previous five matches. They will be able to climb back into playoff position with a strong showing in their final three regular season matches, divisional contests against PDA, Philadelphia Union and NJCSA.
[player_box id=25023 leftright=right]In the U-17/18 age group, United earned 4-0 and 2-1 wins over DELCO and Red Bulls, advancing from the No. 6 to No. 5 [player_box id=43440 leftright=right]overall seed with a 17-5-2 record. Red Bulls dropped to 17-3-3 with the rare loss, remaining in the No. 3 seed. Gerson Umana led the D.C. offense against DELCO with a hat trick on Saturday, scoring three goals in a cluster of 17 minutes (45′, 56′, 62′). Jean-Christophe Koffi also found the net, and keeper James Knoebel picked up the clean sheet. Defender Brennan Ireland played the full 90 minutes and scored what proved to be the game-winning goal in Sunday's win over Red Bulls, a 60th minute strike to give United a 2-0 lead following Eryk Williamson's 46th minute strike. Juan Sanchez found nylon for New York in the 77th minute cutting the deficit to one, but the D.C. defense held strong the rest of the way.
[player_box id=45522 leftright=right]Richmond United split with Everton FC Westchester in the U-15/16 and U-17/18 age groups, falling 4-0 and winning 4-2 on [player_box id=25033 leftright=right]Saturday at West Creek. Everton's playoff-bound U-15/16 side had four players each score one goal thanks to a balanced attack, while the back line shut out the Richmond offense. Keenan O'Shea's brace along with goals from Austin Graham and Brandon Perdue guided Richmond United U-17/18 to a 4-2 win over Everton, capping off the 2014-2015 season with their sixth victory.
Elsewhere, Soccer Association of Columbia U-13/14 overpowered Baltimore Bays Chelsea 4-1, as Henrik Struck notched a hat trick and Tumani Minteh found the net in the 80th minute. Jerome Webbert scored Baltimore's lone goal in the 50th minute.
See below for all Potomac area Development Academy results from May 16-17 posted on Report-a-Score.com, along with updated standings and playoff tables...
U-13/14
| | | | |
| --- | --- | --- | --- |
| May 16 12:00pm | | | |
| May 16 1:45pm | | | |
| May 16 2:00pm | | | |
| May 17 1:00pm | | | |
| May 17 3:30pm | | | |
U-15/16
| | | | |
| --- | --- | --- | --- |
| May 16 1:00pm | | | |
| May 16 6:30pm | | | |
| May 17 1:00pm | | | |
| May 17 3:30pm | | | |
U-17/18
| | | | |
| --- | --- | --- | --- |
| May 16 10:30am | | | |
| May 16 4:30pm | | | |
| May 17 10:30am | | | |
| May 17 1:00pm | | | |
Standings
Playoff Picture