Virginian Elite Showcase implements festival atmosphere for 40th edition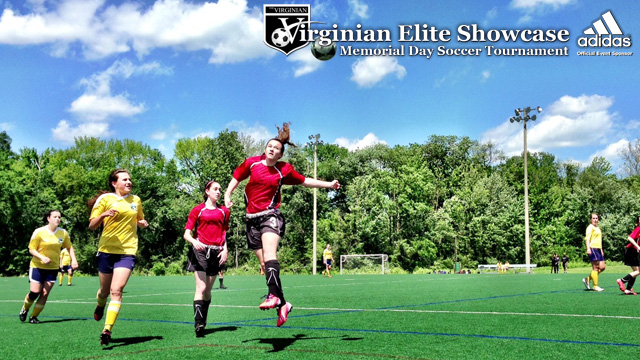 (Via Virginian Elite Showcase) – One of the longest-running youth soccer tournaments on the East Coast, the 2015 Virginian Elite Showcase will once again include more than 600 teams from seven U.S. states and Canada competing on fields throughout Northern Virginia from May 23-25.
Representing 90 clubs primarily from Virginia and Maryland, along with Pennsylvania, North Carolina, New York, New Jersey, West Virginia and Toronto, the numbers and overall quality of competition at the staple regional event continue to rise. Among the most well-represented clubs for the 2015 tournament include Northern Virginia's Alexandria SA which has registered more than 40 teams, and Pennsylvania clubs Stars United and Century United, which will bring more than 30 teams between their clubs and affiliates.
+Read: Alexandria SA registers 40+ teams, Top PA clubs back for 2015 Virginian Elite Showcase
Toronto-based Wexford SC, well known as a strong club north of the border, is sending U-13 and U-15 boys teams, while elite Virginia clubs such as Club Champions League representatives Annandale United FC, Arlington Soccer Association, Beach FC, Braddock Road Youth Club (BRYC), Fredericksburg FC, Loudoun Soccer, McLean Youth Soccer, Lee Mt. Vernon SC (LMVSC) and Southwestern Youth Association (SYA) have each entered one or more of their top teams into the competitive Virginia Cup divisions.
CCL Maryland representative FC Frederick has entered its U-11 boys side, while other premier local clubs including Prince William Courage (PWSI), Virginia Soccer Association (VSA), FCV Ashburn and host club Springfield South County Youth Club (SYC) will have some of their most successful teams in the event as well, creating a competitive field with a strong mix of teams representing various US Youth Soccer and US Club Soccer-sanctioned leagues.
+Virginian Elite Showcase 2015 Attending Teams List
With centralized field locations for each set of age groups spread throughout Northern Virginia, the 40th running of the three-day Memorial Day weekend tournament features a range of atmospheres and competition levels at each venue. As the showcase age groups compete in an intense atmosphere with coaches from more than 50 college programs looking on, the 40th running of the event will provide a more festive side for the younger ages developing their passion for the sport.
The U-9 to U-11 boys divisions will play on the Bermuda and Bluegrass fields at the historic Morven Park in Leesburg, Va. which will also feature food vendors, Soccer Genius skills events and a D.C. United grassroots program station on Saturday morning. Soccer Genius, a new performance feedback tool, uses sensors and radar technology to collect a series of measurements and instantly analyze movements such as juggling, passing, receiving and shooting. Representatives from D.C. United will be on hand to promote the team's upcoming home games, hand out team memorabilia and provide activities for the players.
"It's going to be a fantastic atmosphere, we've always wanted to bring the Virginian to Morven Park because it's a beautiful facility and they do an amazing job with their fields," said Virginian Elite Showcase Tournament Director Dotty Talbott. "Memorial Day is a major soccer weekend but it's also a time to relax and have fun. It will be very easy for teams to set up tents and just stay between their games on Saturday, be comfortable and enjoy the event."
Younger age groups will each play two games on Saturday, a third group match on Sunday and potentially semifinals in the afternoon. The finals will be played on Monday at Loudoun Soccer Park for the younger ages, in an effort by the tournament organizers to put all championship matches on turf fields as a precaution to avoid cancelling matches due to rain.
As for the showcase ages, the girls will once again play at Evergreen SportsPlex in Leesburg, while the boys play at Long Bridge Park in Arlington, Va. Long Bridge features three full-size turf fields, and will provide a central location for college recruiting for the boys side, which was split between two venues in 2014.
Meanwhile, Evergreen SportsPlex has recently added a fourth turf field with the construction of a new stadium pitch, and added a new on-site outdoor adventure course which includes rock-climbing, four ziplines and a three-story elevated ropes course. With two tiers of seating and a press box now installed at the Evergreen SportsPlex stadium, college coaches can now scout games with an aerial view of the action. Attending college coaches will represent Division I, II and III programs on the men's and women's sides, as well as the junior college and community college levels.
"My goal for the showcase age groups is to try and get as many coaches as we can to watch the kids play, providing an ideal setting for our teams" Talbott said. "We expect to have a great turnout again, and we've been working with Captain U to have even more matches being filmed and more opportunities to be recruited."
A few of the registered Division I programs include George Mason University (Men's and Women's), James Madison University (Men's), Lafayette College (Men's), Mississippi Valley State University (Women's), New Jersey Institute of Technology (Men's and Women's), Penn State (Men's) University of South Carolina (Men's) and 2014 Men's College Cup representative University of Maryland – Baltimore County. Reigning Division III women's soccer national champion Lynchburg College is also among the registered attendees.
Brackets and Schedule | Attending College Coaches
See below for a full list of attending clubs for the 2015 Virginian Elite Showcase… 
Attending Clubs by State/Country
Canada: Wexford SC
Maryland: Alliance SC, Barcelona USA, Bethesda SC, Calvert Soccer Association, Calvert-Elite SC, Calverton SC, DC Stoddert, FC Frederick, Freedom SC, Fruitland SC, Hagerstown SC, Maryland Rush Montgomery, Montgomery SC, OBGC Soccer, St. Mary's Soccer, Takoma Park Soccer, The Football Club of Maryland, Waldorf SC
New Jersey: Delran FC, Glen Rock, Highland Youth Soccer Club, Mahwah Raiders
New York: Greater Binghamton United FC, Silver Lake Soccer Academy, Soccer Plus Academy, Syracuse Development Academy
North Carolina: Pitt-Greenville Soccer Association, Triangle United Soccer Association (TUSA)
Pennsylvania: Buckingham United, Century United FC, Century United FC North, Century United FC of Pittsburgh, Panthers United, Penns Forest, Penn Legacy, Penn Trafford SC, Pittsburgh FC, Stars United SC, Victory Express, Vincent United FC, West Schuylkill FC
Virginia: AC Cugini, Alexandria Soccer Association, Annandale United FC, Arlington Soccer Association, Barca FC, Braddock Road Youth Club (BRYC), Burke Athletic Club, Capital FC, Caroline County Youth Soccer Association, Central Virginia United SC, Chantilly SC, Chantilly YA, Culpeper SA, DC Stoddert, DFC Vasquez, Evergreen FC, Fairfax Police YC, Fauquier County SC, FC Virginia, FCV Ashburn, Fredericksburg FC, Great Falls SC, Gunston SC, Herndon YS, International FC, Lee Mt. Vernon SC, Leesburg FC, Loudoun Soccer, McLean Youth Soccer, New River United Soccer, Northern Virginia SC, Old Dominion FC, Premier Athletic Club, PWSI Courage, Reston Soccer Association, Richmond Strikers, Southwestern Youth Association (SYA), Springfield South County Youth Club (SYC), Stafford Soccer, Sterling Youth Soccer Association, Team America FC, Vienna Youth Soccer, Virginia Blackwatch SC, Virginia Soccer Association (VSA), VISTA, Woodbridge SC
West Virginia: Mountaineer United SC