Louisville City FC Academy U19s become first Kentucky team to win Dallas Cup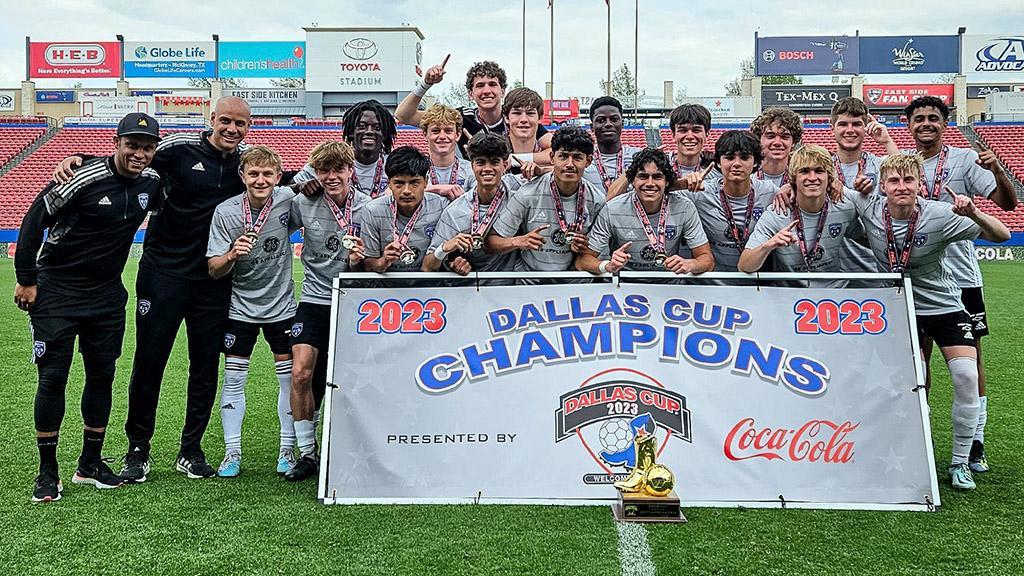 Chalk up another landmark moment for Louisville City FC's Academy.
On Sunday afternoon at the Dallas Cup the club's Boys U-19 became the first from the commonwealth of Kentucky to claim a division title at the historic event, earning a 2-1 victory against the Dallas Texans at Toyota Stadium, home of Major League Soccer's FC Dallas.
Featuring three players currently signed to USL Academy contracts with the club's USL Championship First Team in Issac Cano, Colin Elder and Travis Smith, the side rallied behind a pair of outstanding second-half finishes by Kyle Kimberling and Cole Varela to earn a historic victory.
This @dallascup goal from @KyleKimberling0 😲

Take a look at Sunday's equalizer in the 19U final! pic.twitter.com/gQdpaz7KJa

— Louisville City FC Academy (@LouCityAcademy) April 10, 2023
"What a major accomplishment for our academy, Luke and the team," said Mario Sanchez, head of the LouCity and Racing Academy. "The Dallas Cup is one of the most prestigious international youth tournaments, and for our academy to win it says a lot about what we are doing for youth soccer in our region."
The boys in purple went unbeaten in group stage play before powering through the knockout rounds, highlighting the quality that has quickly been established in the club's pathway to the First Team since the Academy was established four years ago.
Texans SC opened scoring in the 35th minute, but the second half was largely dominated by the boys in purple, who peppered their opponents with chances before breaking through.
Kimberling equalized on a brilliant left-footed shot from distance in the 53rd minute, and he nearly gave City the lead when later hitting the bar on a 66th-minute free kick. The winning moment, however, belonged to Varela. He got in behind the defense and slipped a shot past the keeper in the 86th minute before being mobbed by his teammates in celebration.
It was @varela_cole for the win 👊

He rolled in an 86th-minute goal to seal a @dallascup title! pic.twitter.com/OIkHHXkGxs

— Louisville City FC Academy (@LouCityAcademy) April 10, 2023
"It's a great feeling," said Spencer. "Winning this is one of the goals that this group in particular set months ago for what they want to accomplish this season. So I'm happy for them, and I think it sets the tone for the rest of our teams that want to show up to events. The goal is to win them, and it's realistic that it can be done."
Spencer, the goal-scoring hero of LouCity's 2018 USL Championship Final victory, spoke from championship experience with his team needing to come from behind at the half.
"I think there was a little hesitation in the first half, and there was some fatigue. This is six games in eight days," said Spencer. "I told them to trust themselves and give them the best chance of winning. You do that by going for it and not holding back. If you give everything you have, you can live with the result either way. If you hold back, you'll have some regrets."
The Dallas Cup, inaugurated in 1980, counts alumni ranging from legends of the game such as David Beckham, Landon Donovan and Wayne Rooney to the current generation of stars including Alphonso Davies, Bukayo Saka and Weston McKennie.
Launched in 2020, LouCity's youth academy has already seen five players so far earn pro contracts with the first team: Owen Damm, Carlos Moguel Jr., Sebastian Sanchez and brothers Elijah and Josh Wynder. Combined with Racing Louisville FC's sister academy built in support of the National Women's Soccer League side, Louisville's youth clubs now number more than 1,500 players.