Loudoun Soccer innovates with online education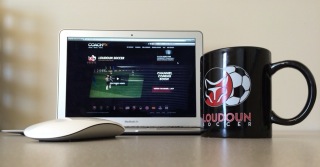 LEESBURG, Va. – Loudoun Soccer and CoachFX Live have announced a three-year partnership to provide a wide range of online coach and player education resources to Loudoun Soccer's approximately 9,000 players and 800 coaches.
The partnership will give Loudoun Soccer members access to an exclusive Loudoun Soccer Coaching Channel featuring activities in 3D animation, live video, and customizable printable lesson plans. Loudoun Soccer coaches can also use a powerful 3D Drill Designer to create and share their own library of activities with fellow coaches, players and parents.
"As a technical staff, we are committed to providing the most current and effective tools to our coaches and players," said Dave Scruggs, Loudoun Soccer Director of Coaching Education.
"Partnering with CoachFX Live gives us a state-of-the-art platform for developing and delivering our club content, curriculum, and philosophy to our coaches at all levels of play."
A public preview of the Loudoun Soccer/CoachFX platform is available now. Loudoun Soccer coaches will receive full activation information within the next few weeks.
"We are delighted to be partnering with Loudoun Soccer to deliver these exclusive benefits to its growing membership," said Founder of CoachFX Live Raymond Farrelly. "Throughout the preparation of this coaching channel, our team have been thoroughly impressed by the high quality of the drills provided by Dave Scruggs and the team at Loudoun Soccer, and we look forward to activating the accounts of every Loudoun Soccer coach."
Loudoun Soccer joins current CoachFX partners FIFA; the Asian Football Confederation; the National Soccer Coaches Association of America; Major League Soccer's Philadelphia Union and New England Revolution; AC Milan; the Scottish FA; the Aspire Academy; New Zealand Football; Kentucky Youth Soccer Association and 75,000+ coaches in 153 countries worldwide.