LAFC wins first MLS Cup in club history, defeating Philadelphia Union in wild title match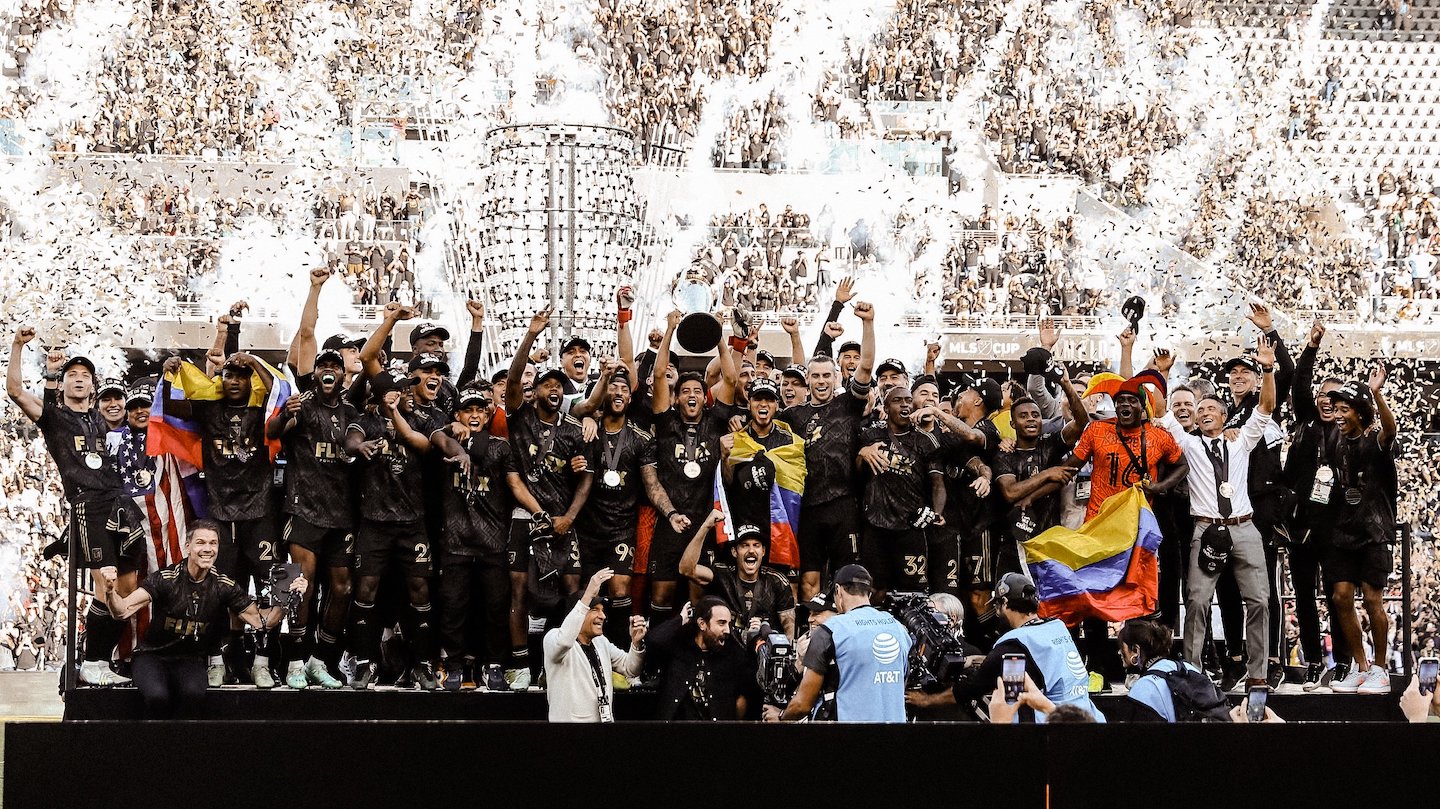 LOS ANGELES – The Los Angeles Football Club won the first MLS Cup in club history, defeating the Philadelphia Union 3-0 in a penalty-kick shootout after the game was tied at 3-3 after extra time.
LAFC goalkeeper John McCarthy was named the 2022 MLS Cup MVP presented by Audi after substituting on in the 117th minute and saving two penalties in the shootout. Capping off a terrific season, LAFC became the second team since 2012 to win MLS Cup and the Supporters' Shield in the same season.
The club is the 15th different team to win MLS Cup and the ninth different winner in the past decade. With the victory, Steve Cherundolo became the only first-year head coach to win MLS Cup since Piotr Nowak for D.C. United in 2004. LAFC is the fourth team in MLS history to win MLS Cup after producing 67-or-more points in the regular season.
GAME RECAP
LAFC emerged victorious after a sensational back-and-forth 3-3 game that saw five different goal scorers and three different lead changes priorto the penalty-kick shootout. Kellyn Acosta opened the scoring in the 28th minute from a direct free kick to send Banc of California Stadium into a frenzy (Watch Here). The Union equalized after halftime when Dániel Gazdag controlled a shot from José Martínez and placed it into the roof of the net in the 59th minute (Watch Here). Jesús Murillo looked to have the winner in the 83rd minute (Watch Here), only for Union defender Jack Elliott to equalize with a header off a free kick two minutes later (Watch Here).
In the 117th minute, LAFC goalkeeper Maxime Crépeau was issued a red card for denial of an obvious goal-scoring opportunity and was also injured during the play, resulting in LAFC substituting in John McCarthy at goalkeeper. Elliott scored his second goal of the match in the 124' that appeared to give the Union their first MLS Cup (Watch Here). However, extra-time substitute Gareth Bale rose above the defense in the 128' minute and headed home the game-tying goal, which was the latest in MLS history (including regular season and postseason), sending the game to a penalty-kick shootout (Watch Here).
Andre Blake saved the first shot in the shootout from Cristian Tello; however, Gazdag shot his over the crossbar for the Union. Dénis Bouanga was the first to convert in the shootout, and McCarthy saved the Union's next two penalty-kick attempts, denying Martínez and Kai Wagner from 12 yards out. With the opportunity to seal a championship for LAFC, Ilie Sánchez snuck his penalty kick under a diving Blake to earn the club's first-ever MLS Cup trophy (Watch Here).
1 2 ET FT (PK)
LAFC 1 1 1 3 (3)
PHI 0 2 1 3 (0)
Scoring Summary:
LAFC – Acosta, 28'
PHI – Gazdag (Martínez), 59'
LAFC – Murillo (Vela), 83'
PHI – Elliott (Wagner), 85'
PHI – Elliott, 120+4'
LAFC – Bale (Palacios), 120+8′
Penalty-Kick Shootout:
LAFC – Tello, Saved
PHI – Gazdag, Missed
LAFC – Bouanga, Scored
PHI – Martínez, Saved
LAFC – Hollingshead, Scored
PHI – Wagner, Saved
LAFC – Sánchez, Scored
Attendance: 22,384 (sellout)