MLS 22 Under 22 list revealed, as Jesús Ferreira takes No. 1 spot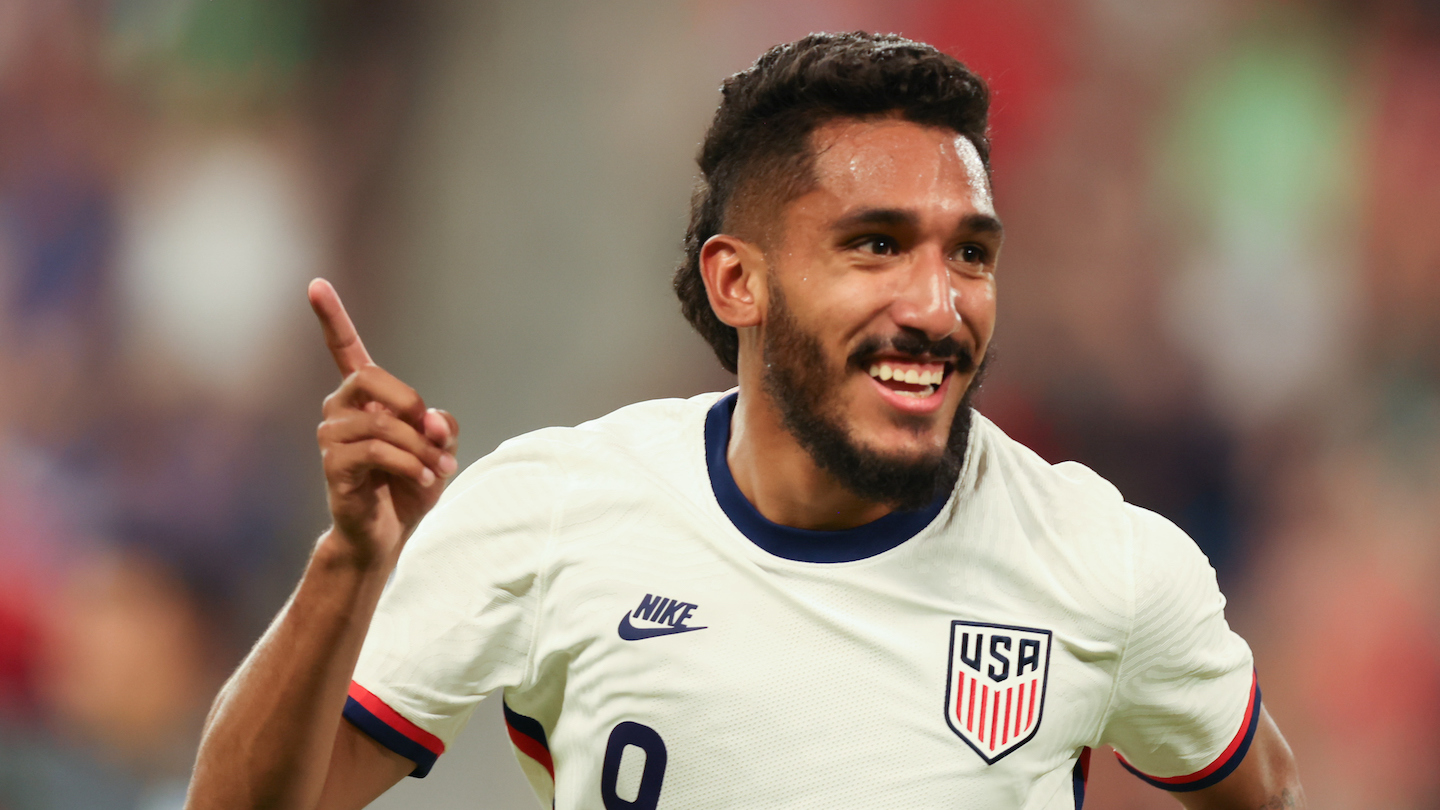 Major League Soccer has revealed the newest edition of its 22 Under 22 series, a list of the top 22 players in MLS under the age of 22 – as voted on by an expert panel consisting of MLSsoccer.com analysts, MLS Player Department staff and external media members.
See below for a look at some quick facts on this year's 22 Under 22, along with the full listing of players:
14 of the 22 players are from an MLS NEXT academy
Average age of the list: 19.86
Four players are age 18 or younger: Gaga Slonina, Cade Cowell, Jahkeele Marshall-Rutty and Obed Vargas
Jesus Ferreira is the second straight FC Dallas player to top the rankings after Ricardo Pepi in 2021
3 players from Philadelphia Union
2 players from FC Dallas, LA Galaxy, New York City FC and Toronto FC
Age cutoff: Players had to remain 21 or younger before the end of the 2022 MLS regular season (Decision Day on Oct. 9, 2022). Or in other words, they must be born on/after Oct. 10, 2000.
#1 | Jesús Ferreira
Age: 21 | MLS NEXT Academy: FC Dallas | Forward · FC Dallas
Welcome to the top, Jesús. After signing a Young Designated Player deal with FC Dallas last offseason, a first-of-its-kind extension for a homegrown player, Ferreira has entered an entirely new stratosphere during the 2022 season. He's the league's top domestic scorer with 18 goals and five assists, form that's made him a virtual lock for the United States' World Cup-bound squad at a position that's craved stability.
The son of former MLS MVP and Colombian international playmaker David Ferreira (2010 winner), Jesus has become a bonafide star, even sporting the captain's armband for his boyhood club at times. Whether his future lies in MLS or abroad, it's been a remarkable rise for a player who first turned pro in November 2016.
#2 | Thiago Almada
Age: 21 | Academy: Velez Sarsfield | Midfielder · Atlanta United
Atlanta aren't afraid to splash the cash, and that tendency resulted in Almada's February 2022 arrival from Velez Sarsfield for a reported $16 million, establishing a league record for an incoming transfer. That investment has been rewarded with Almada providing a team-leading 17 combined goals and assists thus far, earning a September call-up to Argentina's senior squad before the World Cup.
Now, there'll always be a cautionary element around Almada's journey considering how Ezequiel Barco's time with the Five Stripes went. But he's embraced this career step and all it entails, suggesting a high-priced outgoing move in the Miguel Almiron mold (joined Newcastle United in January 2019) could be in his future one day.
#3 | Talles Magno
Age: 20 | Academy: Vasco da Gama | Forward · New York City FC
Magno's game oozes jogo bonito, a nod to his Brazilian roots and arrival in May 2021 from Vasco de Gama. The Young Designated Player was the perfect secondary scoring option to former NYCFC striker Taty Castellanos, and he's shown an ability to play both wide and centrally.
Already an MLS Cup champion, Magno has eight goals and eight assists in 2,900 league minutes. The game comes so naturally to him, recognizing where to be in the final third and what technique to apply at the right moment. He's come good on a reported base $8 million transfer and then some.
#4 | Gaga Slonina
Age: 18 | MLS NEXT Academy: Chicago Fire FC | Goalkeeper · Chicago Fire FC
A reported $15 million move to Chelsea awaits Slonina in the winter, a deal that was completed in August and ended a lengthy courtship/transfer sweepstakes that included Real Madrid as well. Chicago's homegrown goalkeeping prodigy is a tier-one prospect, regarded as the best young talent at his position globally.
He's been likened to Italian goalkeeping great Gianluigi Buffon and was heavily recruited by Poland at the senior international level before committing his future to the United States. At the expense of overstating things, Slonina arguably has the highest ceiling of any player in MLS.
#5 | Julián Araujo
Age: 21 | MLS NEXT Academies: Barça Residency Academy/LA Galaxy | Defender · LA Galaxy
Araujo, a two-time MLS All-Star, is pushing to make Mexico's World Cup squad. That's the byproduct of being arguably the best attacking right back in MLS, supplying a career-high eight assists for the Galaxy in 2022 thus far.
Araujo has been a week-in, week-out starter in LA for three-plus seasons now, and while he doesn't quite qualify as a homegrown player, it's clear he takes pride in playing locally. But Araujo isn't afraid to vocalize his desire to play in Europe, either, with FC Barcelona among those linked to him during the summer transfer window. At the right time, at the right price, those dreams could come true.
#6 | John Tolkin
Age: 20 | MLS NEXT Academy: New York Red Bulls | Defender · New York Red Bulls
Is Tolkin the next MLS homegrown left back to head to Europe? We're certainly not betting against him following in the footsteps of Kevin Paredes (from D.C. United to Wolfsburg), George Bello (from Atlanta United to Arminia Belfield) and Sam Vines (from Colorado Rapids to Royal Antwerp).
The RBNY youth product has been name-checked by USMNT head coach Gregg Berhalter on several occasions, and is arguably the steadiest player on a Red Bull side that just booked a 13th straight playoff trip. Tolkin's game thrives in the Red Bulls' high-pressing tactics, possessing a skill set that should translate well to the next level.
#7 | Alan Velasco
Age: 20 | Academy: Independiente | Forward · FC Dallas
Anytime a player carries the club-record signing label, that comes with heavy responsibility. Velasco seems to have embraced that role, arriving at Dallas in the offseason from Independiente for a reported near-$7 million transfer fee. And the winger stunningly announced his presence back in March, scoring a Lionel Messi-esque solo goal that can simply be described as world-class, since providing several jaw-dropping free kicks as well. An Argentine youth national team standout, Velasco's going places.
#8 | Ismaël Koné
Age: 20 | Academy: CS Saint-Laurent/CF Montréal U-23 | Midfielder · CF Montréal
Koné, within a year, has gone from an obscure signing by CF Montréal to a full-fledged Canadian international who's likely to feature at the upcoming World Cup. All the while, he's reportedly faced heavy interest from English Championship sides Norwich City and Sheffield United – suggesting a wintertime move abroad may be on the horizon.
Koné's a huge part of CFM's drive into one of the league's top teams, forming a midfield partnership with Victor Wanyama. The former Premier League star and Kenya captain has said Kone is "one of the hottest prospects in MLS and everyone in Europe is watching him and they want to get his signature."
#9 | Kwadwo Opoku
Age: 21 | Academy: Attram De Visser Soccer Academy | Forward · Los Angeles Football Club
LAFC's supercharged attack runs six players deep, and you perhaps can rattle off a few of the names (hint: Gareth Bale, Carlos Vela, Cristian Tello, et cetera). But this year, one of the Black & Gold's most effective forwards has been the one affectionately known as "Mahala" rather than those with glittering resumes at world-renowned clubs. The young Ghanaian forward has seven and three assists on the year, making life miserable for opposing defenses with runs in behind and a motor that just doesn't quit. Opoku's on-field joy is contagious, too
#10 | Jack McGlynn
Age: 19 | MLS NEXT Academies: BW Gottschee, Philadelphia Union | Midfielder · Philadelphia Union
The Union basically have a homegrown factory, allowing someone like McGlynn to vault from a heralded prospect to key starter without missing a beat. Life's come pretty fast for the left-footed midfielder since starring for the United States U-20s this summer, bringing a level of calm and passing range/tempo/weight that is beyond impressive.
Take Union head coach Jim Curtin's word for it, not ours, from after an early-September match: "Jack's ability on the ball and the level that I talk about that he can go to, and what he sees, it's not normal for a kid his age. His IQ is as high as any player I've worked with and he's still a teen."
#11 | Cade Cowell
Age: 18 | MLS NEXT Academies: Ballistic United/San Jose Earthquakes | Forward · San Jose Earthquakes
Cowell doesn't seem long for MLS, with the Earthquakes reportedly already rebuffing a transfer bid from Ligue 1's side Stade de Reims this summer. The homegrown winger, re-signed last offseason to a U22 Initiative deal, already has one senior US cap and is approaching 80 regular-season games before he enters his age-19 season.
Cowell's early game was perhaps dependent on pace and power, but he's shown an increasing level of technical ability in decisive moments, sporting 8g/12a. Enjoy him while you can, San Jose fans.
#12 | Paxten Aaronson
Age: 19 | MLS NEXT Academy: Philadelphia Union | Midfielder · Philadelphia Union
You know Brenden Aaronson, the USMNT player who's taken Leeds United by storm this season? His little brother might be as good one day. Paxten Aaronson is more than just a younger sibling, though, taking home Golden Boot and Golden Ball honors this past summer as the US Under-20s won a third-straight Concacaf title and booked spots in the next U-20 World Cup and Summer Olympics.
The attacking midfielder's minutes have only been limited by Daniel Gazdag's incredible 2022 season for Philadelphia, yet the homegrown's potential is tantalizing and already prompted interest from across Europe.
#13 | César Araújo
Age: 21 | Academy: Montevideo Wanderers | Midfielder · Orlando City SC
So much of the conversation around Orlando in 2022 has been their new-look offense, leaving their new defensive midfielder to fly under the radar. But Araújo, an Uruguay youth international signed from Montevideo Wanderers, has proven among the top applications of the league's U22 Initiative roster-building mechanism to date. Araujo is near the league leaders in most defensive actions for No. 6s, acting as the bedrock for a US Open Cup-winning side and doing the dirty work without complaints. Simply a sensational addition by the Lions.
#14 | Leon Flach
Age: 21 | Academy: FC St. Pauli | Midfielder · Philadelphia Union
What a signing Flach has turned out to be, joining Philadelphia in 2021 after developing at famed German side FC St. Pauli. The industrious, no-nonsense midfielder covers ground with ease and links the Union's game model, with durability and selfless play underpinning it all. Flach rarely shows up on the boxscore, but odds are that doesn't bother the US youth international one bit. After the 2022 World Cup, he could feasibly enter the senior squad's plans.
#15 | Obed Vargas
Age: 17 | MLS NEXT Academy: Seattle Sounders FC | Midfielder · Seattle Sounders FC
If it weren't for a troublesome lower back stress fracture he suffered in June, would Seattle's homegrown midfielder be ranked higher? That's likely, considering the trajectory this US youth international was on, seamlessly subbing into the Sounders' historic and victorious Concacaf Champions League triumph over Liga MX's Pumas after João Paulo went down injured.
Raised in Alaska, Vargas' roundabout journey to MLS homegrown stardom has storybook potential. European squads are reportedly tracking him, and Sounders head coach Brian Schmetzer has acknowledged his lofty potential: "I think he's going to be a tremendous player for our club, and then let's see."
#16 | Thiago Eduardo Andrade
Age: 21 | Academy: Fluminense | Forward · New York City FC
Thiago's got speed to burn, but it would be unfair to limit the Brazilian forward to that one quality. Signed from Bahia in 2021 on a U22 Initiative deal, he's now up to nine goals and four assists in a shade over 2,300 minutes played the last two seasons. He's also helped NYCFC win their first two pieces of silverware – MLS Cup a year ago and Campeones Cup this summer – showing game-changing ability in wide areas, both via direct play and on-ball skill.
#17 | Efraín Álvarez
Age: 20 | MLS NEXT Academy: LA Galaxy |Midfielder · LA Galaxy
Early into the 2022 MLS season, after Álvarez scored a long-range golazo to silence Charlotte FC's record-setting crowd and derail the expansion club's home-opening party, LA head coach Greg Vanney said the midfielder's left foot is "like a magician's wand." That's not hyperbole, though, as Alvarez was called "by far the biggest talent" in MLS by former Galaxy teammate Zlatan Ibrahimovic back in 2019. With the Mexican international enjoying his most productive season yet (3g/4a in 26 games), the pieces may be coming together.
#18 | Benjamin Bender
Age: 21 | MLS NEXT Academy: Baltimore Armour | College: Maryland | Midfielder · Charlotte FC
It turns out Charlotte FC knew a thing or two when taking Bender with the No. 1 overall pick in the 2022 MLS SuperDraft. The attacking midfielder, at times, has looked like the expansion club's top linking player and creative hub in the final third. Only in his first professional season, the University of Maryland product's next step is finding consistent production in the Queen City.
#19 | Aidan Morris
Age: 20 | MLS NEXT Academies: Weston FC/Columbus Crew | Midfielder · Columbus Crew
Morris, when Columbus won the 2020 league title, became the youngest player in league history to start MLS Cup. That provided an early glimpse into the homegrown player and US youth international's next-level ability, since becoming an indispensable part of the Crew's midfield base. Possessing some bite and an impressive passing range, Morris isn't afraid to log the hard miles and let others shine. He's shown an ability to boss games centrally, too.
#20 | Jayden Nelson
Age: 19 | MLS NEXT Academy: Toronto FC | Forward · Toronto FC
A longtime Canadian youth international, Nelson has enjoyed a breakout year under legendary American coach Bob Bradley at Toronto FC. Brought up as a winger, the homegrown talent seems reborn as an all-action, box-to-box midfielder. He's on track to finish the 2022 campaign with over 2,000 minutes played – nearly eight times more than his previous season-high – and should be a key part of their continued roster rebuild.
#21 | Bryce Duke
Age: 21 | MLS NEXT Academy: Barça Residency Academy/Real Salt Lake | Midfielder · Inter Miami CF
Duke was sometimes stuck in stop-start mode at LAFC, but his career has taken off following a wintertime, cross-country trade to Inter Miami CF. Already in his third MLS season, the creative midfielder was handed the Herons' strings in the attack for stretches, no small indicator of trust from manager Phil Neville. Duke's minutes waned some after the arrival of former MLS MVP Alejandro Pozuelo this summer, though his eye for a pass and game understanding is head-turning.
#22 | Jahkeele Marshall-Rutty
Age: 18 | MLS NEXT Academy: Toronto FC | Defender/Forward · Toronto FC
Viewed as one of Canada's top rising talents, Marshall-Rutty has already shined bright as a winger and outside back for his hometown Toronto FC. Reports last winter also claimed he's valued at $20 million on the transfer market, which would make him one of the most expensive outgoing MLS homegrowns ever. Marshall-Rutty originally signed with Toronto in 2020 as a 15-year-old, an early indicator of his sizable potential. Were it not for a knee injury suffered early into this season, he'd likely be higher up the rankings.