Jefferson Cup U15 Boys Championship Division Day 1 Recap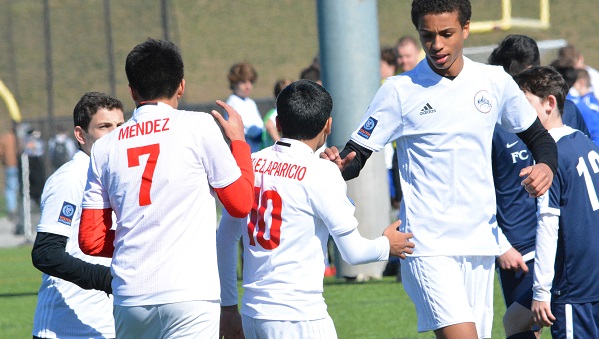 Follow the Jefferson Cup
Twitter | Instagram | Facebook
The 2017 Jefferson Cup officially got underway on Saturday with the opening day of the U10-U15 Boys Weekend, as over 330 teams competed in group play on field locations throughout the Richmond area, as well as the Virginia Soccer Training Center in Fredericksburg and the Warhill Sports Complex in Williamsburg.
In the U-15 Championship Division, teams played two games each within the division's four-team groups, seeking to finish at the top of Group A or Group B, and earn a spot in Sunday's Final (1 p.m. at River City SportsPlex, Field 5).
At the end of the first day, CASL 02 Red North and Manhattan SC Titans are tied at the top of Group A, having each earned a win and a draw. However, CASL holds the top spot on tiebreaker with a 5-0 goal differential, while Manhattan has a 2-0 differential through its first two matches.
+Jefferson Cup U10-U15 Boys Weekend Photos
After starting the day with a scoreless draw against CASL, Manhattan earned another clean sheet in its second match, a 2-0 win over FC Stars NPL 02. Arnulfo Velez Aparicio netted both goals in the first half, putting Manhattan on the scoreboard early, finishing off a play with a good shot following some efficient build-up play through the attacking zone.
Later in the half, Velez Aparicio found the net again, getting separation from his defender and receiving a long-range aerial pass in stride, then connecting on a shot from distance on a highly difficult angle. Manhattan's defense played well as a group throughout the day, as center back Leandro Angulov and the rest of the group covered multiple areas up and down the pitch, making tackles and winning possessions.
Meanwhile, CASL capped off the day by storming past SJEB Rush 5-0 in the U-15 Championship Division's last match of the afternoon. As the defense secured its second shutout of the day, the offense clicked in a big way, highlighted by a one-minute span which included back-to-back goals early in the second half.
CASL will conclude group play against FC Stars NPL 02 on Sunday morning (8 a.m. at River City SportsPlex, Field 5), and at the same time Manhattan will face SJEB Rush 02 Academy on Field 4.
In Group B action, Maryland's Brausa United FC 02 Blue and South Carolina side CESA 02 Premier both earned a win and a draw in their respective games, setting up a deciding head-to-head contest between the sides on Sunday morning (8 a.m.at River City SportsPlex Field 2). In the event of a draw on Sunday morning, Brausa would hold the tiebreaker over CESA.
CESA began the day with a 2-1 win over NJ Stallions Academy Juve 02, before playing FCUSA Levittown Gunners 02 to a 1-1 draw in the afternoon contest.