US Youth Soccer National League Boys wrap up season in Las Vegas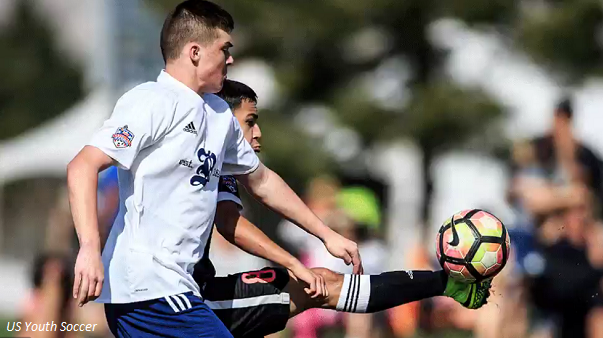 LAS VEGAS, Nev. (March 12, 2017) — The US Youth Soccer National League 15U, 16U, 17U, 18U and 19/20U Boys completed their third and final day of matches at the Bettye Wilson Soccer Complex in Las Vegas, Nev., alongside the 2017 Players College Showcase. Sunday marked the final day of the 2016-17 boys season, and standings are now finalized with division titles, berths to the US Youth Soccer National Championships and guaranteed spots in the league next year decided.
The 2016-17 season was an exciting one for the boys, as six division titles were decided on the final day of play. Every division winner punched a ticket to the 2017 US Youth Soccer National Championships, while runners-up in the 15U and 19/20U age groups also earned a berth to Nationals in Frisco, Texas. Additionally, several sides in the 15U, 16U and 17U age groups earned an automatic spot to compete in the league again next season. With so much on the line, games in Las Vegas carried significant meaning toward the outcome of the season.
Eight total teams secured a berth to the 2017 National Championships on Sunday, as each and every minute of the season went into determining their fate. Among the sides celebrating a ticket to Frisco, Texas, is Boca Juniors OC 02 White (CA-S), which came out victorious in a must-win 15U Blue Division matchup on Sunday. Boca needed and earned three wins in as many games in Vegas, and coach Jimmy Obleda — a two-time National Champion — emphasized the significance of winning his first National League division title.
"This one is extra sweet. The other teams have won the National Championship, but this league is amazing — the competition, quality, environment, everything," Obleda said. "Because this is our first year in the National League with this team, we told our parents, 'It's going to be like nothing you've experienced before.'"
Elsewhere on Sunday, 17U Raiders FC (IL) made National League history by becoming the first team to put together back-to-back 7-0-0 seasons. The Illinois side was the lone boys team to finish the 2016-17 campaign with no losses or ties. Raiders FC was also one of just two clubs to claim multiple division titles, along with CUP (OH-S).
2017 US Youth Soccer National Championship Qualifiers via the National League
*qualified Sunday
15U Boys
Blue Champion: Boca Juniors OC 02 White (CA-S)*
Blue Runner-up: Solar Chelsea Red 02 Stricker (TX-N)
Red Champion: Midwest United FC 02 Royal (MI)
Red Runner-up: St. Louis Scott Gallagher SC Elite (MO)*
16U Boys
Black Champion: Raiders FC (IL)*
Blue Champion: CUP Gold 01 (OH-S)
Red Champion: Lobos Rush 01 Premier (TN)
White Champion: LVSA 01 Red (NV)
17U Boys
Black Champion: McLean 00 Green (VA)
Blue Champion: West Coast FC Armour 2000 (CA-S)*
Red Champion: Raiders FC (IL)
White Champion: Sparta 00 JK (UT)*
18U Boys
Black Champion: OP Green (OH-S)
Blue Champion: BRYC 99 Elite (VA)*
Red Champion: WPFC 99 Black (WA)
White Champion: CUP 99 Gold (OH-S)
19/20U Boys
Blue Champion: Chicago Fire Juniors South (IL)*
Blue Runner-up: Challenger Crew Jrs Gold 98 (OH-N)
Red Champion: Penn Fusion 98 (PA-E)
Red Runner-up: FC United (IL)*
National League action continues Friday, March 17, as 64 girls teams kick off their final weekend of league play at the Bettye Wilson Soccer Complex in Las Vegas, Nevada.
Some highlights from Sunday's matches…
15U
In a must-win 15U Blue Division game, Boca Juniors OC 02 White (CA-S) came out firing en route to a convincing win over Solar Chelsea Red 02 Stricker (TX-N). While the North Texas side had already secured a top-two finish, Boca needed a win on Sunday to earn a place at the National Championships. The Cal South side wasted little time in getting on the scoreboard, as Michael Sedano headed home a fourth-minute Jose Ventura cross at the near post to put Boca in front, 1-0. Just minutes later, Jose Luis Alvarado sent a ball toward goal that floated over the keeper and inside the far post to double the advantage. Boca pushed its lead to 3-0 when Andrew Resendiz followed up a save on his own penalty kick and hit home the rebound. Despite going down to 10 men midway through the first half, Boca managed to stay on the front foot and added goals from David Ruvalcaba and Resendiz after the break. The shutout victory helped Boca claim the division title and accompanying berth to Nationals.
A win or a tie on the last day of 15U Red Division play was what St. Louis Scott Gallagher SC Elite (MO) needed in order to guarantee themselves a top-two finish in the division. The Missouri team faced an uphill battle in front of them as its opponent was undefeated Midwest United FC 02 Royal (MI). St. Louis went straight on the attack and took the lead on goal by Nick Merlo in the 35th minute. After a delightful pass, Merlo broke through and finished his chance for the 1-0 lead. Midwest couldn't battle back for an equalizing goal, and Cole Hutson sealed the deal for St. Louis in the second half as his chance slipped through traffic for a 2-0 lead. The whistle blew and St. Louis earned an important victory and a place in the 2017 US Youth Soccer National Championships.
16U
Tied on points with EC Real Salinas Galaxy 01 (CA-N), Raiders FC (IL) needed a win to guarantee the 16U Black Division title. It looked like it would be clear sailing early, as Eduardo Melgoza found the back of the net in just the second minute of play. Beadling battled back hard, equalizing in the 57th minute on a Joseph Biafora header. Beadling took a short corner that was whipped into the box. Biafora rose up higher than the Raiders defenders and headed home his chance to bring the teams level. Raiders FC upped its intensity as the team knew EC Real was ahead in its game on the next field over. Raiders pulled ahead in the 65th minute as a ball in the Beadling box popped out to Covieli Reyes, who hit a low drive for a goal. Raiders had a chance to add on its lead as a penalty was awarded but Conor Suchar made a spectacular save to keep Beadling in the game. The Raiders defense held and earned the top spot in the 16U Blue Division with the 2-1 victory.
17U
In a winner-take-all matchup, Sparta 00 JK (UT) came away with a 2-1 win against Seattle United Copa (WA) to win the 17U White Division. Seattle, which needed a win to pass Sparta, came out with some early pressure, but the Utah side did well to handle the initial surge. Sparta managed to go in front just before halftime, as Arturo Martin Pimentel sliced into the box and cut a left-footed shot back into the right corner. Sparta doubled its lead in the 52nd minute with Gabriel Lopez Serrato's left-footed strike, which flew past the outstretched hand of the Seattle keeper. Borislav Stoyanov converted a 78th-minute penalty kick to pull Seattle back within one, but it wasn't enough as Sparta held on for the 2-1 win.
Sitting at 15 points in the group, West Coast FC Armour 2000 (CA-S) knew it needed a third win in as many days to pass idle Baltimore Celtic SC 2000 (MD) in the 17U Blue Division. West Coast used that urgency to boost itself to a 2-0 victory over Washington Premier 2000 Black (WA) in a very closely contested match. Jake Vollmond broke the deadlock in the 21st minute when he received a cutback pass into the center of the box. Vollmond made no mistakes and calmly finished his chance for a 1-0 lead. Both teams had chances to add goals, but some great defense and goalkeeping kept the score the same until late in the second half. Vollmond gave West Coast the cushion it needed as he added his second of the game in the dying embers of the match in the 88th minute. With the win, West Coast earned the three points it needed to leapfrog Baltimore in the standings to earn itself the Blue Division title and a spot at Nationals.
18U
Needing a win to claim the 18U Blue Division title, Sporting STL – McMahon Ford (MO) came up just short as it fell, 2-1, to Milwaukee Bavarians (WI). The Wisconsin side nearly took an early lead when David Reyes' deflected blast hit off the crossbar. However, the Bavarians did break through in the 32nd minute when a skillful flick from a teammate put Austen Schweinert in behind the defense, where he laced his shot past the keeper. Sporting STL leveled the score shortly after halftime, as Joey Spotanski powered a shot from the right side of the box into the far corner of the net. However, Shawn Azcueta helped Milwaukee regain the lead with a 63rd-minute goal, and that proved to be the game winner. The Sporting loss meant that BRYC 99 Elite (VA) held on to take first place in the Blue Division.
19/20U
FC United (IL) earned a 2-1 win over USA 98/99 Premier (UT) on Sunday to finish second in the 19U Red Division and punch its ticket to Nationals. Needing just a tie to be in the top two, FC United created some breathing room for itself in the 21st minute by taking a 1-0 lead on a Noah Melick strike. However, USA equalized in the 65th minute when Jacob Singleton got on the end of a low cross and snuck his shot just over the goal line. The Illinois side worked hard to avoid conceding another goal, and FC United sealed its second place finish when Tim Iscra headed home an 85th-minute goal to cap the 2-1 victory.
"The National League has been great. We're so proud to finish in the top two," FC United coach Yianny Caparos said. "It has been everything we expected it to be. Every game has been a battle. It's really deceiving looking at the standings as to who has won or lost because every game is a great game."
The 19/20U Blue Division game between Chicago Fire Juniors South (IL) and Challenger Crew Jrs Gold 98 (OH-N) was a hard fought battle as both teams were playing for the top spot. With a Challenger win, it would knock Chicago Fire out of the top two. With Chicago needing a win, it went out and got a key opening goal midway through the first half. Connor Mote scored what would be the game winner in the 21st minute and gave his team the important 1-0 advantage. Both teams had chances to add goals later in the game, but neither side managed to find the back of the net again — allowing Chicago to hold on for the 1-0 win. Both team will now advances to the National Championships, with Sunday's result giving Chicago Fire the division title and Challenger a second-place finish.