Jefferson Cup U14 Girls Championship Division Day 1 Recap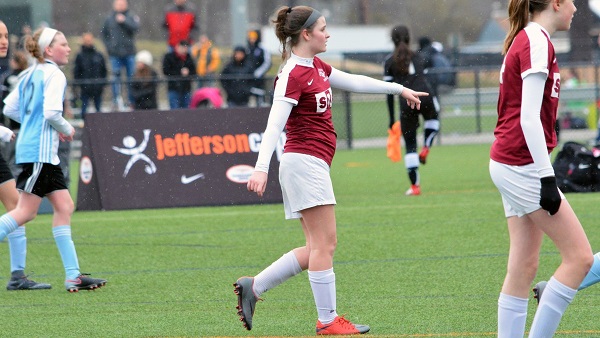 Follow the Jefferson Cup
Twitter | Instagram | Facebook
Schedule / Results: U10-U14 Girls Weekend
Richmond, Va. – The 2018 Jefferson Cup continued on Saturday with the start of the U10-U14 Girls Weekend. Continue reading for a look at how the U-14 Championship Division played out on the opening day of competition.
Group A
Maryland United FC 1 – SJEB Rush 04G Academy 1
Maryland United FC played SJEB Rush 04G Academy to a hard fought 1-1 draw to end Group C.
Maryland dominated the first half using pinpoint precision passing and excellent trapping skills. Led by midfielders Dani Farias and Ana Hoover, the side made very few errors in their passing efforts, delivering balls straight to their teammates. With little space between the ball and their feet on every play, they were able to dominate possession and creating attacking chances at will. They took the lead in the 20th minute when midfielder Emily Rubio Garcia received a pass in the box from Farias and buried a shot into the upper half of the net. 
Maryland continued to control possession throughout the first half with Farias running plays North and South for her teammates. Her hard work nearly paid off in a goal when pass back to her from Rubio Garcia gave her a chance from distance. Her effort was on target but SJEB goalkeeper Emily Guthrie made a spectacular diving save to prevent further damage.
SJEB came alive at the end of the first half with Sydney Sorrento finding Madelyn Dunk in open space. While it initially appeared that she would have a chance at goal, Hoover came in and made the clearance. 
In the second half, Maryland continued to press, looking for the goal that would send them to the U14 Championship Final. Using the speed of forward Amy Ingram, they worked on creating opportunities down the right flank either via crosses or set pieces. They very nearly had the match winner in the 50th minute when a corner kick found midfielder Olivia Ozbolt, whose shot was on target but ultimately cleared away by SJEB defender Arden Sendak.
Midfielder Jessica Conkin for Maryland attempted a similar cross in the 60th minute, which also found Rubio Garcia. But the results were the same as the previous effort, a close chance but no goal.
With nine minutes to spare, Maryland had perhaps their best opportunity on a corner kick by Conkin. Garcia would hit her shot on target, but Guthrie was up for the challenge, making the save to preserve the draw. SJEB's best attacking opportunity came in the 63rd minute, when on a counter-attack run, Madison Burlingame found herself with space to operate. However, goalkeeper Dahlia Bedward made a diving effort to prevent the shot.
The 1-1 draw between Maryland (0-0-2, 9 points) and SJEB Rush (0-0-2, 10 points) was all that Carolina Elite 04G PRE-ECNL (0-0-2, 11 points) needed to go through to tomorrow's semifinal match. They drew with Maryland 2-2 and with SJEB 4-4 to advance in the U14 Championship.
Group B
PDA PHOENIX 04 ECNL 3- BEACH FC 04G RED 2
PDA Phoenix 04 ECNL earned a 3-2 win against Beach FC 04G Red 2 (0-2-0, 3 points) on Saturday afternoon in their first match in the Jefferson Cup. 
Pressure was the key word in the first half as Phoenix PDA applied a consistent amount of it to the Beach FC defense. Led by midfielders Saachi Bureau and Skylar Bray, the Phoenix midfield controlled the passing lanes on the pitch, finding outside targets across all areas to keep Beach on the back of their heels. In the sixth minute, PDA nearly had their first goal when Bray's deft pass into Caroline Porter found her all alone with the goalkeeper. Her shot was on target but Beach FC goalkeeper Kendall Ellis would make the stop.
Porter made the most of her second opportunity though, finishing off a cross sent in by Saachi Bureau to give PDA the 1-0 advantage. Porter found some space in front of goal and buried her chance past the keeper.
PDA continued to add on the pressure, giving Beach few opportunities in the attacking third. PDA's defensive midfielders and center-backs pressed high and out forcing Beach towards the corner flags. Cassidy Shaw for Beach used her speed to create some chances for her side, including a clever pass out to Rachel Thetford in the 23rd minute. But whatever her defense couldn't handle, PDA goalkeeper could making the stop to snuff out Beach's best attacking effort in the first half.
It appeared that PDA might get a second before the half was over, with Gianna Salib and Mia Saccone connecting on an attacking chance in the 32nd minute. But Thetford and fellow center-back Abigail Pesut worked well to locate the pass and make the clear deep inside their eighteen.
Play heated up on both ends of River City Field 4 in the second half, courtesy of a pair of penalty kicks. In the 40th minute, Beach FC's Olivia Fout was clipped in the box by PDA's Perrin Battafarano. Fout made the most of her opportunity, hitting home the equalizer.
PDA continued to press and earn their own penalty in the 52nd minute. After getting knocked in the box, Skylar Bray picked herself back up and gave her side the lead with a high shot into the net.
PDA added an insurance goal in the 52nd minute when Bray hit a pass in for Riley Gross to make it 3-1. A goal by Pesut in the 58th minute would made for a nervy final 12 minutes. But the PDA defense would hold on for the win and the points.
PDA (1-1-0, 9 points) did not have as much luck in their second match against Woodbridge Strikers SC 04G (2-0-0, 18 points). Woodbridge also defeated Beach FC (0-2-0, 3 points) 3-1 to start the day's action in Group B.
Group C
CFC UNITED 04 ECNL 2 – STA 2004G NPL 1
CFC United 04 ECNL started their Group C action in fine form, defeating STA 2004G NPL  2-1 on River City Field 4.
In the first half the two sides played a game of chess on the pitch attempting to expose weakpoints in their defensive structure. While STA looked to go wide and open up the CFC back four, CFC went inside using short diagonal passes to weave through their opponents defense. In the 22nd minute CFC nearly had the game's opening goal with Samantha Kipperman breaking through the defense and hitting a low shot on target. However, STA goalkeeper #23 would make the stop and end the scoring chance.
STA would have their own attacking chances to end the half, but CFC goalkeeper Erynn Floyd turned in a shutout effort in the half, highlighted by a diving effort.
In the second half, both sides continued to press. In the 42nd minute, Floyd made another diving stop to keep STA off the board. The STA defense was pushing up high to start the second forty, which in turn allowed for their outside midfielders to press in and create attacking chances from right around the box.
However, CFC was ultimately able to break through with a counter-attack. In the 48th minute, Julia Sciallo found space down the right flank and open opportunity on goal. After getting past STA's defenders, she hit a low effort far-post to give her side the 2-0 advantage.
STA would respond with a goal of their own in the 52nd minute. After receiving a pass from #13 at the top of CFC's eighteen #5 for STA would hit a high shot past Floyd to make things level.
CFC ultimately broke through again in the 70th minute, sealing the victory. Although Sophia Lowenberg's initial shot from distance was saved, Lowenberg was there to scoop up the rebound and give CFC the three points
CFC (1-0-1, 12 points) fell just short though of advancing to the semifinals on Sunday, after drawing 1-1 with Philadelphia SC Coppa Swarm (1-0-1, 13 points). Coppa punched their ticket to the business side of the tournament with the drawing, having already earned  a 2-1 win over STA (0-2-0, 2 points) earlier in the day.
Group D
Cedar Stars Academy Bergen 1 – Richmond United ECNL U14 4
Thanks to some excellent passing and good work from their midfield, Richmond United punched their ticket to the U-14 Championship round with a 4-1 win over Cedar Stars Academy.
While both sides had their chances early, it was Richmond that created the lion's share of opportunities early on. Defender Mary Dunn used her speed down the right flank to open space for her teammates inside. She was able to get a cross in on the the 7th minute to midfielder Kate Eissenburg, whose shot was saved.
Although she was denied on a couple of occasions early, Dunn's efforts would pay off in the 10th minute, when she set up midfielder Mea Picone with a pass at the top of the box. Jill would then slide a carefully constructed opportunity in for a surging Eissenburg, whose shot would go beyond the reach of the keeper and give Richmond the 1-0 lead.
After Cedar Stars managed to equalize, Richmond took control of the match in the second half, knowing they needed a win to advance. Midfielder Allison Gaither ultimately put her side ahead for good, spotting Richmond with the 2-1 advantage.
Richmond midfielder Rebecca Neal added to the lead in the 61st minute, off a sequence of passes from Shell and Picone, with a direct run at the Cedar Stars central defense. After getting past three defenders, Neal hit a bullet of a shot past the keeper to push the lead to 3-1.
Neal would earn a brace just one minute later on a similar buildup, this time zigging and zagging through the defensive third. The extra goals would prove critical as it gave Richmond (1-0-1, 13 points) the necessary points to get past East Meadow Barca (1-0-1, 12 points) for the Group D. The two sides drew 0-0 in Richmond's first match while Barca defeated Cedar Stars (0-2-0, 1 point) 4-1.
So here is how the U-14 Championship semifinals will look tomorrow:
Carolina Elite 04G PRE-ECNL versus Richmond United ECNL U14 (8am River City, #01)
Woodbridge Strikers SC 04G Blue versus Philadelphia SC Coppa Swarm (8am, River City #04)