US Youth Soccer National League Girls Las Vegas Day 2 Recap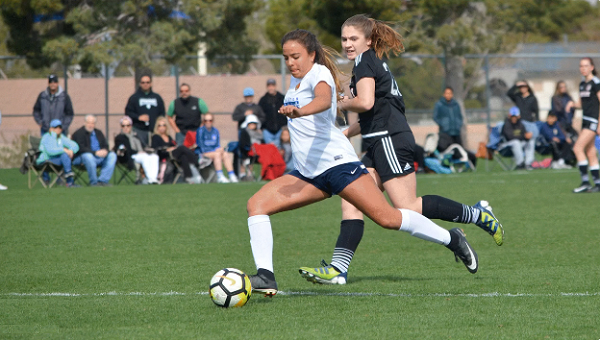 Day 2 of 3 complete
Scores and Standings | Video
Twitter | Facebook | Instagram | #EarnYourPlace
LAS VEGAS, Nev. (March 17, 2018) — The US Youth Soccer National League 14U, 15U, 16U, 17U and 18U Girls continued league play Saturday at the Bettye Wilson Soccer Complex in Las Vegas, Nev., alongside the 2018 Players College Showcase. The girls will wrap up the season on Sunday, as the standings will be solidified and the final tickets to the 2018 US Youth Soccer National Championships will be secured.
After five berths to the National Championships were determined Friday, eight teams secured their ticket to Frisco, Texas, on Saturday — with four of those sides clinching division titles. However, the top of many group standings are still in question, as seven National League division titles will be decided on the season's final day.
+READ: US Youth Soccer National League Girls begin final weekend of play
Teams qualify for the National Championships by winning their division (16U, 17U and 18U age groups) or by finishing in the top two of their division (14U and 15U age groups). Aside from earning a ticket to Nationals, the top finishers each age group also have a chance to earn their automatic return to the league for the 2017-18 season.
On Saturday, nearly every field and time slot featured games carrying huge influence on the top of the standings, while the sidelines were filled with teams warming up to the sound of music in preparation of their own key matches.
Among Saturday's division winners, 16U Fullerton Rangers 02 White (CA-S) picked up the win it needed and got a little help from the other Blue Division match that finished minutes after its victory.
"It's a great experience for the girls, for myself, to be a part of the National League and make it to the National Championships. It's just awesome," Fullerton coach Cristian Rus said. "Coaching boys before, I've made it [to Nationals] with the boys, but with the girls, it's just a different experience."
"I'm excited for the whole process. It's been a process, and we deserve it, so I'm excited for them and the experience they get to have at the National Championships."
2018 US Youth Soccer National Championship Qualifiers via the National League
*qualified Saturday
14U Girls
Blue Champion: CDA Premier 04 (KY)
Blue Runner-up: Michigan Jaguars 04 Green (MI)*
Red: Nationals Union 04 Black (MI)
Red: Arlington SA (VA)
15U Girls
Blue: PDA Shore Freedom (NJ)*
Red: CSA Impact United 03 Black (OH-N)
Red: LVPSA 03 Red (NV)*
16U Girls
Black Champion: La Roca-FD 02 (UT)*
Blue Champion: Fullerton Rangers 02 White (CA-S)*
Red Champion: SJEB Rush 02 Academy Blue (NJ)*
17U Girls
Blue Champion: FCKC Academy Blues Elite (MO)*
Red Champion: BC United 01 (NY-W)
18U Girls
Black Champion: Campton United 1 (IL)
Blue Champion: Princeton SA (NJ)
White Champion: HBC Impact 00 (NY-E)
National League Girls action continues Sunday, March 18 at the Bettye Wilson Soccer Complex with games beginning at 7:30 a.m., 9:20 a.m., 11:10 a.m., and 1 p.m.