Jefferson Cup Club Feature: Marin FC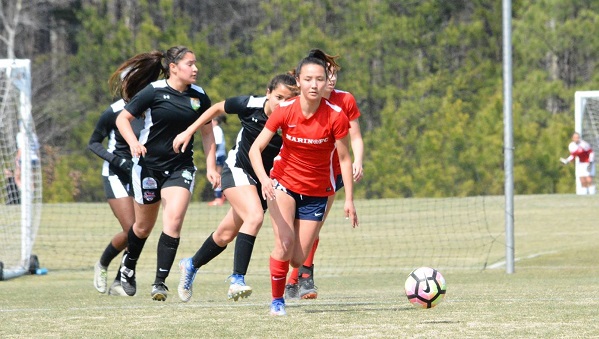 Follow the Jefferson Cup
Twitter | Instagram | Facebook
(Via Jefferson Cup) – Heading into the 2018 Jeff Cup, Richmond Strikers Tournaments is highlighting some of the top clubs that attend the event on an annual basis with the Jefferson Cup Club Feature Series. In the second edition, learn more about Northern California's Marin FC.
Marin FC, one of the fastest-growing clubs in Northern California's elite youth soccer scene, has established itself as a mainstay in some of the Jefferson Cup's top divisions in recent years on both the boys and girls sides.
The club came into existence in 2004 when five of the major Marin County soccer organizations allied their efforts in developing elite players in their region, with the mission of instilling self-discipline, character development, sportsmanship and leadership as the club's four pillars.
"First and foremost our goal is to teach life lessons using soccer as a vehicle," said Marin FC Technical Director of Soccer Operations Josh Kalkstein, who holds a USSF 'A' Coaches License as well a NSCAA Premier Diploma, and a USSF Youth Soccer Youth License. "When you look at that end, those four pillars are easy to arrive to."
+READ: Jefferson Cup Club Feature: Penn Fusion Soccer Academy
By emphasizing its four pillars for player development, Marin FC regularly sees players reach their goals of playing college soccer and beyond. The club's recent alumni include players such as Alex Ritter (Yale University), Darcy McFarlane (University of North Carolina; plays currently with Oostersunds DFF in Sweden), Jaime Kerester (Pomona College), and Noah Paravicini (Dartmouth University), among others, who commit to NCAA Division I programs and various other levels of college soccer each year.
Getting the chance to play in a tournament like the Jefferson Cup, many miles away from Northern California, seems to fit Marin's goals of building not just quality players, but quality students as well.
"Our side has a lot of East Coast transplants. Parents have brought their families out here, and there is a high level of emphasis on education as the high schools that our kids go to are some of the top-level prep schools in the country," said Marin FC U16-U19 Girls Director of Coaching Kelly Coffey.
"Many of them are looking to go back east for college, whether it's an Ivy League school or a NESCAC [New England Small College Athletic Conference] school, or somewhere in that area of the country," said Coffey. "They are interested in being able to play soccer, side-by-side with getting a great education."
The timing of the tournament also works well with Marin's schedule.
"The Jefferson Cup sits at a great time in March when our teams are out of high school [soccer season] and our teams are training again, and it is a big event," said Coffey, who holds a USSF 'A' Coaches License as well as an NSCAA Advanced National Diploma. "All of our teams have boys and girls who are interested in schools back on the East Coast with a high education quotient along with quality soccer."
Getting the team out of their comfort zone and playing against styles and strategies at the Jefferson Cup also works to the club's goal of creating elite level players.
"The quality is high, we get to play fantastic teams, and we get to play teams from the East Coast or the Midwest, so that's kind of nice," said Coffey. "A lot of times we do our Northern California tournaments, and we end up facing a lot of the same teams. It's nice to come out to Jefferson Cup and have teams from Florida, Virginia, Maryland, and New York. It's great for our girls and boys."
Many of Marin FC's teams compete in US Club Soccer's NorCal NPL, which is one of the most competitive regional members of the National Premier Leagues. At the Jefferson Cup, Marin FC teams not only get to face off against teams from other NPL member clubs around the country, but also against representatives of the ECNL, US Youth Soccer National League, and various other regional and national leagues with vastly different playing styles.
"[Playing in the Jefferson Cup] I think mirrors the college experience where you're traveling across the country and you're playing against a different brand of soccer, a different caliber of athlete, a different caliber of player," Coffey said. "I remember having the conversation with my girls a couple of years ago where we played a team from outside of Pittsburgh and they turned out to be very blue-collar and hard-working, and kind of mirrors what you think of when you think of Pittsburgh. We played a team from Florida that was really good, really athletic, and fast and pacey and kind of mirrors what you would expect from kids from Florida."
"So just getting that diversity, getting that experience is only going to help them at the next level when they go to college and have to play different teams and different styles. and be away from home and figure out that part it," Coffey continued. "I think it's a great experience in one sense in that they are getting exposed to college coaches, and a great experience in terms of having to deal with those things that you would have to deal with at the college level. [The Jefferson Cup] checks all of those boxes for us."
At the 2017 Jefferson Cup, Marin fielded three sides in the event, highlighted by the Marin FC Girls '01 Blue team which finished in third in the U-16 Elite Orange Division. Marin FC Girls '00 Blue and Marin FC Boys '99 Blue also competed in the highly competitive U-17 and U-18 Championship Divisions.
The California-based club will be back again in 2018, providing the Jefferson Cup with more high level play and a West Coast flare.