"It's bulls**t" – Real Colorado coach rips USSF's ECNL scheduling snub
GERMANTOWN, Md. – Lorne Donaldson has seen plenty in a decades-long coaching career that's spanned the youth, collegiate and professional levels. He's won big games like the ECNL national championship match his Real Colorado Under-16 side took part in at the Maryland SoccerPlex on Saturday, and he's lost them, too.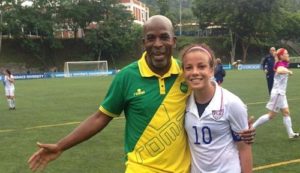 So when his side fell 1-0 to PDA in extra time on a last-gasp goal by Kayla Lee, it wasn't the loss that aggravated him, painful though it was for his players and staff. It was the players who weren't there in the first place.
+READ: ECNL U15-U17 Finals Recap: Sun, drama, dreams at SoccerPlex
Like several other teams at the ECNL Finals, Donaldson's Real side were missing their two best players, Jaelin Howell and Sophia Smith, due to their callup to a U.S. U-17 National Team training camp in North Carolina. The scheduling of such a camp – which involved no matches – during the climax of the ECNL season left him and other coaches fuming.
"It was a good effort by both teams and when you lose with nothing on the clock in double overtime, then it's tough," Donaldson, who is also his club's executive director of coaching and president, told SoccerWire.com. "I'm happy for the girls, I'm happy for PDA – I'm not happy for soccer right now. Because the national team have a camp going on right now, and it affects players, and I don't think we're a country that wants to compete.
"If we want the girls to compete, we would let the girls come and play [here] – this is the best league in the world and we have a U-17 National Team camp going on right now, and I think it's just wrong. It's wrong for the game. It's wrong for the players, OK? But there is so much politics going on, on the top of everything, we can't wrap our minds around the game and say, 'let the girls play.' This is what it's all about. Just come out and compete. And we take that away from the team and from the game, and I think we cheated the game this weekend."
The U.S. Soccer Federation has traditionally relied on a spirit of cooperation and collegiality from club coaches when calling up players at both the youth and senior levels. Players gain experience and exposure from national-team opportunities and clubs see their reputations (and players) enhanced. But that good will has frayed visibly in recent years as the federation grows more assertive – some would say aggressive, even arrogant – in their dealings and decisions.
When asked if he saw the scheduling of the U-17 camp (run by head coach B.J. Snow) as a power play by U.S. Soccer, Donaldson was blunt.
"You know what? I call it bulls**t. You can put that in print for me," he said. "I call it just I call it bulls**t, and I call it people not respecting the game.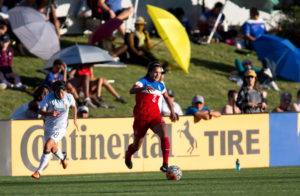 "We have to pass that right now, and I think U.S. Soccer – everybody that is up there talking about soccer and talking about development and whatever they talk about – they have to look at the structure, and look at the players first and say 'how can we make them better?' and this was an environment that I think the players in camp would've learned from. They're at a camp. They're not at a national-team game. It's a camp. OK? Let them go play the game."
The fed's creation of the Girls Development Academy league – which stands to compete directly with ECNL when it launches next year – casts its own pall over the situation.
"You have Development Academy, you have some girls who want to play high school, you have some players who like the re-entry rules here [in ECNL], just like college rules," Donaldson said. "I don't know. I think it's a mess right now and I think we've got to sit down the powers that be and just talk about the game. I don't think there's a lot of interest in the game. I think there's a lot of power struggle right now and I think we're screwing up a lot of stuff. There is development going on right now. We have the best players in the world, we just won the World Cup. I mean, what are we talking about? So we have to try to figure out the game and the powers that be need to sit down and have a conversation, and have a good talk about it. Because it's really not acceptable."
Real Colorado were among the first 25 clubs accepted into the Girls DA, though Donaldson framed it as less a choice than a must, given the roster upheaval brought on by the federation's adoption of birth-year age grouping. Real plans to continue its participation in ECNL as well.
"Now you merge everything into three [GDA] teams, so there's tons of players left over. And all these players are going to colleges and they're playing ball; what do you do with them? So we're playing in both leagues," said Donaldson. "You have to. Because you can't have somebody who is going to go play college ball and say, 'you can no longer play for Real Colorado.' We have enough players and we have enough good coaches that we can make it work. So this group, it's the last go-round for them, because some of them are 99s and some of them are 2000s."
As a coach in the girls and women's national-team system in his native Jamaica, Donaldson has experience of places where women's soccer is much humbler and less gifted than the United States. That seems to further fuel his frustration.
"This is America; we have all the resources in the world," he said. "It's going to be very difficult to even mention Jamaica in the same breath – with Real Colorado, even, a club. They don't have the same resources the club has.
"As a country with so many intelligent coaches and intelligent people, every time I turn around we shove the game backwards, shove the players backwards. Nobody worries about the players, they just worry about the status of where the players are going to be. And it's more organizational stuff – nobody ever says, 'what about the players?' And that's what I'm trying to hear.
"[The players] work hard, and they're not here to play for a championship, because we're selfish. I can't see through that. I don't care what they tell me, I don't care who I talk to, I can't see how they wouldn't let them come play for a championship… because you know what? They might never in their entire life again. So if the national team is the end of everything, then we're wrong. Because there's a lot more stuff; less than half a percent goes to the national team, and then the rest, we still have to play. If it's not national team, we don't respect anything else, and I think it's wrong. I just have a bad taste in my mouth."