ECNL U15-U17 Finals Recap: Sun, drama, dreams at SoccerPlex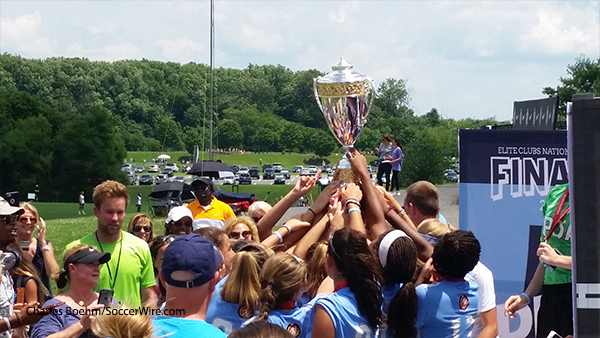 GERMANTOWN, Md. – The Elite Clubs National League dropped the curtain on its 2015/16 season at the Maryland SoccerPlex on Saturday, and the bucolic setting in Washington, D.C.'s outer suburbs witnessed plenty of drama as the league handed out its Under-15, U-16 and U-17 national championship trophies.
The new location provided the players with a unique reminder of where their careers could take them: The SoccerPlex's Maureen Hendricks Field is the home of the NWSL's Washington Spirit, and discounted tickets to Saturday night's Spirit match vs. the Chicago Red Stars were provided to all ECNL Finals participants. The U-17 finalists even had the opportunity to play their game on the very same pitch that afternoon.
+READ: ECNL U15-U17 Champions League Semifinals Recap
Southern California powerhouse Slammers FC were the day's biggest winners, as their Under-14 squad claimed the national title via an authoritative 4-1 defeat of FC Stars of Massachusetts, clinching the 2016 ECNL Overall Club Championship for the club thanks to similar honors for their U-18s and a national semifinal run for their U-17s. That makes Slammers the only club to win that honor more than once, following on their 2012 triumph.
But Saturday's action was also significant as the end of the road together for nearly all of the teams involved. That's because most clubs are planning for the U.S. Soccer Federation's impending switch to birth-year age grouping to significantly reshuffle their existing rosters. It felt like the end of era, and with the start of USSF's Girls Development Academy barely a year away, in many ways it was.
U-15s
Slammers' U-14s were worthy winners, though they didn't break the deadlock until late in the first half, when Natalie Hueston slashed down the left channel, beating several defenders before cutting onto her right foot and cracking a firm finish past Stars' impressive goalkeeper Bethany Dunk and inside the far post.
The SoCal side asserted control after halftime. Jenna Nighswonger – quite possibly the woman of the match – won, then converted a penalty kick, Genevieve Watkins stroked a fine strike into the top corner from the top of the Stars penalty area. Stars of Mass fought back with a PK netted by Alexandra Panaggio, but Jesse Loren thumped home a corner-kick header to dash any hopes of a late rally.
It marks the second consecutive national championship for coach George Larsen's side, and one that he said he didn't see coming.
"We started the [postseason] back in Oceanside, where we were severely battered. We were limping into the tournament," he said postgame. "We barely drew the first day against CASL, we barely squeaked out a game we knew we had to win, 3-2 against Crossfire, and scored a late goal just to put ourselves into position to win the bracket the third day. We went down to the wire, the final seconds, having to get that second goal against PDA just to get into the elimination games."
Once there, Slammers stunned national No. 1-seeded Concorde Fire, and picked up speed as they approached paydirt, beating West Coast FC 3-0 in the semifinals before vanquishing FC Stars.
"Scoring seven goals in the semifinal and final – this thing is just so hard to do, you just never can predict that," said Larsen. "I'm so proud of them. They just found a different level."
U-
16s
The U-16s final between PDA and Real Colorado was a grinding, physical battle under an increasingly hot midday sun, with both sides missing key players who'd been called away to a U.S. U-17 National Team training camp in North Carolina.
Clear scoring chances were few and far between, but PDA goalkeeper Meagan McClelland was up to the task on Real's best look, tipping a wicked long-range shot onto the crossbar shortly after the first-half water break.
The clash remained scoreless deep, deep into the 20-minute extra time period. Just when a penalty-kick shootout seemed certain, PDA's Kayla Lee seized glory.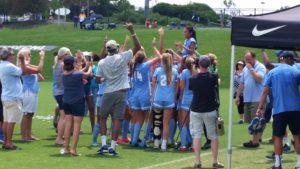 Lee had been an influential presence, floating between the lines to connect play, and in the dying minutes she latched onto a loose ball at the far post after a shot was deflected in a crowd of bodies in the Real box. Lee tucked home the game- and title-winner, setting off hysterical celebrations on one side and tears on the other. She was soon hoisted onto her teammates' shoulders and serenaded before the trophy presentation.
U-17s
Fatigue and heat were even bigger factors in the final game of the day, which took place on the SoccerPlex's showcase stadium pitch. With Friday's semifinals delayed hours by thunderstorms, De Anza Force and Michigan Hawks were playing on short rest, and it showed.
This De Anza team has been one of the most consistent teams in the nation, making deep ECNL postseason runs year after year since U-14 level – but what's most impressive is the way they've done it, with sophisticated possession mastery, cultured individual technique and advanced patterns of play.
Their rhythm was blunted by heavy legs and mid-afternoon temperatures this time, however, with tempo-setting midfielder Luca Deza pestered by pressure in numbers from a smart, athletic Hawks side. Both sides missed the target on decent chances on either side of halftime, and this match, too, ticked into extra time.
The breakthrough finally arrived after 100 minutes. Hawks striker Catherine Dager met a ball over the top with a perfectly timed run behind the high Force back line, advancing one-v-one on goalkeeper Alyssa Fagel – who parried Dager's first effort. But neither she nor her teammates could scramble back in time to stop Dager from racing down the rebound and slotting home from a sharp angle for the win.
"We had 17 players play today, so it was important to have some depth," said Hawks coach Doug Landefeld. "Everybody found a way to contribute, so it's a great team win. We have great players, but I think we really play well together."