Inter Miami CF signs Edison Azcona and Ian Fray as Homegrown Players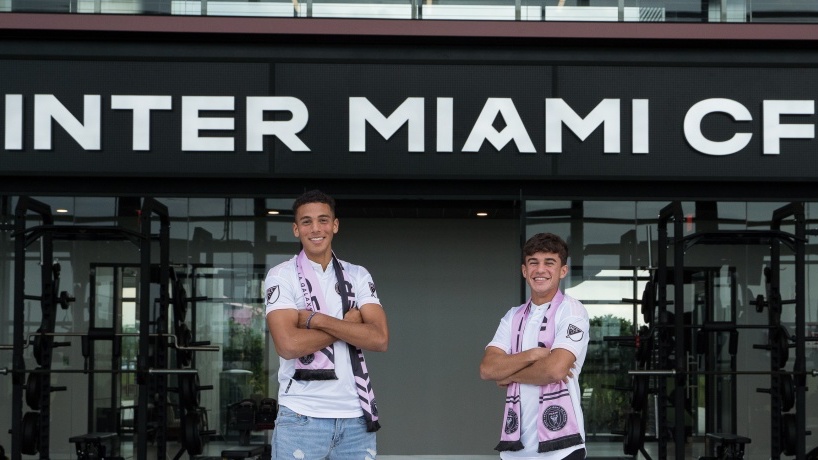 Inter Miami CF announced today that it has signed Academy products winger Edison Azcona and center back Ian Fray to the First Team as Homegrown Players.
Azcona and Fray, who featured for the Club's USL League One side Fort Lauderdale CF in 2020, become the second and third Inter Miami CF Academy graduates to earn First Team contracts.
"Ian and Edison are two players who were quickly brought to my attention during my short time here, and my impressions of them are very positive. It's satisfying to be part of continuing their development and helping them reach a level where they can demonstrate readiness to compete and be valuable for the team on a consistent basis," said Chief Soccer Officer and Sporting Director Chris Henderson. "It's important to develop from within, not only for the player and the Club, but for the community too because they will always be part of the Inter Miami family wherever their career takes them in the future."
Azcona and Fray's acquisitions come after the Club made its first-ever Academy product signing in December 2020 with Felipe Valencia. The signings continue to represent Inter Miami's emphasis on creating a clear development pathway for talented players in South Florida. The Club's resources include the state-of-the-art Inter Miami CF Training Center, which boasts seven pitches and top-notch facilities  across 20 acres of land, experienced coaches managing the Academy teams, as well as the Club's USL League One team Fort Lauderdale CF.
Azcona, 17, stood out in his first season at the professional level as an Academy registered player for Fort Lauderdale CF in 2020, earning a pair of end-of-season honors for his performance; the Dominican/American winger was named to the USL League One All-League Second Team, and was nominated as a finalist for the USL League One Young Player of the Year award.
Fray, 18, also passed through the Inter Miami CF Academy into the Club's intermediate step with Fort Lauderdale CF in USL League One in 2020, but following his 2019 Academy season, he became one of two Academy players to be handed professional contracts with Fort Lauderdale CF. The center back was also named to the USL League One All-League Second Team for his performances at that level.
Azcona played the second-most minutes of any player on the team with 1,284. He also started in each of the team's 16 games, the only player to do so. The La Romana, Dominican Republic native shined in that time, registering three goals and three assists – putting him in the top two in both categories for Fort Lauderdale – and led the team in tackles.
Fray solidified the team's backline as a center back. He thrived both in and out of possession, impressing with his comfort on the ball for a young defender. He made nine appearances after signing his first professional contract with the team prior to the season. The Coconut Creek, Florida native registered one assist and finished his rookie season with the fourth-highest passing accuracy among defenders in the league (86.5 percent).
Despite his youth, Azcona has already factored on the international stage; the winger was called up by the Dominican Republic senior national team in Oct. 2020 and again in the most recent international window, receiving his second call-up on Jan. 7, 2020.
The Club acquired Homegrown Priority for Academy winger Azcona from Orlando City SC prior to his signing.