Inter Miami CF hires England Women's National Team manager Phil Neville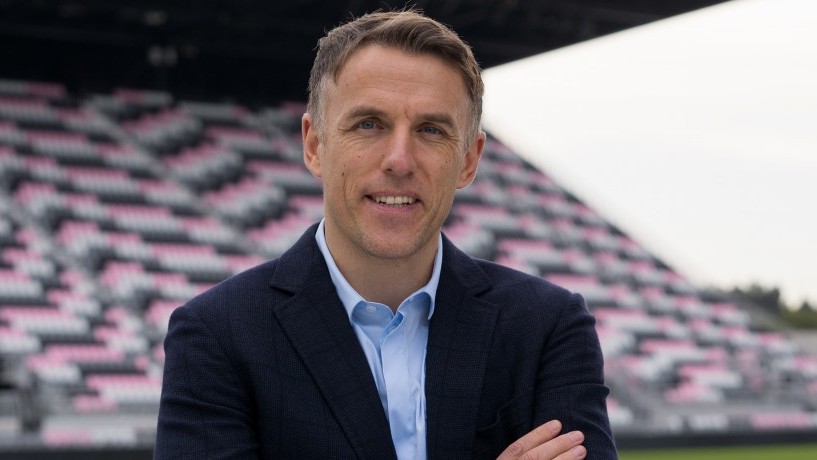 Inter Miami CF has named Phil Neville as its head coach ahead of the 2021 Major League Soccer season. Neville's addition to the Club is pending receipt of his work visa.
"I am incredibly delighted for this opportunity to coach Inter Miami and to work with Chris and the entire ownership group. This is a very young club with a lot of promise and upside, and I am committed to challenging myself, my players and everyone around me to grow and build a competitive soccer culture we can all be proud of," said incoming Inter Miami CF Head Coach Phil Neville. "This fantastic soccer-loving market deserves consistent performances and a winning mentality, and I look forward to getting to work."
The full technical staff will be announced at a later date.
Neville's announcement follows this morning's appointment of Chris Henderson as Chief Soccer Officer and Sporting Director, who will manage soccer operations and on-field developments, from the First Team to the youth levels.
"I am very happy with the leadership group we have established to lead the team as we turn the page following our inaugural season and look forward to having Chris and Phil join us soon. I have known Phil since we were both teenagers at the Manchester United Academy. We share a footballing DNA having been trained by some of the best leaders in the game, and it's those values that I have always wanted running through our Club," said Inter Miami CF Co-Owner David Beckham. "Phil has deep experience in football, as a player and as a coach at both club and international level, and over his career he has worked with many of the finest managers and players in the game. I know his qualities as a person, his decency, loyalty and honesty – and his incredible energy and work ethic. Anyone who has played or worked with Phil knows he is a natural leader, and I believe now is the right time for him to join."
"Chris brings a successful and winning MLS track record and we couldn't be happier to bring him on board along with our new head coach, Phil Neville," ​said Inter Miami CF Managing Owner Jorge Mas​. "The fabric of our Club is unique, it reflects the passion of our community. We as owners are committed to giving Phil and Chris the tools they need to develop a sustainable winning soccer culture that delivers consistent performance on the field. As we enter the 2021 season, Phil and Chris are an integral part of the vision that drives us."
Neville joins the Club following spells managing the England Women's National Team, whom he led to the 2019 SheBelieves Cup title, as well as coaching stints as an assistant with Valencia CF, Manchester United and the England Men's Under-21s. Neville also had a distinguished playing career of 20 years.
Neville, who holds a UEFA Pro License for coaching, was appointed as the manager of the England Women's National Team in January 2018. The Bury, England native helped guide England to a second-place finish in the 2018 SheBelieves Cup, a title-winning run in the 2019 SheBelieves Cup, and an undefeated 2019 FIFA Women's World Cup Qualification run.
As a player, Neville featured primarily as a defender at both Manchester United and Everton FC. He began his career in the Manchester United academy before making his first team debut in 1995. He went on to make over 300 appearances for the Red Devils, helping the team win the Premier League six times, the FA Cup three times and the UEFA Champions League once, including winning all three in one season to claim the coveted treble in 1998-99. With Everton, Neville also made over 300 appearances in all competitions, and was rewarded for his effort by earning the title of captain with the Toffees.
On the international stage, Neville featured prominently for England. He made 59 appearances for the Three Lions, including five across two different UEFA EURO tournaments (2000 and 2004).
Between his time with Manchester United and the England senior national team, Neville frequently featured alongside Beckham, beginning with their time at the academy level. At the professional level, the pair shared the field 273 times in their careers, winning 173 of those matches.