Homecoming: Giuseppe Rossi returns to Tri-State area for indoor tourney in his honor
NEW YORK – He plays his professional and international soccer halfway around the world in Italy, but Giuseppe Rossi almost always comes home to the Tri-State area for the holidays.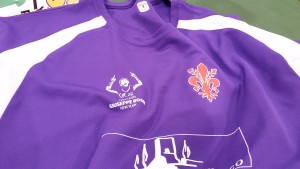 This year's trip offered an added feature: The talented striker was the guest of honor at a new tournament named after him, the "Pepito Cup," an indoor tournament conceived by his New York-based fan club and held at the Chelsea Piers sports complex on Tuesday night.
The tourney featured four teams representing four NYC-based supporters clubs of Italian sides AC Milan, Bologna, Napoli and Rossi's own Fiorentina – the man of the hour himself served as honorary coach of the Viola squad, which lifted the trophy after an 8-6 win over the Milanistas.
+READ: Ben Lederman leaves FC Barcelona as Euro opportunities fade for young Americans
"I get a chance to come back only twice a year; five or six days at Chrismas, and a month off in the summer. So when I come back I try to enjoy it to the max," Rossi told SoccerWire.com. "I have the Giuseppi Rossi Fan Club here in New York and the organizer, Diana Santi, did a great job with this Pepito Cup.
"And it's great to see the young kids coming to play and enjoying it – being competitive and trying to win, but also showing fair play. That's the whole point behind this cup."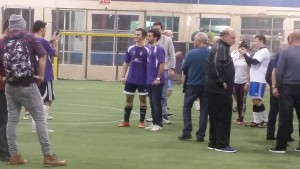 Rossi, who keeps a home in Manhattan, got a warm, family-style reception at the event, which brought together his friends and family as well as members of New York City's Italian expatriate community. He sounds keen to stay in touch with his roots, even as he chases a place on Italy's national team for next summer's European Championships.
"It was something just to get the fan club known, just to get the fan club more exposed out there," he explained. "I thought it was a great idea because you start forming a community. And I think that's very important, because you always want to show the right values, especially to the young kids, and that's what we're trying to do with this cup, and my fan club."
Had a great time at the #PepitoCup tonight!! Grazie mille @GiuseppeRossi22 @FanClubGR49NY pic.twitter.com/O43YCN34Nt

— The Lads (@LadsOffThePitch) December 23, 2015
Born in the United States but loyal to his parents' home country, Rossi starred for the Clifton Stallions as a youth, then left his hometown of Teaneck, New Jersey at age 12 to pursue an opportunity in the youth academy at Parma. He built an impressive career with stints at Manchester United, Villarreal and now Fiorentina, in the process controversially choosing to represent Italy rather than the U.S. in international play.
A disheartening rash of serious knee injuries have forced him to spend more time in the rehab room than on the field over the past four years. But he seems to have finally found health and fitness in recent months.
+READ: Copa America Centenario final to be held at MetLife Stadium in New Jersey
Now, with his playing time more scarce than he'd like with the Viola, he and his fans will wait to see if a much-rumored transfer away from Fiorentina materializes in next month's international transfer window. Rossi declined to discuss that situation, but did say he's "definitely" planning to spend some part of the latter stages of his career back home in Major League Soccer, a league that holds more interest for him as he watches the sport expand by leaps and bounds.
"Definitely. I see soccer growing immensely," he said. "When I was driving back home from the airport just a couple days ago, I was seeing more soccer games being played in the park than football. So that's something nice to see, because when I was a kid, it was hard trying to find a pickup game.
"So I'm happy about the strides that it's making. It keeps getting better. We see it in the MLS, that the level of play is getting higher. So I'm very, very happy that the sport is getting up there."