U.S. U-15 BNT plays friendlies vs. Kendall SC, Weston FC in Florida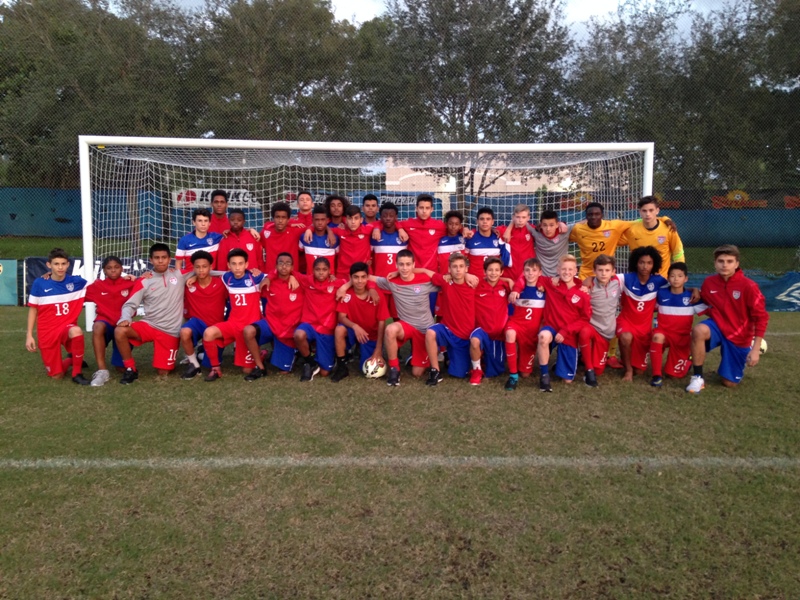 SUNRISE, Fla. (Via U.S. Soccer) – The White team of the U.S. Under-15 Boys' National Team ('02) fell 1-2 against Kendall SC while the Red U-15 BNT defeated Weston FC 3-1 at KICS International in Sunrise, Florida.
For the White team, the first half remained scoreless, but the U-15 BNT came out with the first goal of the second half. In the 51st minute, in the attacking third, Conner Maurer threw the ball in to Gilbert Fuentes Perez, where he turned and got to the end line. Perez crossed the ball in front of the goal and Kayvon Gray easily finished, putting USA up 1-0.
Minutes later, Kendall FC equalized with a header by Alejandro Proce.
It wasn't until the last minute that the game was decided. Kendall FC fought for the ball, winning it in their attacking third. Sebastian Paz went 1v1 against Aaron Cervantes. Paz put the ball in the back of the net for the win.
The Red team had a bit more luck in their outcome of the last camp of year.
In the 18th minute, Kawika Kelii controlled the ball and charged on. Kelii broke through two defenders in the final third and crossed the ball toward the goal. Marco Ceja took one touch past Weston goalkeeper, Mancuso, and finished with the first score.
Soon after the second half started, Giovanni Reyna received the ball wide in the attacking third, where he faced a Weston FC defender 1v1 but beat him to get to the end line. Reyna plays a ball across the goal to Ceja, who finished his second goal.
Ceja wasn't finished yet. In the 57th minute, Weston FC cleared the ball to the top right corner of the 18-yard box. Ceja collected and struck the ball with the outside of his right foot to send it past Mancuso, earning a hat trick for the game.
Just before the final whistle, Weston FC received a penalty kick, where Vasquez stepped up and easily placed the ball in the back of the net.
– U.S. U-15 Boys' (02) National Team Match Report –
Match: U.S. U-15 BNT White vs. Kendall SC
Date: Dec. 19, 2015
Competition: Friendly
Venue: KICS International; Sunrise, Florida
Kickoff: 2 p.m. ET
Attendance: 100
Weather: 73 degrees; sunny and windy
Scoring Summary: 1 2 F
USA White 0 1 1
Kendall SC 0 2 2
USA White Kayvon Gray (Gilbert Fuentes Perez) 51st minute
Kendall SC Alejandro Proce 58
Kendall SC Sebastian Paz 80
Lineups
USA White: 1-Aaron Cervantes (22-Alex Bobocea, 38); 2-Conner Maurer (21-Mukisa Kiingi, 59), 4-Jake Craft, 5-Tayvon Gray, 3-Agustin Giangaspero (18-Juan Zuniga, 59); 6-Masango Akale, 8-Gilbert Fuentes Perez, 10-Jack de Vries, 7-William Burnett (17-Jason Bucknor, 11); 9-Cade Hagan (20-Jack Imperato, 33), 11-Kayvon Gray (19-Beni Redzic, 55)
Subs not used: none
Not dressed: Bryang Kayo (Injured)
Head Coach: John Hackworth / Cris da Silva
Kendall SC: 0-Hajricio Uribe; 2-Daniel Pardo, 32-Pierre Rabbaty, 3-Federico Mion, 5-Daniel Huntado; 6-Alejandro Proce, 8-Angel Zambnano, 7-Anthony Lopez, 17-Gabriel Leon; 11-Adrian Martinez (4-Sebastian Leal, 35), 23-Sebastian Paz
Subs not used: none
Not dressed: none
Head Coach: Matias Asorey
Stats Summary: USA White / Kendall SC
Shots: 10 / 17
Shots on Goal: 4 / 11
Saves: 7 / 3
Corner Kicks: 6 / 8
Fouls: 6 / 7
Offside: 0 / 2
Misconduct Summary:
none
Officials:
Referee – Trent VaHaitsma
Assistant Referee 1 – Rubiel Vazquez
Assistant Referee 2 – Hayden Oscanoa
– U.S. U-15 Boys' (02) National Team Match Report –
Match: U.S. U-15 BNT Red vs. Weston FC
Date: Dec. 19, 2015
Competition: Friendly
Venue: KICS International; Sunrise, Florida
Kickoff: 4 p.m. ET
Attendance: 125
Weather: 70 degrees; overcast and windy
Scoring Summary: 1 2 F
USA Red 1 2 3
Weston FC 0 1 1
USA Red Marco Ceja (Kawika Kelii) 18
USA Red Marco Ceja (Giovanni Reyna) 46
USA Red Marco Ceja 57
Weston FC Vasquez 78
Lineups:
USA Red: 1-Damian Las (22-Kashope Oladapo, 36); 2-Peter Stroud, 5-Noah Atanda, 4-Axel Alejandre, 3-George Bello; 6-Max Goeggel (21-Sebastian Anderson, 62), 8-Gianluca Busio (18-Danny Ramm, 62), 10-Efrain Alvarez (20, Julian Anderson, 56), 7-Giovanni Reyna (17-Julian Gaines, 52); 9-Marco Ceja (25-Takumi Ikeda, 62), 11-Kawika Kelii
Subs not used: none
Not dressed: Carl Hartmann (Injured)
Head Coach: John Hackworth / Cris da Silva
Weston FC: 00-Mancuso; 31-Lupo, 36-Gonzalez, 15-Serpa, 26-Panncnzeo; 5-Correa (17-, 44), 28-Vasquez, 29-Tellez, 40-Morris; 41-Rivas (7-,62), 44-Hambra (43-, 63)
Subs not used: none
Not dressed: none
Head Coach: Victor Musa
Stats Summary: USA Red / Weston FC
Shots: 17 / 4
Shots on Goal: 10 / 3
Saves: 4 / 6
Corner Kicks: 6 / 0
Fouls: 13 / 10
Offside: 6 / 0
Misconduct Summary:
Weston FC Panncnzeo (caution) 59th minute
Officials:
Referee – Rubiel Vazquez
Assistant Referee 1 – Hayden Oscanoa
Assistant Referee 2 – Trent VaHaitsma