Hiring process underway for USMNT, USWNT General Manager roles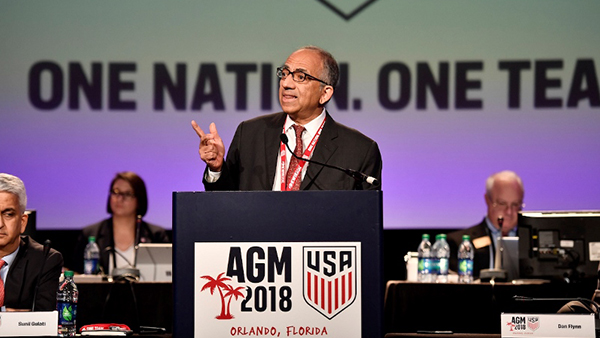 U.S. National Team Roster Pools
U-15 | U-16 | U-17 | U-18 | U-19 | U-20 | MNT
(Via U.S. Soccer) – As U.S. Soccer President Carlos Cordeiro took up his new post following the Federation's Annual General Meeting in Orlando, one of the first steps has been the process of establishing new General Manager roles for the U.S. Men's and Women's National Teams.
With the positions approved by U.S. Soccer's Board of Directors last December, Federation CEO Dan Flynn and Ryan Mooney, who oversees a number of U.S. Soccer's sporting development initiatives, spoke to reporters on Wednesday about the new roles and where the process for filling them stands.
THE PROCESS
While there is no set timeline for filling either role, Flynn noted that the process for hiring both positions has already begun. With a current head coaching vacancy, the MNT position is taking slight priority.
"There's a bit more urgency on for the GM on the men's side, but we are identifying candidates and have already started the process on both sides," he said. "We're dual-tracking them, but in terms of closing the loop first, more likely it would be the GM for the Men's National Team."
Flynn and Mooney are part of a search committee that also includes former National Team players and current Board members Carlos Bocanegra and Angela Hucles, as well as staff at Soccer House in Chicago: Director of Sporting Development Programs Nico Romeijn and Chief Commercial Officer Jay Berhalter.
The committee will identify up to six candidates for each position and make a recommendation to the Board of Directors, who will need to approve any hire.
+READ: U.S. U-17 Men's National Team training camp roster announced
Asked specifically about where the search for the MNT General Manager would center, Flynn said that both domestic and foreign-based candidates would be considered, but signaled the importance for the new hire to have a strong understanding of the league and player landscape in the United States.
"We're looking for the best candidates for each of the positions, but we think that there is fertile territory in Major League Soccer. We're looking beyond that level as well and other parts of the world, but I want to stress the most important thing is to get the best candidate," Flynn said. "Internally, we think it's pretty important that the general managers understand our leagues, our lower leagues in our country – how they operate, how they work and what the player development model is in on the domestic side."
THE JOB DESCRIPTION
Above all else, the MNT General Manager will be tasked with overseeing the process to hire a new head coach, which will culminate in a recommendation to the Board of Directors, who will again have to approve any new hire.
Once a new MNT head coach is in place, that person and their coaching staff will report directly to the GM, who will in turn report directly to Flynn. The same structure will be in place for WNT head coach Jill Ellis once that program's General Manager is hired. Additionally, the General Managers on both sides will also have the authority to fire their respective head coaches and staff.
While both roles will be primarily focused on their respective senior teams, Mooney indicated working with the Youth National Teams will also be a component of the role.
+Boehm: Lingering questions from U.S. Soccer's presidential election
"Having integration and alignment will be critical," Mooney said. "Obviously there are different demands at the level with the senior teams, but having both the GMs be part of our internal think tank on the technical side with Nico [Romeijn] is certainly what we are envisioning at this moment. So, they'll certainly be an influence, but less so on the day-to-day."
It was made clear that the roles are focused and neither will be seen as Technical Directors. Youth National Team Technical Directors Tab Ramos and April Heinrichs will continue to oversee the process of evaluation and hiring of YNT head coaches.
Ultimately, the new GMs and their respective head coaches will work closely, but it will be on the GM to manage things like the overall player pool, environment, scouting and other big-picture aspects of their programs – a process that Mooney said has been taking place in other aspects of the Federation.
"They can be more of a strategist, more of a thinker, more of a leader and manager of a framework and have a system," Mooney said. "This falls in line with that approach that we've adopted in many other areas on the soccer side."