Hawaii Rush 02 Girls emerge as only back-to-back National Cup champs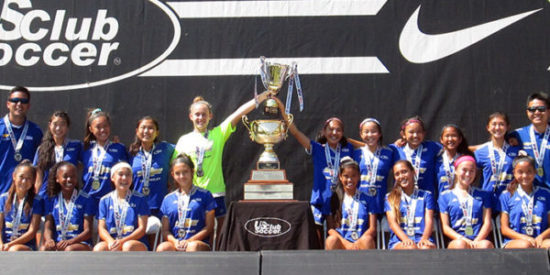 AURORA, Colo. (Via US Club Soccer) – Winning a National Cup Finals championship means you've joined elite company.
About 1,000 teams compete over the course of National Cup Regionals and the Finals, and that doesn't even incorporate total state cup participation, which exceeds that.
With only 20 teams capturing national titles last month at the National Cup XV Finals, mathematics alone proves that winning your last game of US Club Soccer's cup-based national championship series is a rare feat. The Hawaii Rush '02 girls team one-upped those odds by winning the U-13 Premier Group championship last year and then winning the U-14 Premier Group title this year. This year, that feat was only accomplished by Hawaii Rush '02.
"I feel that this championship impacts all of these players for a lifetime," Hawaii Rush coach Brent Murakami said. "It may not just be holding on to the trophy at the end of the tournament, but all the work that was put in to achieve that success. These girls needed to sacrifice a lot for this championship: time spent on the field instead of with friends, waking up early, sleeping early, being pushed physically and mentally.
"I think that the determination to overcome all those frustrations and sacrifices will take them a long way in life. It's important to understand that getting to the top does not come easy. Unfortunately, only one team can win and that teaches the players to be proud, but to be humble. I believe that had been displayed by them throughout the entire tournament."
The ultimate results may have been the same at Grand Park in Westfield, Ind. as it was at Aurora Sports Park in Aurora, Colo., but Murakami said the similarities stop there.
National Cup XV Finals in Aurora, Colo.:
Hawaii Rush '02 5, GPS ME Phoenix Elite 1
Hawaii Rush '02 4, FC Stars '02 NH United 0
Hawaii Rush '02 1, NEFC Premier South 0
Hawaii Rush '02 2, NEFC Premier South 0
National Cup XIV Finals in Westfield, Ind.:
Hawaii Rush '02 2, Washington East SC '01 2
Hawaii Rush '02 1, Cincinnati United Premier Black 01/02 1
Hawaii Rush '02 2, California Odyssey '01 1
Hawaii Rush '02 3, Cincinnati United Premier Black 01/02 0
"Last year was our first opportunity for these girls to make a US Club Soccer national appearance," he said. "It was tough last year in the sense that it was their first. Everything was new to them. It was the first time playing beyond the West Coast for most of the girls."
This year, Murakami admits that the girls weren't playing to their potential heading into the tournament after a "roller coaster spring season." But, the momentum started changing through good training sessions.
"This tournament was different, because we were now the defending champions and we were no longer flying under the radar. Although we had never played any of the teams in our pool before, they all knew that we were the defending champions. There was motivation for them."
With any national championship event, scouting is difficult. The team and even the coaching staff weren't familiar with the teams they faced in pool play (GPS ME Phoenix Elite, FC Stars NH United and NEFC Premier South). But, Hawaii Rush managed to score first in all of its games – and not only score first, but do it within the first five minutes of each game.
As the girls enjoy their back-to-back championship notoriety, Murakami insists they've not entertained the idea of a three-peat just yet. "We are just so happy for the girls to win this year," he said, adding they welcome the challenge of being moved to the Super Group (most competitive) next year if they qualify to the National Cup XVI Finals. "To end the year playing the quality of soccer they played in the tournament was awesome."