U.S. U-15 Girls National Team edges Haiti 1-0 in CONCACAF group play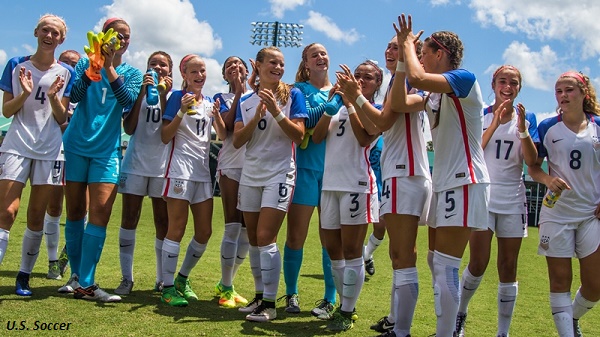 ORLANDO, Fla. (Via U.S. Soccer) – The Under-15 Girls' National Team defeated Haiti on a goal from Sunshine Fontes to win its third consecutive group game at the 2016 CONCACAF U-15 Girls' Championship.
The USA opened its tournament with a 22-0 win against Trinidad & Tobago and also defeated Mexico, 1-0. With the win against Haiti, the USA has taken the full nine points from three games and has qualified for the quarterfinals with one group game left to play on Aug. 13 against the Dominican Republic.
Haiti played the young Americans tough, showing patience on defense combined with some tough tackling, while forcing U.S. goalkeeper Ruth Jones to make an impressive diving save near the end of the match to preserve the win.
The U.S. goal came in stoppage time of the first half as defender Natalia Staude sent a long ball into the attacking third. The ball bounced around before Fontes latched onto it and neatly finished into the right side of the goal.
+Read: U.S. U-17 Women's National Team draws Brazil 1-1 in friendly
"We're happy that we secured our place in the quarter finals, but more importantly, we learned a lot today about ourselves today," said U.S. head coach Mark Carr. "Haiti defended very deep and forced us to break them down in different ways. I felt we were always in control of the game, but we just needed to be a little more dangerous in the final third. Now it's about recovering before our final group game tomorrow."
The 23 countries in this tournament are divided into five groups: three groups of five nations (Groups A-C) and two groups with four nations (Groups D-F). The first three groups will qualify the top two countries after group play to the quarterfinals while the last two groups will qualify only the group winner to the last eight. The group phase runs from Aug. 9-15 followed by the quarterfinals on August 17, the semifinals on August 19 and both the match for 3rd place and Final on August 21.
2016 CONCACAF U-15 GIRLS' CHAMPIONSHIP GROUPS
Group A: United States, Mexico, Trinidad & Tobago, Haiti, Dominican Republic
Group B: Canada, Costa Rica, Venezuela, Jamaica, El Salvador
Group C: Puerto Rico, Nicaragua, Santa Lucia, Grenada, St. Vincent & the Grenadines
Group D: Barbados, U.S. Virgin Islands, Curaҫao, Anguilla
Group E: Bermuda, Cayman Islands, Antigua & Barbuda, Bahamas
U-15 Girls' National Team Match Report
Match: United States U-15 Girls' National Team vs. Haiti U-15 Girls' National Team
Date: August 12, 2016
Competition: CONCACAF Under-15 Girls' Championship
Venue: Field #16 – ESPN Wide World of Sports, Orlando, Fla.
Weather: 84 degrees, partly cloudy
Scoring Summary:    1          2          F
USA                             1          0          1
HAI                              0          0          0
USA – Sunshine Fontes (Natalia Staude)                              35th +2 minute
Lineups:
USA: 1-Ruth Jones; 17-Talia DellaPeruta (4-D'awncey Jones-Black, 36); 4-Tori Hansen; 6-Talia Staude; 2-Makenna Morris; 15-Gabrielle Robinson; 16-Croix Bethune (11-Eleanor Glenn, 66); 14-Madison Mercado (10-Mia Fishel, 36); 8-Hollyn Torres; 18-Sunshine Fontes (13-Payton Linnehan, 59); 9-Kalyssa Van Zanten (7-Samantha Meza, 47)
Subs not used: 12-Lindsey Romig; 5-Leah Scarpelli
Head Coach: Mark Carr
HAI: 1-Madelina Fleuriot; 2-Tabitha Joseph; 3-Rachelle Caremus; 4-Ruthny Mathurin; 6-Dieunika Jean Baptiste (14-Maile Jean, 70); 7-Abaina Louis; 8-Angeline Gustave; 10-Melchie Daelle Dumornay; 13-Nancy Lindor; 15-Flero-Dina Supris; 16-Sheelove Joseph (11-Elizabeth Brivil, 59)
Subs not used:  5-Estericove Joseph; 9-Betina Petit-Frere; 12-Edjenie Joseph; 17-Sandrine Merant; 18-Vladine Mervilus
Head Coach: Shek Borkowski
Stats Summary: USA / HAI
Shots: 5 / 5
Shots on Goal: 4 / 2
Saves: 2 / 4
Corner Kicks: 1 / 1
Fouls: 3 / 4
Offside: 2 / 1
Misconduct Summary:
None
Officials:
Referee: Carol Oliva (GUA)
Assistant Referee 1: Aneyelis Romero (DOM)
Assistant Referee 2: Yesica Aguirre (NCA)
Fourth Official: Juan Calderon (CRC)